Athena SWAN at the School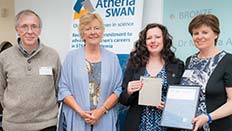 At the School of Computer Science, we are fully committed to the Athena SWAN agenda. We work alongside all STEMM Schools within the University of Hertfordshire in this endeavour in order to share experience and knowledge as the Athena Swan initiative progresses.
We achieved Athena SWAN Bronze status in November 2014 in recognition of the School's activities in support of recruiting, retaining and promoting women in our discipline. View our School Athena SWAN Bronze submission (PDF - 0.6 Mb).
Incentives are in place to support equality, diversity and best practice in the working environment for all staff in the School, not just women. We are also committed to encouraging more girls to consider pursuing a degree in our discipline and embarking on a career in Computer Science.
Our Athena SWAN activities have prompted us to reflect on our existing practices and identify both good practices, and also obstacles that may inhibit individuals from achieving a work-life balance.
Meet our Athena SWAN team

The Athena SWAN working group in our School of Computer Science comprises a range of individuals with a diverse set of life and career experiences, including primary carers of children and/or elderly relatives, and a balance between academic and teaching, research and administration staff in early, mid and senior careers.

The Athena SWAN team is chaired by our Athena Swan Champion Dr Martina Doolan who is a Principal Lecturer.

The Athena SWAN team in the School of Computer Science
Name
Designation
Biographical data
Dr Martina A. Doolan
Chair of Working Group;
School Athena Swan champion;
Member of the Central University SAT; Principal Lecturer.
Independent researcher, successfully completed PgCert, PgDip, MA and Doctorate whilst working in this role. National Teaching Fellow, Member of the BCS Women's Group and Computer Weekly Women in IT. Martina is a single parent with 2 children.
Sylvia Beka
Member of working group;
PhD research student and visiting lecturer in Bioinformatics;
Early Career researcher.
Single, actively encourages fellow female researchers through organising extracurricular activities, participation in the Cambridge EBI and Wellcome Trust Sex in Science and as a member of the AAAS and Bioinformatics Italian Society. Sylvia is an author for Mathematical and Statistical Aspects of Molecular Biology Workshop UK.
Professor Bruce Christianson
Member of working group;
Associate Dean for Research;
Professor of Informatics and Head of the Centre for Computer Science and Informatics Research (CCSIR)
Married to an NHS Consultant Clinical Neuropsychologist; 2 children who both enjoyed attending the University Day Nursery.
Dr Katerina Finnis
Member of working group;
Athena Swan Officer based in the Equality Office (University role).
Member of the Central University SAT.
In a dual-career marriage with 2 young children. Works part-time and flexibly. Previously a senior lecturer in Linguistics, Katerina completed her PhD part-time following her first maternity leave.
Mrs Jo Horridge
Working group Administrator;
Executive Assistant to the Dean of School.
Married with 3 children and grandchildren. Successfully completed BA (Hons) at the University of Hertfordshire whilst working and bringing up children. Has done a variety of voluntary roles in the community including Chairman of the Council & Town Mayor with small children in 1998/99 and currently still involved in scouting (for both boys and girls) whilst working in this role.
Kay Robertson
Member of working group;
HR representative (University role).
Previously completed MBA part time and currently undertaking part time PhD whilst working full time in this role. Previously has worked as Equality Officer for large local authority.
Dr Joseph Spring
Member of working group
Senior Lecturer
Married, wife manager of a prison educational department. Independent researcher recently completed a part time PhD whilst working full time in this role. A member of Bedford College Society (originally a female university college).
Dr Volker Steuber
Member of working group;
Reader in Biocomputation and Head of the Biocomputation Research group.
School Research Student Tutor and Deputy Head of Research Degrees of the Science and Technology Research Institute.
Married, 2 children, partner works part-time, share childcare.
Dr Yi Sun
Member of working group;
Senior Research Fellow.
Married with 1 child in primary school. Partner works as a management consultant. Partner helps with childcare when he can.

Athena SWAN good practice in our School

The School's Bronze Athena SWAN Submission contained actions designed to improve the representation of females in the field, support individuals in the School to achieve their full potential and promote a culture of equal opportunity. Actions include monitoring quantitative data by gender (such a student applications, degree classifications and staff recruitment); disseminating the purpose and value of our Athena SWAN activities throughout the School; undertaking further consultation activities with staff and students which will inform future actions; and ensuring that women within the school have access to female role models.

Specific actions include:

Introduce postgraduate research opportunities via talks to 3rd year undergraduate students followed by drop-in one-to-one sessions with female academics.

Ensure Postgraduate Open Days include female academic role models.

Identify individuals at appraisal who wish to achieve Reader or Professorial status and put a plan of action together for them in consultation with the Dean.

Include family-friendly information and contact details of a female on job advertisements.

Organise School-based seminar s undertaken by HR to explain promotion processes to staff.

Interview individuals who have been successful in achieving readership and professorship to understand the needs of those who wish to progress and understand barriers to promotion.

Conduct research across the School to ascertain career development needs and support.

Monitor attendance of staff on Unconscious Bias Training offered at the University of Hertfordshire.

Activities and events that support Women in Computer Science

Promoting careers in IT
We participate in a substantial number of outreach activities with schools, colleges and organisations in order to acquaint school children, staff and also parents with career opportunities in IT and with exciting areas for research including programming and robotics.
View details of our outreach activities (PDF - 0.31 Mb).

Staff away days
The staff away day, held in September 2014, was devoted to Athena Swan. The University Head of Equality, Min Rodriguez, joined us and hosted a workshop on equality and diversity.

Workshops and talks
Students and staff benefit from a range of internal workshops and talks.

One example is a 2 day EPSRC grant proposal workshop (30 and 31 of March 2015) organised by Dr Martina Doolan. The event offers information on grant writing with a focus on writing grants for the ICT programme of the UK Engineering and Physical Science Research Council (EPSRC). The workshop will be delivered by Professor John Clarke (York).

View details on this and other events offered to students and staff in Computer Science (PDF - 0.18 Mb)

Athena SWAN: Principles and impact

Membership of Athena SWAN has a proven impact as a catalyst for change, leading to organisational and cultural transformation that makes a real difference for women and enables all staff to achieve their maximum potential.

All Athena SWAN members sign up to the principles of the charter.

Evidence of the impact that Athena SWAN has had for Universities has been identified by The Equality Challenge Unit and are increasingly referred to as a 'requirements' or 'expectations'.

Links
News
See a list of Athena SWAN news from the University of Hertfordshire.
More information
Please contact our Athena SWAN Champion Dr Martina A. Doolan (m.a.doolan@herts.ac.uk) or the University's Athena SWAN Officer Dr Katerina Finnis (k.finnis@herts.ac.uk) for further information on our activities.