Business Academy Membership
Join us!
Make connections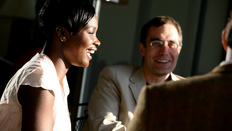 Connect with the Hertfordshire Business School professional community (300+ staff and 3000+ members) and help your career to develop and your business to grow.
It's up to you how much you wish to engage with the Business Academy. Choose to drop in for coffee at one of our Learning Cafés, sign up for a Lunch & Learn Webinar, join one of the Networking Master Classes, attend a Research Seminar or simply stay connected online and in touch with our professional community of academics, entrepreneurs, managers and leaders.
Develop your career and your business
Membership is free of charge - just join the University of Hertfordshire Business Academy Group on LinkedIn to access:
10% discount on CPD, Professional and Bespoke training*
Weekly Group news and chats
Monthly newsletter plus regular Facebook and Twitter updates
Priority access to Business School support, resources and facilities
Reciprocal followership of Twitter and LinkedIn accounts
Advance invitations to VIP seminars, events and activities
Priority notification to calls for 'Live' projects and 'Active' research
CPD passport on Herts Business Academy professional and executive training
Access to Personal Development and Career Planner consultations
*after six months' membership
Be part of an inclusive Business School
Join any Business School executive programme or professional course, and you benefit from complimentary access to quarterly CPD sessions.

<!-owl.js-->