MBA alumni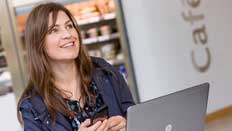 The Hertfordshire Executive MBA has a thriving alumni community both offline and online. Our LinkedIn page provides a single space in which alumni can network virtually, find out about CPD and interest events taking place at the Hertfordshire Business School and wider university and engage with cutting-edge debates relevant to leadership in our complex and changing environment.
The group provides a great place to reignite old friendships, and start new conversations with like-minded professionals.
We are committed to ensuring that this group is preserved as a space dedicated only to our alumni. We therefore ask that you request to join the group by clicking the 'ask to join' button on our profile page.