Hertfordshire Business School flare winners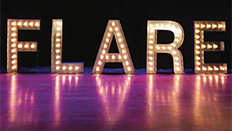 flare is the University of Hertfordshire's annual business start-up competition which supports and encourages students and alumni to launch and develop new innovative businesses.
The competition offers our budding entrepreneurs support and training to help bring their ideas to life.
Hertfordshire Business School regularly features winners and finalists in the flare competition.
flare winners
Muna Aziz
Mel Janac - Best Business Award
flare winner - Best Business Award
Mel Janac - The ecommerce business selling on-trend, custom fit occasion-wear.
Winning the best business for the flare competition was unexpected! Especially when I look at the other outstanding entries this year. I've met so many amazing people and made many new business connections. I still can't quite believe my success and how many people have congratulated me. The University has given me the tools which will help me succeed in the business, and it all began with flare.
Course studied

Andrew Massingham
Create A Story - People's Choice Award
flare winner - People's Choice Award
Create A Story - The activity book where children write their own stories.
flare helps you take that first step towards running your business. Winning the People's Choice Award has given me confidence that people value my product and would buy it.
Course studied

flare finalists
John Nwachukwu
Zap Intelligent Solutions
flare proposal
Zap Intelligent Solutions - The IT business, delivering software development solutions and ecommerce platforms to clients globally.
flare 2017 was inspirational. As a finalist, I have developed self-confidence building my dreams.
Zap Intelligent Solutions started as a simple idea and has turned into a growing IT business. I strongly encourage students, graduates and young entrepreneurs to embrace flare and all the opportunities it brings.
Course studied

Find out more about flare
Visit the flare website for more information on the competition and how you can take part.