Student profiles
Read more about our languages students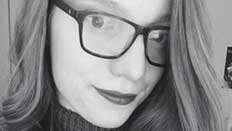 Katie Noble
BA (Hons) English Literature with German
I decided to take German alongside my degree as part of the Humanities modular programme. I never got to study it during school so thought I'd try my hand at it. I ended up really enjoying my time studying German at UH and I now look back on it as one of the best (and most successful) parts of my university experience.
I'm about to start a Masters programme in Eighteenth Century Studies in London but also look forward to continuing my language study as it has become a real passion of mine. Studying a language alongside your degree can be challenging but I found it to be a truly worthwhile experience and I wouldn't change it for the world.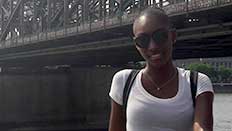 Roxanne Darlington
BA (Hons) Accounting and Finance with German
I've always wanted to learn a language, at secondary school I was given German so before coming to UH, I had some basic knowledge of the language. Studying German as part of my degree for free has been very beneficial, I'm able to improve my reading and writing skills whilst practicing my speaking skills.
After going on my year abroad it has improved even more. I'm motivated and dedicated to reach a C1 level of fluency. I believe, having another language will be advantageous in the work place. Overall, I am grateful for this opportunity.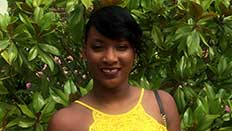 Remonique Williams
BA (Hons) International Business with Spanish
I was interested in learning a new language, but didn't really take it seriously until I started looking into what I wanted to pursue as a career (Client Relationship Manager) and where I wanted to study. I decided to study Spanish as a part of my International Business course at UH, and can say that the language skills gained over those 4 years have proven to be very beneficial in my travels both for leisure and business.
Now, working as a Global Account Manager with clients in Financial Services and the FMCG space, learning a new language has afforded me opportunity to feel comfortable and confident in communicating with people in their native tongue when needed.
Another plus to learning a new language was the ability to compete in the talent pool when I was applying for a job. I wouldn't say I'm fluent, but this by far has been the biggest benefit of having another language in my skills portfolio. Over the past few years, I have seen more companies asking that candidates be equipped with at least a 2nd/3rd language and I think in the current economic climate, I think having more skills at your disposal is not a bad position to be in.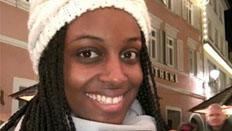 Stephanie Alexander
I studied German with the university at the end of my engineering degree to refresh myself with the language (as I had studied it at GCSE) before I went to work as a graduate for a German engineering company.
This came in useful for a lot of day to day work as some of the technical conversations I have require some German knowledge. I also moved to Germany for a short time as part of a work placement, so I was immersed in the German language and culture.
I still practice today with my German colleagues to keep the language skill active, but I don't think I would be at the level that I am at without the learning that I did at before I started my job.

Alex Anderson
BA (Hons) English Literature with German
I originally started studying at the University of Leicester in 2013, but due to the onset of severe mental health problems, I had no choice but to return home to my parents in Hertfordshire in February 2014. By September of that year, I finally felt well enough to attempt University again. I knew moving away from home was not possible for me as I heavily relied on the support from family and friends; therefore I decided to study at the University of Hertfordshire.
My first year of study was extremely difficult and at many times, I didn't think I'd make through till third year, however the support I received from the University was incredible. I immediately had a Study Needs Agreement put in place, which meant that if my attendance was poor or I was unable to participate in seminars, my tutors were aware and I didn't fail any of my modules. I had amazing help from my personal mentor, Angela Hammond, the University Mental Wellbeing Adviser, Mark Edgar and a Disability Adviser, Emma Porter. Though I received varying degrees of support from them and at different times throughout my degree, the support I received from each of them was invaluable.
Before I started at Herts, I applied to study History, however the Humanities Program gave me the opportunity to study English Literature and German modules in my first year. This allowed me to work out what it was I really wanted to study and by the end of first year I decided to choose English Literature with German, dropping History. I loved the fact that I was able to study German again, particularly as I enjoyed it so much at school and it has developed into a real passion of mine. I love that language classes at Herts are organised in terms of skill as opposed to year of study, as I was able to interact with students in various stages of their degree and from different subject backgrounds. In my final year, there were three third years and the rest were first years. We were often made to work in groups or answer questions in front of each other. Some of the first years were nervous about speaking in front of the class so I really tried my best to get to know everyone and include them in conversation, trying to boost their confidence.
Studying a language is difficult and requires a lot of work – around six to eight hours extra study a week. Though we had set tasks to complete, I really focused on improving my own particular weaknesses. I knew my spoken German really needed work so I researched and found an app called HelloTalk. The app connects language learners from all over the world and allows you to send messages and voice clips to each other, so it's great for learning how to use certain phrases and slang. I then went further and found a website called italki which also connects language users, but for the purpose of speaking in real-time via Skype. By speaking regular to German native speakers, I was able to conquer my fears of spontaneous speaking and making mistakes. At the end of my third year, we compared my second and third year German speaking exams and the difference was staggering!
In between my second and third year, I participated in a four-week German Language course at the Hochschule Bremen in Germany. The programme was separate to my degree and was funded for by myself. I both travelled and lived alone for the duration and was the only British participant out of two-hundred and seventy-six people from thirty-five countries – even my landladies didn't speak English! This massively increased my cultural awareness and provided for a truly unforgettable experience. I am still in contact with my German landladies and friends I made from the trip.
Since finishing my final exams, I have started working for a Global Executive Search firm as a Researcher. As the firm recruits globally, I am able to use my German language skills to speak with both clients and potential candidates. I also have the opportunity to travel worldwide – including to Munich next month.
Reflecting on my time at Hertfordshire, I would encourage anyone who has a mental health problem, disability or anything else that might impede their studies, to reach out for help. There are so many amazing services and people that are there to support us students. Though I didn't use my mentor or Study Needs Agreement in my third year as I was a lot better, I knew it was there as a backup, which was very reassuring in my final semester. Another piece of advice I would give to those starting University, would be to try and talk and make effort with as many fellow students as you can. Everyone is in the same boat and everyone wants someone to sit next to in the lecture hall.
My decision to start University again has been crucial in my recovery, giving me a real purpose again. Despite the many struggles, I can't believe how far I've come and what I've achieved over the course of three years!