AMGEN Biotech Experience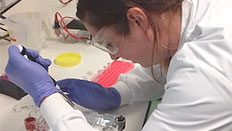 The Amgen Biotech Experience (ABE) is designed to enrich biology learning and teaching, particularly at A level and key stage 4, through the experience and excitement of real-world bioscience. It provides, free to schools:
CPD for biology teachers and school science technicians, followed by
loan of research-grade lab equipment so that students can explore methods that scientists use to create biotechnology medicines
detailed teacher and student guides
hands-on molecular biology student activities mapped to GCSE and A level specifications
activities suitable for key stage 3 students
teaching approaches that can help students to understand how biotechnology impacts on people's lives.
Our CPD develops participants' knowledge of biotechnology theory, technical and practical skills, including restriction enzyme digestion, ligation reactions and agarose gel electrophoresis, bacterial transformation, DNA profiling and PCR [polymerase chain reaction]. It is practical – offering first-hand experience of activities that students will undertake, including producing a functional protein from genetically modified bacteria.
The ABE programme is international. Each year more than 90,000 students participate. University of Hertfordshire coordinates the UK programme. Read case studies from our ABE school network.
Case studies
Find out more about different ways that schools implement the Amgen Biotech experience:
Nene Park Academy extends involvement in ABE by involving sixth form students from another school in an off-timetable ABE day
Thomas Alleyne Academy: School-wide participation - more than 350 students from years 7 – 13 enjoy the Amgen Biotech Experience
Bishop's Hatfield Girls' School: Students make a big splash in biology week with the Amgen Biotech Experience
Sandringham School: A week-long, school-wide event including three labs and screening of a documentary on the biotech revolution
To find out more email stem@herts.ac.uk