Continuing professional development (CPD) in STEM subjects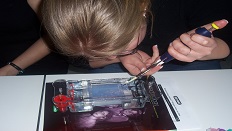 Our CPD helps primary, secondary and further education teachers and technicians to:
improve subject knowledge in science.
raise the quality of teaching in STEM subjects.
develop subject leadership skills.
provide technical and leadership support.
develop your own school CPD.
Our CPD draws on the subject research and academic expertise at the University of Hertfordshire. We work with businesses and other organisations that want to improve UK STEM education.
Our trainers are trusted specialists with expertise in science, technology, computing, engineering and mathematics education.
Our flexible delivery models include:
Multi-day courses, perhaps run over an extended period of time. These are particularly suitable for subject knowledge development, teachers moving between phases, subject leadership, initial teacher training and supporting NQTs and RQTs. Read more about our multi-day physics course
Half day or twilight courses, which can be linked together over a series of weeks to give sustained impact.
In school bespoke support. This may be a classical piece of CPD for all teachers of a subject, a group of teachers or for individual teachers. It could also be joint lesson planning, lesson observations, co-teaching sessions, learning walks or planning schemes of work.
Training teacher trainers. We are very proud of our record of training existing teachers in how to run inspirational CPD; as well as using these teachers on our courses, we know they are having a significant impact in their schools and other schools they support.
Designing inspirational CPD. We can help institutions to develop effective training programmes or can supply pre-made courses (such as our physics subject knowledge course)
Working with Multi-Academy Trusts, local authorities or other groups of schools we can work with groups of schools to provide ongoing support to meet a range of needs. For example, working with the London Schools Excellence Fund we have developed an 18-month project to improve A level Chemistry teaching and learning with secondary schools in Harrow