AMGEN Biotech Experience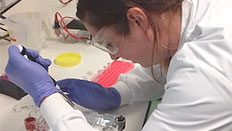 The Amgen Biotech Experience (ABE) is designed to enrich biology learning and teaching, particularly at A level and key stage 4, through the experience and excitement of real-world bioscience. It provides, free to schools:
CPD for biology teachers and school science technicians, followed by
loan of research-grade lab equipment so that students can explore methods that scientists use to create biotechnology medicines
detailed teacher and student guides
hands-on molecular biology student activities mapped to GCSE and A level specifications
activities suitable for key stage 3 students
teaching approaches that can help students to understand how biotechnology impacts on people's lives.
The ABE programme is international. Each year more than 90,000 students participate. University of Hertfordshire coordinates the UK programme. The three UK hubs are located in Cambridge, Norwich and Hatfield, Herts. Kit loan and CPD takes place at the three hubs.
Keep up to date about the ABE programme through our regular newsletter.
---
CPD 2021 feedback
We welcome your feedback on the CPD as it helps to improve the programme. If you attended CPD and have not given your feedback yet, here is the link for you to do so.
Find out about ABE CPD

Our CPD develops participants' knowledge of biotechnology theory, technical and practical skills, including restriction enzyme digestion, ligation reactions and agarose gel electrophoresis, bacterial transformation, DNA profiling and PCR [polymerase chain reaction]. It is practical – offering first-hand experience of activities that students will undertake, including producing a functional protein from genetically modified bacteria.

Our CPD usuallly runs in June and July from the three hubs in the UK - Norwich, Cambridge and Hatfield, Herts. Details of upcoming CPD will be in our newsletter and posted here.

Network meetings

Our network meetings are a chance to keep updated about programme developments and share practice and are held via Zoom.

The network meeting scheduled for Monday, 27 September 2021, 16:00 has been postponed. The rearranged date and link to book will be posted here.

ABE kit loan

Find out about LabXchange

LabXchange is a free science education platform, created at Harvard University with support from the Amgen Foundation, that provides a wealth of teaching and learning resources including information, video material, interactive content and lab simulations on topics that include genetics, biochemistry, biotechnology; evaluation; current research; scientific method; and STEM careers.

Case studies from our ABE school network