AMGEN Biotech Experience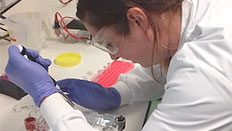 The Amgen Biotech Experience (ABE) is designed to enrich biology learning and teaching, particularly at A level and key stage 4, through the experience and excitement of real-world bioscience. It provides, free to schools:
CPD for biology teachers and school science technicians, followed by
loan of research-grade lab equipment so that students can explore methods that scientists use to create biotechnology medicines
detailed teacher and student guides
hands-on molecular biology student activities mapped to GCSE and A level specifications
activities suitable for key stage 3 students
teaching approaches that can help students to understand how biotechnology impacts on people's lives.
The ABE programme is international. Each year more than 90,000 students participate. University of Hertfordshire coordinates the UK programme.
Keep up to date about the ABE programme through our regular newsletter.
Find out about ABE CPD and network meetings

Our CPD develops participants' knowledge of biotechnology theory, technical and practical skills, including restriction enzyme digestion, ligation reactions and agarose gel electrophoresis, bacterial transformation, DNA profiling and PCR [polymerase chain reaction]. It is practical – offering first-hand experience of activities that students will undertake, including producing a functional protein from genetically modified bacteria.

Our network meetings are a chance to keep updated about programme developments and share practice.

Upcoming events - click on the title to book via Eventbrite

Find out about LabXchange

LabXchange is a free science education platform, created at Harvard University with support from the Amgen Foundation, that provides a wealth of teaching and learning resources including information, video material, interactive content and lab simulations on topics that include genetics, biochemistry, biotechnology; evaluation; current research; scientific method; and STEM careers.

Case studies from our ABE school network

ABE kit loan

Kit loan from the 3 hubs has now resumed for schools where staff have attended face-to-face training and have used the kit in 2018 or 2019. There is a remotely-delivered refresher course running on 20 May.


All schools that borrow kit must complete a risk assessment in advance of the loan. Please check current CLEAPSS guidance for updates. In line with curent protocols, kit will be quarantined at hubs between school loans.

Schools that wish to borrow kit in this academic year, subject to the above, to email stem@herts.ac.uk

---

Please contact your hub or stem@herts.ac.uk if you have any questions about kit loans. Our aim is for as many schools as possible that have trained staff to use kit during the summer term – so the loan periods might be shorter than in previous years. We hope that none the less, students can enjoy and learn from first-hand experience of using the kit.