Backing up
The research that you do on your laptop, desktop, or mobile device is all open to theft, damage and subsequent loss. It is therefore imperative that you back up your work and keep your sensitive information secure.
Why back up?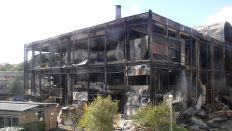 In 2005, an electrical fault in the electronics and laser research building at the University of Southampton cost £50-100m including temporary building hire and transfer of work to Holland.
If a fire or similar disaster happened at the University – how much would it cost you?
Your personal desktop and laptop need to be backed up and this is your responsibility. Your back up policy should be reliable, regular, and onto a reliable disk. A flash-stick memory pen is a risky backup as it can be easy lost or damaged.
Where to back up data
You should carefully consider where your data is safe and how often you should synchronise your back up. Your department networked machines are likely to be connected and maintained by your technical staff and you should contact them for more advice.
In general, there are built-in programs to help you back up on all devices, even mobile devices give you the option of saving your set up to cloud based servers own by your service providers (such as apple and google).
| Backing up... | Using... | Onto... |
| --- | --- | --- |
| Your laptop | Timemachine (Mac) | an external hard drive |
| Your desktop | Windows back up (MS) | a server |
| Your mobile device | rsync and cron (Linux) | a secondary machine |
If you do not back up your data, you risk losing months of research which is expensive and time consuming to redo. It could cost you a publication if you are beaten to the finish by competitors. It could cost you financially if you run out of funding before your project has been finished. Advice on backup procedures on Windows, Mac, and Linux is available from our backup procedures page.
A recent project at the University of Hertfordshire discovered too late that 3TB of research data stored on local machines had been corrupted, including raw and processed data, and all the analysis outputs. With no back up, this has cost them £1696 TB/yr including additional staff and a new back-up storage facility. Thankfully the loss was limited by a timely transfer to a collaborator a month before. Read our RDM Toolkit blog for more information.
In 2012, a Dell survey demonstrated that 12000 laptops are left at US airport security points per week. They cannot be turned on or analysed so unless your name is on the outside of your mobile device, it will not be returned to you. They hold them for 30 days before auctioning them as government property.
Next time you travel, make sure your device is labelled, secure, and your data is backed up.