Animal Research at the University of Hertfordshire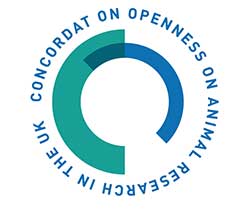 Research involving the use of animals is vital for a better understanding of disease mechanisms and for developing therapies that are of significant benefit to both humans and animals. However, the University takes the view that research on animals should only be carried out where it is essential and there are no suitable alternatives.
Replacement, Reduction and Refinement
When we must use animals for research, we minimise numbers in accordance with the principles of the NC3Rs (Replacement, Reduction and Refinement research using animals) and endorse their ARRIVE guidelines, developed to improve the design and reporting of animal experiments. We ensure that animal welfare is given the highest priority by investing significantly in developing state-of-the-art facilities based on the requirements of animals used and their natural behaviour.
In formal acknowledgement of our legal and moral obligations, animal research at the University of Hertfordshire is compliant with strict UK legislation under the Animals (Scientific Procedures) Act 1986 [A(SP)A] and is subject to stringent ethical review by our Animal Welfare and Ethical Review Body (AWERB) and by the Home Office Inspectorate.
Our commitment
In an enhancement of our commitment to the highest standards of animal care and welfare, the University is a signatory to the Concordat on Openness on Animal Research, pledging to uphold its key principles by abiding by the following commitments:
We will be clear about when, how and why we use animals in research
We will enhance our communications with the media and the public about our research using animals
We will be proactive in providing opportunities for the public to find out about research using animals
We will report on progress annually and share our experiences
Find out more
Read the University's full Policy Statement on Research Involving the Use of Animals.
Read our frequently asked questions and answers.