2020 Vision Research Photography Competition
Since 2017, and as part of the University's Annual Conference for Research Students, the Doctoral College run a photography competition called 2020 Vision. It brings together our local community and our research students through showcasing the next generation of researchers and demonstrating the real-world impact of our research.
Our Doctoral College community includes over 650 students across eight schools. We have one of the most distinctive and varied portfolios of Masters and Doctoral study in the UK including 12 professional doctorate programmes. This project and the work from our research students shows the strength of our community, the depth of our passion for research and our creative flare. We are extremely proud of our research community and the diverse range of research of our students.
On this page you'll find this year's winners and all our competition entries.
We have been truly inspired by the submissions over the years and the range of styles and content. Our students have shown a wonderful passion and dedication to their work this year and we are delighted that so many have taken part. We'd like to say a massive thank you to everyone that has contributed.
The winning entries
1st Prize - Danny Buckley
About the project
My PhD research is designed to provide new knowledge on different types of therapies for those living with dementia. The Alzheimer's Research UK Charity have previously warned us of a 'national health crisis' as recent predictions estimate that one in three people born into the world today will develop dementia before they leave it again. We are also aware that these people spend up to 65% of their time entirely alone.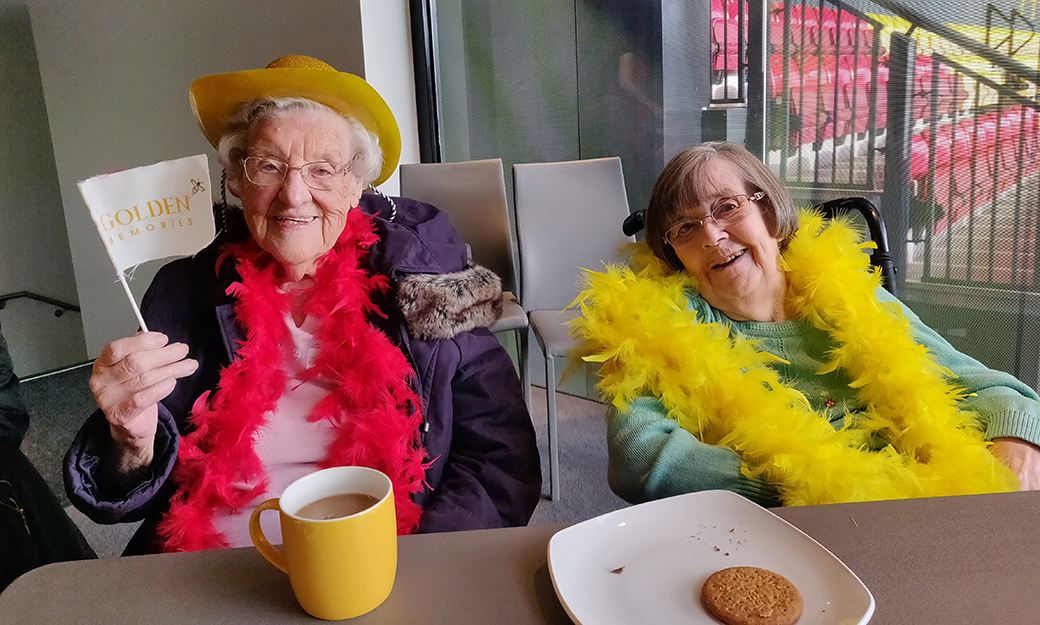 Winning the 2020 Vision was a complete shock to me. I had submitted a picture taken during the data collection phase of my PhD of two elderly participants enjoying their time on the Golden Memories programme. The image represents the impact that a programme can have on those living with dementia, and it is such a pleasure to see the happiness expressed on my participants faces. This prize means a great deal to me as Covid has impacted greatly on my data collection and on those who participated in my study. I hope to see the programme up and running again during the summer period, but between now and then I intend on using my prize money to support me with the write up of my thesis.
About the photograph
This photograph was captured during a session on the Golden Memories programme hosted by Watford Football Club. The idea behind the initiative and research is to provide people living with dementia and their carers with an opportunity to come together and socialise each week. The main focus of this programme is to provide these people with an opportunity to participate in reminiscence therapy where the main theme and focus is something they hold a great deal of passion about – Watford Football Club. It is deeply concerning to know these people became reliant on these opportunities which have unfortunately diminished since the outbreak of Covid-19. We hope to bring these happy moments and smiles back to the Vicarage Road Stadium once again in the near future.
2nd Prize - James Fortune
About the project
Hyenas and vultures are physically very different; yet both species are scavengers. They are able to co-exist and utilise the same resource by applying different strategies to obtain nutrients. In isolation, both species can access the resource equally. Due to their larger size, hyenas are more dominant than vultures. Therefore if hyenas are present, vultures will be inhibited from accessing the resource.
Many parallels can be drawn between these interspecific relationships and those observed in my research of two plant pathogens of oilseed rape. Like hyenas and vultures, the pathogens can co-exist and use the same plant resource. My research provides evidence to show that one pathogen can inhibit the others access to the resource via the production of a toxic chemical. This is important because food productivity must increase by 70% by 2050, with increased demand for crops for biofuels and livestock feed. The importance of multipurpose crops, such as oilseed rape, that can provide food, feed and fuel are rising. An increased understanding about their interspecific interactions would help reduce yield losses through development of novel control strategies.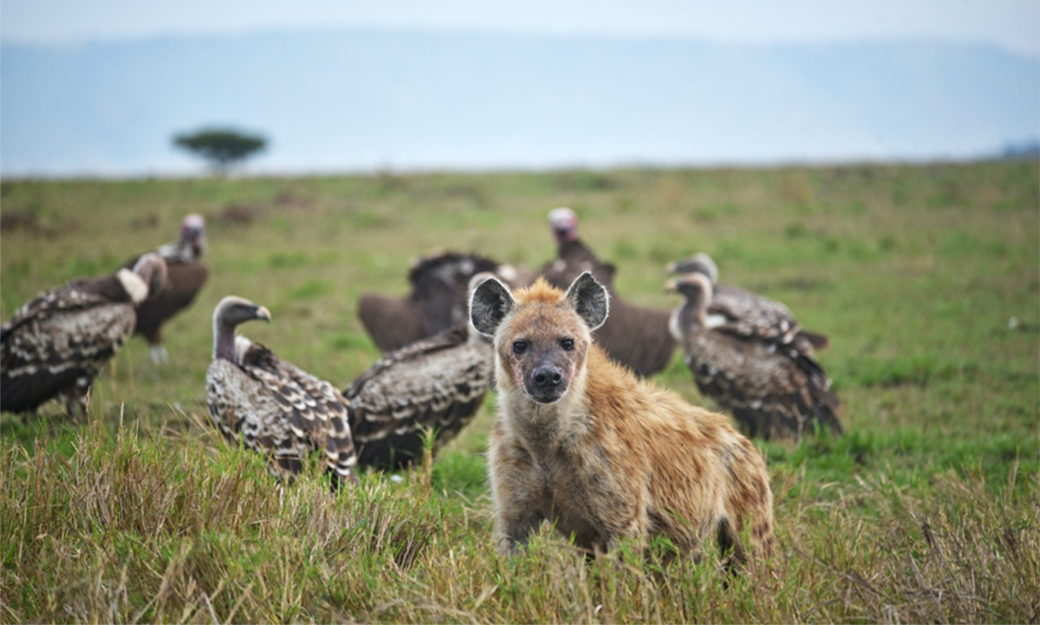 About the photograph
The image titled 'Interspecific competition' of a hyena and vultures symbolises resource competition between two species for food.
About the project
Although better known today for his 'science fiction' of the 1890s, H G Wells' first published book was not The Time Machine (1895) but The Text-Book of Biology (1893). Wells wrote fiction and articles on science concurrently. My research examines the intertwining of science and literature in the 1890s and how this impacts his fiction. In an 1895 interview, Wells claims that 'fiction is widening its territory' and 'has become a mouthpiece for science.' My research considers Wells' contribution towards the popularisation of science in this period through the periodical press, including his article on how science should be made more accessible; his attacks on what would now be regarded as pseudoscience; and the prevalence of scientific discourse within his gothic works. This is all viewed within the historical context and literary trends of the 1890s.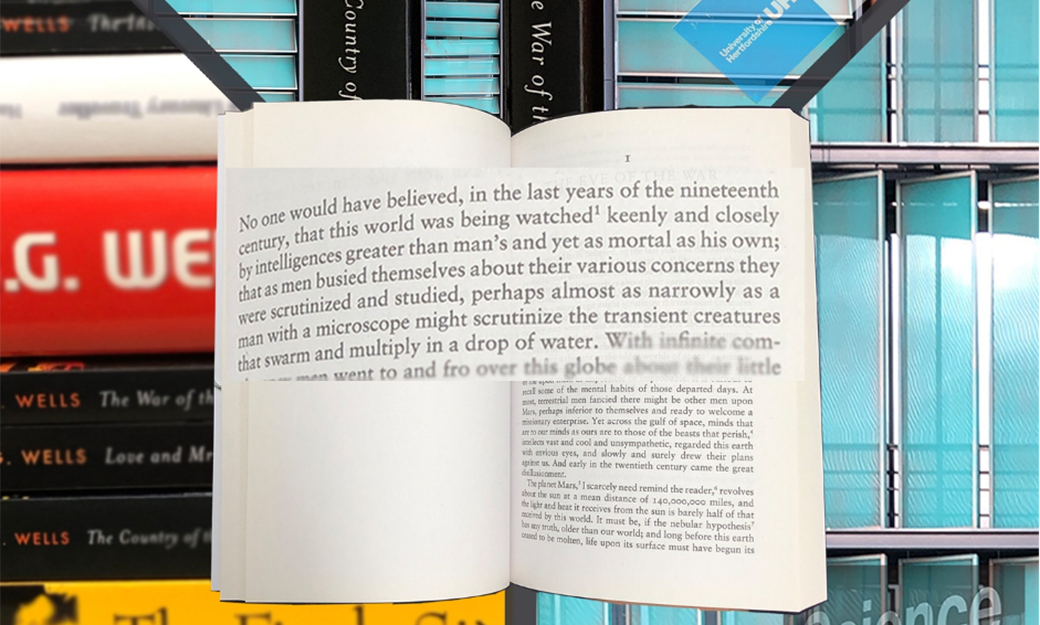 About the photograph
The image is a collage of photographs taken on the University's College Lane Campus alongside the books on my bookshelf, representing how my research combines contemporary science with the literature of the fin de siècle. Regrettably, this research won't result in a time machine to take us out of the strange time we're living in!
See all our competition entries
School of Creative Arts
School of Education
School of Health and Social Work
Hertfordshire Business School
Hertfordshire Law School
School of Humanities
School of Life and Medical Sciences
School of Physics, Engineering and Computer Science