Durability Of Oilseed rape Resistance
The primary focus of this research team is on pathogens of arable crops with emphasis on Brassica host species. Important UK pathogens of oilseed rape (Brassica napus) include the globally important Leptosphaeria maculans and Pyrenopeziza brassicae, causing phoma stem canker and light leaf spot, respectively. Yield losses to light leaf spot have recently exceeded any other oilseed rape disease in the UK. Each of these are apoplastic pathogens that are studied to better understand molecular genetics of compatibility and host resistance responses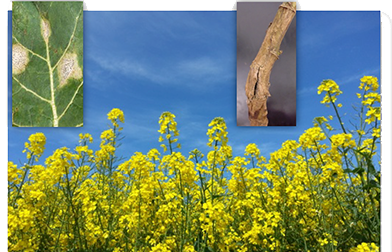 Oilseed rape, the second largest oilseed crop in the world, at the flowering stage (main image) is threatened by diseases like phoma stem canker caused by Leptosphaeria maculans. This fungal pathogen causes visual leaf spot (upper left) and canker symptoms (upper right) but otherwise colonises the host asymptomatically. A resistance cluster on chromosome A07 containing four R genes against L. maculans is shown (bottom) with annotated gene models that differ between two cultivars of the crop. Possible contributions of leucine-rich repeat receptors to resistance against globally important oilseed rape pathogens are explored.
Current and past funded projects
2018-2021: "Genomics-led improvement of biotic and abiotic stress tolerance in mustard rape for economic and environmental sustainability" – BBSRC Newton Fund; UH emphasis on partial resistance against Sclerotinia sclerotiorum and Alternaria brassicae causing stem rot and black spot, respectively.
2018-2022: "Discovery of the genetic basis of partial resistance against Pyrenopeziza brassicae in oilseed rape (Brassica napus)" – HKEP PhD studentship with industrial partner KWS.
2018-2019: "The role of oilseed rape leaf wax characteristics in resistance against the light leaf spot pathogen Pyrenopeziza brassicae" – MSc studentship co-funded by the Morley Agricultural Foundation, Felix Cobbold Trust and Chadacre Agricultural Trust in collaboration with Rothamsted Research and KWS UK Ltd.
2015-2019: "Sustainable yield of oilseed rape through improved resistance against Leptosphaeria maculans (phoma stem canker)" – KTN BBSRC CASE PhD studentship with LS Plant Breeding and NPZ Innovation; research on temperature sensitivity of resistance against L. maculans.
2015-2016: "Mechanistic Analysis of Quantitative disease resistance in Brassicas by Associative Transcriptomics " – BBSRC ERA-CAPS funded; UH focus on protection against light leaf spot and phoma stem canker.
2013-2014: "DURABLE RESISTANCE – Understanding factors affecting durability of crop resistance genes" – EU Marie Curie FP7 Fellowship.
Team members
Students
Katherine Noel,
Ajisa Ali,
Heather Fell,
Donovin Coles (Western Sydney University)
Co-supervisors
Georgia Mitrousia,
Yongju Huang,
Bruce Fitt