The Contribution of Physical Activity to Social Connectivity and Wellbeing in Older Adults Living with Dementia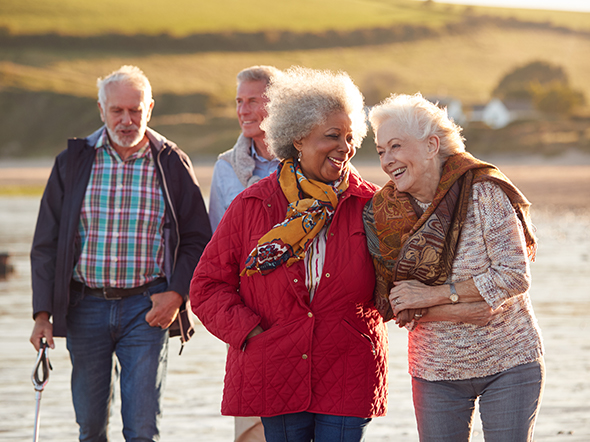 We'll be sharing blogs written by 'experts by experience' throughout this project. Our first story is told by Rosemary, who has seen the positive impact of exercise for her parents, who were both living with mild dementia.
Read Rosemary's blog
Why is the project needed?
Around 850,000 people live with dementia in the United Kingdom, and this number is predicted to rise. Dementia is a term for the decline in a person's memory, thinking, and behaviour. The loss of these abilities can have a severe impact on everyday life. Dementia often increases feelings of isolation and loneliness.
England is one of the first countries to encourage the creation of Dementia Friendly Communities (DFCs) as part of national policy. DFCs support local communities to engage with people affected by dementia. This helps people to live independently and can improve quality of life.
Physical activity programmes can be an important part of these communities. Benefits include improving wellbeing, reducing loneliness and building connections with the local community. Yet, the impact of physical activity programmes on the experience of people living with dementia, is often overlooked.
The DEMCOM study offered a national evaluation of DFCs. One finding was that some, but not all DFCs offered physical activities for people living with dementia. Our project will advance this study.
The support of the Economic and Social Research Council (ESRC) is gratefully acknowledged.
Funding awarded by ESRC/UK Research and Innovation, Industrial Strategy Challenge Fund, Healthy Longevity Global Competition, Healthy Ageing Catalyst Award.

Find out more about the The Healthy Longevity Global Competition on their website
How are we going to work?
We asked leaders from DFCs across England to complete an online survey. The survey considered the opportunities and challenges of physical activity provision for people living with dementia.
We worked with three DFCs for our case studies. These have been chosen because they each have different experiences of promoting physical activity and varying DFC development.
We ran focus groups and conducted individual interviews to gain insights into the running of physical activity programmes in the DFCs. The research involved key staff involved in the physical activities. We also interviewed people living with dementia and their family supporters or carers to gain an understanding of their experience of participating in physical activities.
We worked closely with 'experts by experience' from our Patient and Public Involvement (PPI) groups, throughout all stages of the project. Their insight has brought added value. By way of example, we adjusted our methodology based on feedback from the University of Hertfordshire, CRIPACC, Public Involvement in Research group (PIRg). We also worked with the Stevenage Dementia Involvement Group to understand what physical activities are available in their local area.
The development of our resources (e.g. information sheet), survey and interview questions benefitted from our relationship with PPI contributors. Their feedback helped ensure that at all stages the project was accessible to all. We worked together to enable people with dementia to take part in interviews and consider whether any adjustments were needed.
Finally, we have worked with PPI contributors to make sure that the resources we have developed are user friendly . We will continue to feedback and publicise our research findings to key groups. These include people living with dementia and their family supporters, DFCs and physical activity providers.
What are our key objectives?
To create a resource for people living with dementia and their carers, so they can find dementia friendly physical activities offered in their local area.

Read the 'Making Stevenage a Dementia Friendly Community' resource

Read the 'New booklet launched on accessible activities for residents living with dementia in Stevenage' press release


To produce guidelines for how to make physical activity programmes accessible for all people living with dementia. This includes people from at different stages of dementia. The guidelines can be used by DFC's which don't currently use physical activities to engage people with dementia in their local community (in progress).


To write a paper/report analysing the benefits of physical activity for people living with dementia. This will include consideration to the effect of the COVID-19 pandemic on the provision and accessibility of physical activity for people living with dementia. The summary of our findings will be found on this webpage.
Timeline
| Date | Action |
| --- | --- |
| December 2020 - January 2021 | Apply for ethics approval and develop project materials |
| February - March 2021 | Send out the survey to DFCs and follow up with interviews |
| April - August 2021 | Interviews with key people from the three case study DFCs |
| September - October 2021 | Data analysis |
| November - December 2021 | Continue data analysis |
| January - March 2022* | Report writing and development of resources |
*Project extension
How will we measure success?
We have produced a public summary from our findings and have collaborated with the local Council to develop a resource for people affected by dementia. Findings will be published in an academic journal (coming soon), and also be available using the link below.
We plan to hold an event to share our research. We want to inform people living with dementia in our local area about the provision of physical activity.
Our key findings and plans will be shared online with organisations who help to improve the wellbeing of people living with dementia.
Presentation of findings
Health and Social Work Conference, University of Hertfordshire (15 June 2022)
Watch Dr. Rebecca Hadley's presentation on Dementia Friendly Communities and Physical Activity
Meet the team
Elizabeth is a leading academic in the sociological understanding of physical activity and ageing. Elizabeth's work focuses on issues of equality, diversion and inclusion in and through sport. This knowledge will inform the project's focus on understanding whether physical activity for people living with dementia is fair and inclusive.
Elspeth Mathie carries out research into Patient and Public Involvement (PPI) and aims to include the voices of those with lived experience in health and social care research. Her research experience is working with older people and those living with dementia.
Claire Goodman's research focuses on the needs and experiences of older people living at home and in long term care settings, including those living with, and affected by dementia.
Rebecca's PhD focused on the use of wearable technology to understand the benefits of physical activity for people with Parkinson's. Rebecca's experience of working with older adults and individuals with a chronic health condition will feed into the current project to build relationships with PPI contributors and participants.