Research Unit in Sport, Physical Activity and Ageing (RUnSPAA)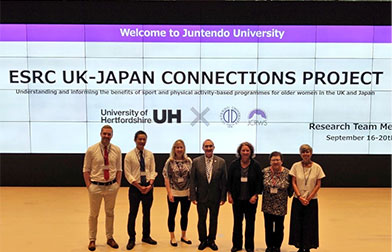 RUnSPAA is led by Professor Elizabeth Pike, Head of Sport, Health and Exercise. The focus of the Research Unit is to undertake impactful research to improve the provision and experiences of physical activity for older adults - locally, nationally, and globally.
The Unit has undertaken several projects funded by government and industry. These include researching the provision of physical activity for older women in the UK and Japan, and reminiscence therapy for older adults living with dementia.
RUnSPAA works with research partners in Japan and a wide network of expert practitioners.
Global Research Network
Tomoki Kaneko, Keio University, Japan
Dr Maki Itoh, Hosei University, Japan
Regional Providers
RUnSPAA works closely with a number of regional providers of physical activity for older adults. Details of their work may be found below.
Projects
The Contribution of Physical Activity to Social Connectivity and Wellbeing in Older Adults Living with Dementia
This research project examines the ways physical activity can improve the quality of life for people living with dementia. We're working with Dementia Friendly Communities in Stevenage, Sheffield and Watford and Patient and Public Involvement groups. The findings of the research will be used to create a report, guidelines and a resource to help improve the provision and knowledge of the impact physical activity can have. Find out more about the project.
Golden Memories
Through RUnSPAA, the University of Hertfordshire is a partner in the Watford Football Club Golden Memories programme.
Golden Memories is a reminiscence programme aimed at those living with mild to moderate dementia.
Golden Memories uses a host of Watford FC memorabilia and magic moments to stimulate the senses and evoke personal memories. Not only does the programme focus on reminiscence but also act as a tool to reintroduce physical activity whether that be chair exercises or even table football.

Sport and physical activity-based programmes for older women in the UK and Japan
The University of Hertfordshire has been working with colleagues in Japan on an ESRC-funded project to better understand the benefits, and address the challenges, of delivering sport and physical activity for an ageing population. There is an unprecedented number of people in the world over the age of 60, and Japan and the UK are two of the nations most affected by this dramatic demographic shift to an ageing population. Japan has the highest life expectancy of any country, and Japan and the UK are the only two countries in the world to have 'Dementia-friendly communities' in national policies.
The International Conference on Sport and Physical Activity for Older Adults brings together practitioners, policy-makers, academics and service-users to share experiences and good practice related to the delivery of sport and physical activity programmes for older adults, and specifically for people living with dementia.

About us
Meet the team