Criminal Justice and Criminology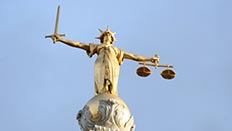 The Criminal Justice and Criminology research group is primarily focused on Gender and Crime Critical Criminology, Bioethics and Crime, Criminal Evidence, Human Rights, Hate Crime, State Crime, Culture of Fear, Penal Welfarism, Alternatives to Incarceration, Political Theory.
University research themes
Research at the University of Hertfordshire is organised under 6 research themes as per the University Strategic Plan 2015-20 (PDF - 1.95 Mb). These high level themes address global research challenges which are reflected in research areas and groups at the Hertfordshire Law School. The work of the Criminal Justice and Criminology research group falls within the following University Research themes:
Information and Security.
Heritage, Cultures and Communities.
School research themes under Criminal Justice and Criminology
Our group is focused on the study and research in the areas of Traditional knowledge, bioethics, gender studies, honour based violence, honour killings, honour based violence against LGBTIs, honour killings in Turkey, human rights, state crime, organised crime, torture, incarceration in the UK, prison studies in the EU, culture of fear, penal reforms, restorative justice, community remedies, probation, EU arrest warrant, European Criminal Justice, victimology, penology, political theory, political violence and terrorism, criminal evidence, youth crime, human trafficking, drug trafficking, youth crime, policing, human rights, freedom of expression, policing, cybercrime, organised crime and terrorism.
Research group members
Ms Claudia Carr – bioethics, assisted suicide, cybercrime
Dr Qi Chen – community sentencing measures, Chinese studies, state governance, transitional society, social control
Dr Melanie Collard – critical criminology, human rights and political theory, hate crime, torture
Ms Muki Gorar – honour based violence
Ms Maureen Johnson – inchoate criminal offence, culture of fear, penal welfarism
Dr Chamu Kuppuswamy – restorative justice
Dr Ferya Tas-Cifci – gender studies, honour based violence, honour killings, LGBTIs, Turkey
Dr Ermioni Xanthopoulou – proportionality, human rights, European Arrest Warrant, European criminal justice, Common European Asylum System, Dublin III Regulation