Connect Common Reading Experience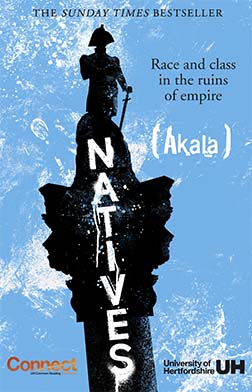 The UH Common Reading Experience is a University of Hertfordshire-wide reading programme focused on developing the experience of all students..
Students and staff read the same book and participate in discussions, activities and events that relate to the themes of the book. These will be hosted on campus throughout semester A and B.
The book for 2019 is Natives by Akala.
The scheme will:
enable students to get to know peers from different disciplines
develop student confidence and support learning within the degree
enhance the student's CV
be a meaningful and fun experience.
Copies of the book can be collected during Connect events and at key locations across both campuses such as the LRCs, the Main Receptions and the Student Union Offices.
Throughout your journey at Herts, we would like you to make the most of it by taking part in our innovative scheme, which is designed to enhance your time at university and your future career.
Connect provides an informal and enjoyable opportunity to get to know other students and share a learning experience together. It will tap into your curiosity and help you develop your critical thinking and oral discussion skills. It will also give you the opportunity to explore the themes of the book from different perspectives and through multiple lenses which can help you develop a deeper interdisciplinary understanding.
During semester A and B, students and staff are invited to participate in a programme of events and activities linked to the themes of the book. These will range from book discussions to wider events with presentations from special guests such as the author of Natives, Akala.
Once you have registered on your course at Herts, you will be sent a link inviting you to enrol on the Connect Programme. Please contact the Herts Success team if you have any problems with this.
Across the community
A key feature of the programme is its distribution across the University academic community, providing participants with opportunities to engage with students and staff across the institution's diverse disciplines.
Connect aims to foster an awareness of the breadth and richness of the University's intellectual environment, a sense of community and collaboration and an understanding of the value of interdisciplinary dialogue.
We encourage faculty members to incorporate the book into their course curriculum in the 2019-20 academic year.
Contact the Herts Success team for information not covered on these web pages.
Read more about Natives and Akala and see some reviews of the book.

Follow us on Twitter to keep up-to-date with Connect.