Your country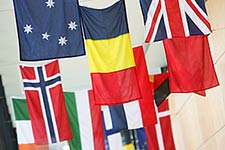 The University of Hertfordshire has a student community of over 24,600, which includes more than 2,900 students from 100 different countries and we have a global network of over 25,000 alumni in over 180 countries.
The University of Hertfordshire has been named in the top 20% of the world's most international universities in Times Higher Education world rankings 2016. We are also one of the top 150 universities in the world under 50 years old, according to the new Times Higher Education 150 Under 50 Rankings 2017.
We welcome you to select your country from our list for information specific to where you're from. If your country is not listed here, you can find out more information on entry requirements, how to apply and how to get in touch with us.
Choose your country