Myanmar
Pay your fees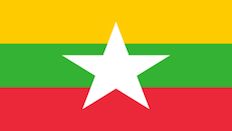 Here you will find important information for Myanmar students on entry requirements, who to speak to and when and where you can meet our representatives in your country.
The University of Hertfordshire offers a welcoming community of over 3,800 international students from more than 100 countries worldwide.
Entry requirements

We typically require the following qualifications from Myanmar students:

Point of entry
Academic requirements *
Language requirements *
Foundation
Basic Education Standard X Examination/Matriculation Examination with 40% (pass) overall.
IELTS 4.5 with no less than 4.0 in any band.
Undergraduate (year 1)
Completion of a relevant foundation programme with pass.
IELTS 6.0 with no less than 5.5 in any band.
Pre-masters
Myanma Master degree with 50% (pass) or above.
IELTS 5.5 with no less than 5.5 in any band.
Postgraduate taught
Bachelor (Honours) degree or Bachelor degree in a profession subject with minimum 2:2 or equivalent GPA
or
Myanma Master degree with 55% (pass) or above.
IELTS 6.0 or 6.5 (depends on course) with no less than 5.5 in any band.

*Some courses may vary and/or have specific requirements – for details of the entry requirements for your course, please see our course pages or contact us to check your qualifications. Please note that all applications are assessed on an individual basis.
Contact us in Myanmar
The University works with the following local representatives in Myanmar. Our representatives will provide you with detailed information about the University and its programmes and can offer practical assistance throughout the application process.
Regent Consultancy Services Co. Ltd

Crown Education

No 270, 1st Floor, Room 1-B, Pyay Road
Myaynigone, Sanchaung Township, Yangon

tel +95 1 527 838

Mentor

Building 29, Room 11, Yankin Palm Villa
(Shwe Ohn Pin Estate), Yan Shin Street
Yankin Township, Yangon

tel +95 9 4200 20816

Visit the Intake Education website
More countries
Choose another country in South East and East Asia Request more information