Accommodation for international students
Pay your fees ->
A comfortable, affordable space of your own where you can relax and study is an essential part of establishing your new life in the UK at the University of Hertfordshire.
As a new student to the University you have a few accommodation options available to you:
Live on campus within the University halls of residence or at an off campus University managed property.
Live off campus within the private rentals sector.
On campus, or University managed accommodation
Living in a University managed accommodation is a great place to find your feet when you're first away from your home. Most international students take up this option.
When to apply
The allocations team will send you an email when you are able to apply for accommodation.
| Course | When to apply |
| --- | --- |
| Pre-sessional English courses | Check the accommodation webpage for information on when to apply. |
| Courses starting in Semester A | The accommodation application process opens in the spring. |
| Courses starting in Semester B | Submit your accommodation application by 31st December. A limited amount of accommodation is available, we may not be able to offer you your first preference. |

Before you apply for accommodation
You can apply for accommodation once we have given you a course offer.
You will be made an accommodation offer once your course offer is both academically and financially unconditional.
We are not able to offer short term accommodation.
We do not provide accommodation for families.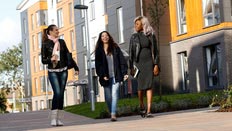 Private rented properties
Hatfield and the surrounding area is well equipped with plenty of private rented student houses and flats.
As an international student you will be expected to either have a UK based guarantor, or pay up to 6 months rent in advance. The University is unable to guarantee your rent.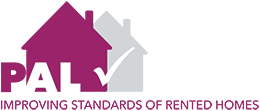 We have also launched the Partnership Accreditation for Landlords scheme with the local Hatfield Council. Find out more about the Partnership Accreditation scheme.
If you decide to choose a property outside of the Partnership Accreditation scheme please ensure that you do not transfer any money to the agent or landlord until either you have seen the property or have received and read your tenancy contract in detail.
All students are advised to do some research, particularly about tenancy agreements and deposit schemes. Don't feel pushed to sign anything you're not sure of. Before making any decisions or choosing private rented property you are advised to read our guide to living off-campus.
If you require any advice or support regarding sourcing or securing private rented accommodation email the Community Office.

A student guide to living off campus
A student guide to private rented accommodation