Accommodation for international students
Pay your fees
A comfortable, affordable space of your own where you can relax and study is an essential part of establishing your new life in the UK at the University of Hertfordshire.
As a new student to the University you have a few accommodation options available to you:
live on campus within the University halls of residence
live off campus within the private rentals sector.
On campus, or University managed accommodation
Living in a University managed accommodation is a great place to find your feet when you're first away from your home. Most international students take up this option.
When to apply
| Course | When to apply |
| --- | --- |
| Pre-sessional English courses | Check the accommodation webpage for information on when to apply. |
| Courses starting in Semester A | Submit your accommodation application as soon as possible and ensure you have this arranged before you travel to the UK. The accommodation application process opens in the spring. |
| Courses starting in Semester B | Due to the high volume of interest for Semester B, unfortunately we cannot guarantee on-campus accommodation for January. |
Before you apply for accommodation, you should know:
you will only be made an accommodation offer once your course offer is both academically and financially unconditional
we are not able to offer short term accommodation
we do not provide accommodation for families.
Renting privately off-campus
If you want to live off-campus, please ensure you read our guidance to help you check the accommodation is suitable.
Live as close to campus as possible
It is important that you live as close to campus as possible to ensure you have easy access to the campus facilities and can get to your classes even if they are scheduled for an early morning or later evening session. We expect students living off campus to live within a 30-mile radius of the University. When living off campus, think about your commute time and costs. You should research the bus/train timetables and how much your ticket will cost so you can plan your finances. It is your responsibility to ensure you live within a reasonable commute of the University.
Choose PAL accredited landlords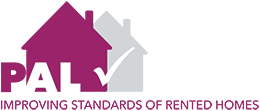 When searching for off-campus accommodation, please ensure you choose a PAL accredited property. This scheme has been created in partnership between the University of Hertfordshire and Welwyn Hatfield Borough Council. It is a voluntary scheme which recognises Landlords and Letting Agents who provide safe and well-maintained private accommodation.
The University is only allowed to recommend PAL accredited properties to Students, as these Landlords and Letting Agents are adhering to a specific Code of Practice and we want to ensure Students find good quality homes within the Borough.
If you require further advice and guidance with regards to living off-campus, please contact the Community Liaison & Support Officer (Dean of Students Office) via Community@herts.ac.uk. Request more information