What is academic style?
Pay your fees ->
Writing properly at university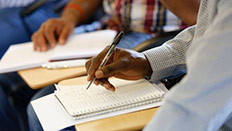 Speaking good English, writing accurate English and writing appropriate academic English are all different. Adopting a suitable style when writing at university will help you gain better marks.
In this 2 hour workshop we focus on:
What is academic writing style?
What is the difference between formal and informal style?
How do you write in an impersonal, objective way?
What is caution and how can you express it?
What vocabulary, verbs and structures should you avoid in academic writing style?
Booking a place on this workshop
PLEASE NOTE: The sessions for this workshop have now finished for the academic year 2017-18.
Help and support will be available in Semester C at the CAE drop-ins in the LRC on de Havilland campus at these times:
June 2018 Monday 10:00-17:00, Tuesday, Wednesday, Thursday 10:00-14:00.
Please email aessd@herts.ac.uk if you have further questions about any aspect of the AESSD programme.