How can I express my ideas when writing?
Pay your fees ->
Organise your writing 1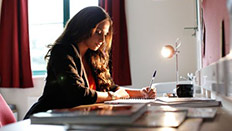 There are 2 workshops for this category. Attend number 1 first.
We often find that students' marks are reduced due to poor organisation in their written work. These workshops will help ensure you have the right tools to organise your ideas effectively.
In this first 2-hour workshop we focus on:
How do you help ensure that you understand what the assignment is asking you to do?
Why should you plan before you write and how do you do it?
What information do you need to include in an academic introduction?
How do you write a good thesis statement showing your viewpoint on the topic?
What information do you need to include in an academic conclusion?
Booking a place on this workshop
PLEASE NOTE: The sessions for this workshop have now finished for the academic year 2017-18.
Help and support will be available in Semester C at the CAE drop-ins in the LRCs at these times:
23-27 April Monday-Friday 10:00-14:00– both campuses
30 April–25 June Monday and Wednesday 10.00-14.00 LRC De Havilland campus only, Tuesday and Thursday 10.00-14.00 LRC College Lane only.
Please email aessd@herts.ac.uk if you have further questions about any aspect of the AESSD programme.