How can I present with confidence?
Pay your fees ->
Making successful presentations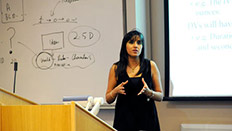 Students often spend time preparing the content of an assessed presentation but not the actual talk itself. Talking too fast whilst facing the wall with hands in pockets is not a suitable method of presenting. This workshop will provide you with strategies you can use to prepare and execute an effective presentation.
In this 2 hour workshop we focus on:
How do you prepare for your presentation?
How can you create suitable visuals to accompany your talk?
How do you ensure your body language is appropriate?
How can you respond to questions from the audience?
You will have the opportunity to practice: either bring in a short presentation you have already prepared or you will be given time to plan and present informally in class.
Booking a place on this workshop
PLEASE NOTE: The sessions for this workshop have now finished for the academic year 2017-18.
Help and support will be available in Semester C at the CAE drop-ins in the LRCs at these times:
23-27 April Monday-Friday 10:00-14:00– both campuses
30 April–25 June Monday and Wednesday 10.00-14.00 LRC De Havilland campus only, Tuesday and Thursday 10.00-14.00 LRC College Lane only.
Please email aessd@herts.ac.uk if you have further questions about any aspect of the AESSD programme.