Academic English sessions
Pay your fees ->
Improve your academic vocabulary and grammar structures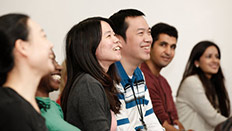 Approximately 2000 headwords form the basis of all language use. You will know these word families which cover 80% of the vocabulary used in texts. There are, however, a further 570 word families which form part of academic vocabulary, contributing a further 10% of the vocabulary you will need for your academic study.
In this series of workshops we focus on:
Examples of grammar structures which are relevant in academic contexts only.
Key nouns, verbs, adjectives, adverbs and expressions which are commonly used in academic contexts.
Please note that different material will be used in each 2-hour session.
Booking a place on this workshop
PLEASE NOTE: The sessions for this workshop have now finished for the academic year 2017-18.
Help and support will be available in Semester C at the CAE drop-ins in the LRC on de Havilland campus at these times:
June 2018 Monday 10:00-17:00, Tuesday, Wednesday, Thursday 10:00-14:00.
Please email aessd@herts.ac.uk if you have further questions about any aspect of the AESSD programme.