Academic English and Study Skills Development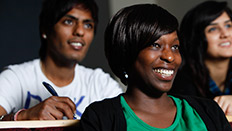 The UK education system may be different from the one you are familiar with. Our experience has been that international students may face challenges with some aspects of their studies.
These may include:
writing assignments using appropriate academic English, not spoken language which is too informal
knowing how to search for academic texts without going straight to Google
knowing how to reference texts appropriately in your assignments
knowing how to present to an audience
taking part in seminar discussions with confidence
Workshops
Our workshops can help you overcome these challenges, improve your Academic English and Study Skills and make you more confident in your classes and when studying.
The workshops run in both campuses and are mainly one-off sessions of 2 hours which you can book according to your needs. All our workshops are interactive - we combine input with practice activities.
Once you have attended our 4 writing workshops you will also be entitled to our free one-to-one drop-in sessions.
You can come to B152 at College Lane or R312 at De Havilland to collect a 'Passport'. This will act as a record of your academic study journey. If you attend all of our workshops you will be given a certificate in recognition of your commitment and effort to succeed in your studies.
We are the Centre for Academic English (CAE) in the School of Humanities. All our staff have considerable experience in working with overseas students and are experts in the field of language teaching and associated study skills.
CAE can be found in Room B152, Main Building, College Lane campus, Hatfield. Email workshop co-ordinator Mary Martala-Lockett or call +44 (0)1707 286052 for more information.
Upcoming workshops
The Semester B workshop sessions are now open for booking; the programme will begin on Monday 29 January 2018.
Just select the workshops you would like to attend to view available dates and book your place.
If you have any queries about other support, please email aessd@herts.ac.uk, including your student ID number in your message. Thank you.
What our students say