Share your history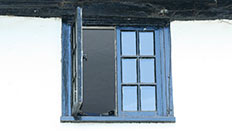 Do you have an interesting story about Hertfordshire's history?
Then the Heritage Hub wants to hear from you.
The Heritage Hub is currently taking a break for Summer 2020, during which time our contact details may change. Please keep an eye on this page for further updates.
A student perspective
With a unique perspective, School of Humanities undergraduate at the University of Hertfordshire, Karen Canty shares her experience of a 'Making Histories' module.
'The public history work experience module, "Making Histories", was one of my favourite courses during my second year of study at the University of Hertfordshire. Taking part in this module meant I was able to improve my research skills and gain the invaluable experience of working alongside a historian.
The module gave me the opportunity to take part in a research project about the Thames Ironworks. The project is based on the idea that the Thames Ironworks, a nineteenth century London based company, may have been the main supplier of iron plate for Isambard Kingdom Brunel's ship, the SS Great Eastern. My role was to assist Dr James Lewis, an industrial historian, with his research and to establish whether the Thames Ironworks did supply the plate for this iconic ship. My research came from varied sources such as industrial publications and Nineteenth Century newspapers. Some of the sources I researched I had not used before and this gave me an insight into a different genre of history. Sometimes the research was quite frustrating when I reached a dead end with a source, but when I found information that was useful and lead on to new discoveries it was really satisfying. By the end of my research I discovered that the iron plate was actually supplied and made by a company called Beale and Co in Rotherham and I was able to share this new information with Dr Lewis.
During this assignment Dr Lewis was very helpful and enthusiastic about my role and I gained invaluable experience by working with him. It gave me an insight into how much work is involved with a research project and how rewarding it can be. In addition to this I also benefitted from realising that a career in the research field is something I would like to pursue after I leave university next year.'
Archives Advisor Wiki
If you use a county record office, local studies library or archive in the UK, join the Archives Advisor Wiki and share essential information such as:
opening hours
local transportation links
catalogues
access