News and events
Public space
Dr Katrina Navickas has been visiting several community residents' groups as part of her new British Academy funded project, 'a history of public space in England, 1700-2000'. These include the Once Upon a Time group in Collyhurst, Manchester.
Do you live in Stevenage? How did you use public spaces in your town? The parks, streets, town square? Did you contest planning decisions in the town? Let us know.
We're hoping to run some workshops soon on the history of public space.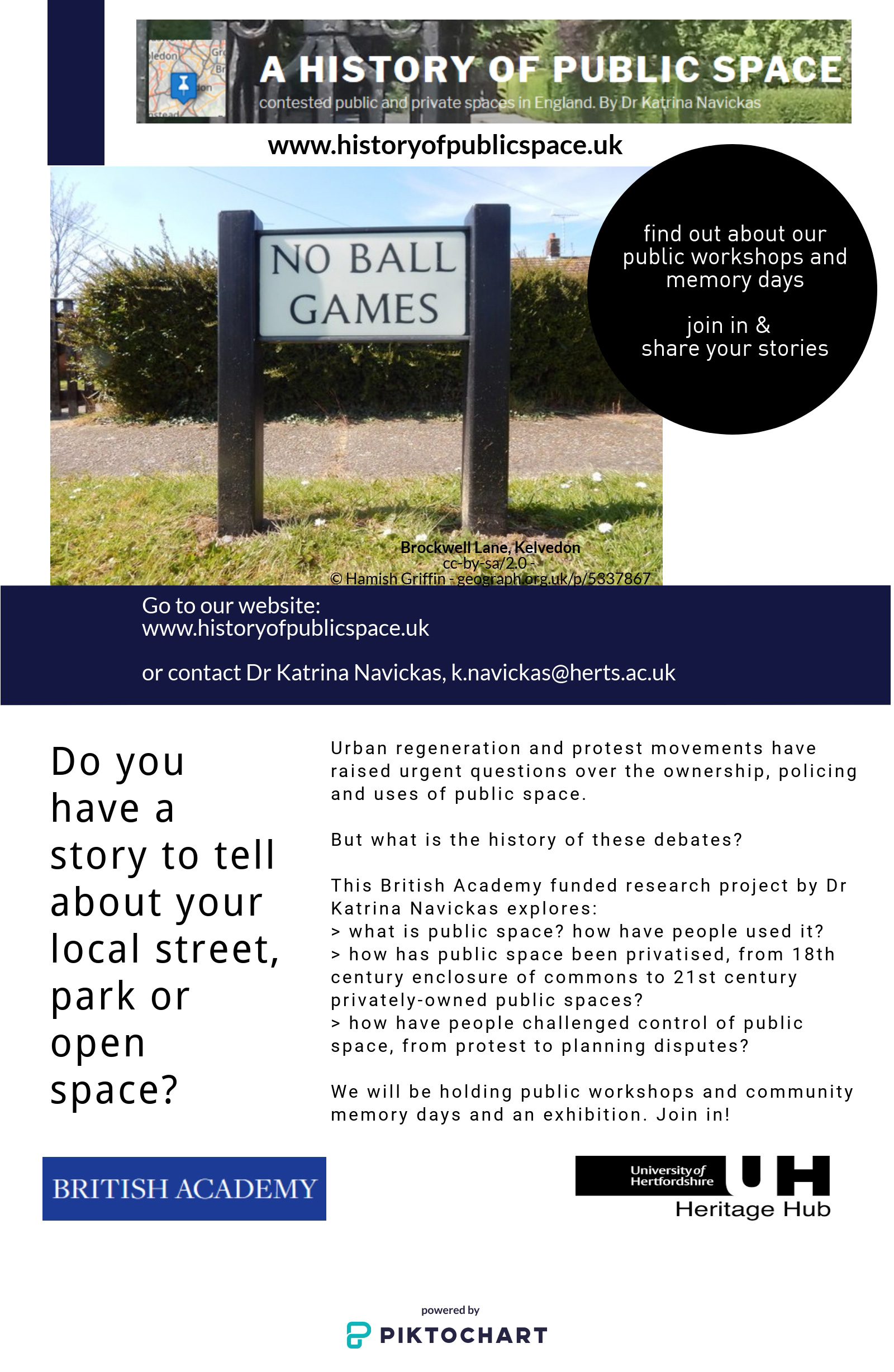 ---
Community Psychology Festival: histories of social inclusion in Hertfordshire
Hertford Theatre, 24 September 2018
Dr Katrina Navickas gave an opening talk to the Community Psychology Festival of the British Psychology Society at Hertford Theatre, on the histories of social inclusion and activism in Hertfordshire.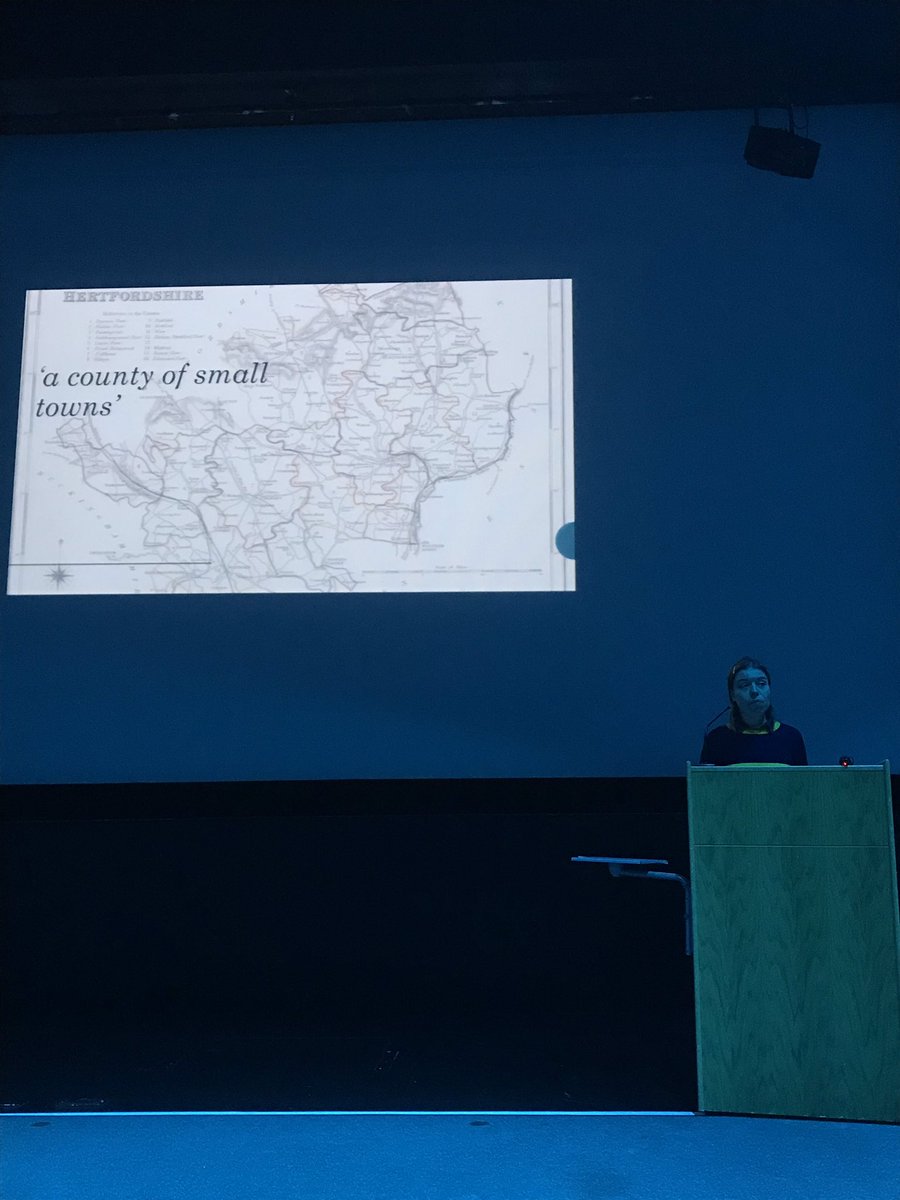 Download the slides here (ppt)
---
---
This took place at Mill End sports and social club, Rickmansworth, followed by social at the Land of Liberty and Plenty pub, Heronsgate, Hertfordshire.
---
Report: Milton Keynes and its place in post-war new towns
Dr Katrina Navickas, Dr Janice Turner, and one of our DHeritage students, Charlotte Reynolds, held a community archives training day at Tuesday 18 October, at Holne Chase archives, Bletchley.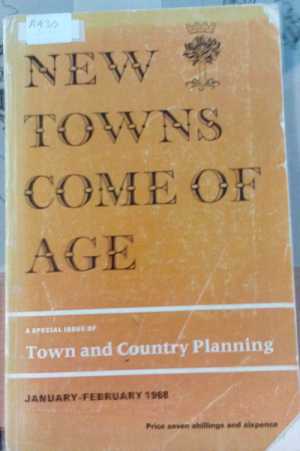 Residents, including former planners, were gathered to prepare for MK50, an exhibition to celebrate the 50th anniversary of Milton Keynes new town.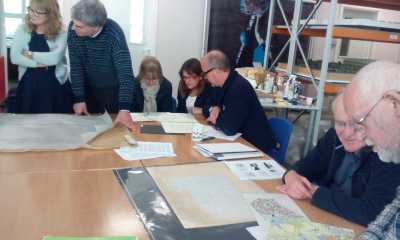 We began with two talks by Katrina and Charlotte on the history of town planning in a national and international context, and then in the afternoon followed some training on approaching different types of archives, and some hands-on work on a range of original archives, including maps, plans of Bradwell school and Wolverton railway works, and drawings and notes from the collections of Derek Fraser and John Snow on the transport links and community facilities of Milton Keynes.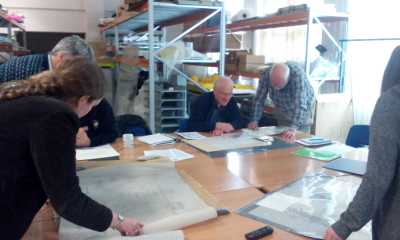 Contact Dr Katrina Navickas, k.navickas@herts.ac.uk for more information on the day.
View the presentation slides on Slideshare: http://www.slideshare.net/KatrinaNavickas/milton-keynes-and-its-place-within-new-towns-history
Read Charlotte Reynolds' experience of the day:
'Calling up a bundle of papers from the Wolverton railway archives, we found a late 19th century map of Bradwell, which showed the buildings in sufficient detail for it to work for what I had in mind. However, it was a rather fragile artefact. In flicking through for a more robust example, a plan caught my eye. We pulled it out and discovered that it was a fantastic detailed architectural drawing of the village infants school - so detailed, it included the toilet block. With it was a section plan for the school desks, dated 1898. I had never seen such drawings before. These two fascinating documents were to join the map for later inspection by the group.
Following a morning lecture from Katrina about the national and international history of new towns, and context of Milton Keynes, after lunch I took the group on our virtual walk of Bradwell, before Katrina then spoke more on research skills, and we began the group archive tasks.
I excitedly pored over the map and plans, enthusing over the level of detail on the wonderful architect's drawings, having forgotten just how exciting archive finds can be. Also being able to read the language of maps and architectural plans, through my years of professional work, made me more comfortable with these pieces than other written artefacts.'
---
New publication in memory of Joan Thirsk

The world of Joan Thirsk
Edited by Richard Jones and Christopher Dyer
Joan Thirsk was the leading English agrarian historian of the late 20th century. Perhaps best known for her research into regional farming, she also wrote much about rural industry, changing tastes and fashions, and innovations in the rural economy. This book is based on a conference held in her honour (following her death in 2013) that was intended not to look back but rather to identify Joan Thirsk's relevance for historians now, and to present new work that has been influenced and inspired by her. Some of the contributors are scholars who knew Joan, and as students were taught and supervised by her; others are younger people who know of her ideas from her publications.
Joan Thirsk's agrarian research revealed rural England to be a rich mosaic of distinct farming regions, each with its own way of working the land. It had been supposed that, before the Agricultural Revolution, peasants were dull conservatives who resisted innovation and had to be forced into modernity. Thirsk's work, by contrast, highlighted farmers' ability to respond to the demands of consumers and the capacity of industries to satisfy changing fashions, such as the vogue for knitted stockings. Her writings were informed by a sympathy for country people, which enabled her to appreciate their wisdom and common sense.
The contributors to this book have been inspired by Joan Thirsk's revelation of a lively, varied and developing rural scene, and pursue themes that extend her pioneering work in new ways. Their chapters on regional differences, farming methods, conflicts over the use of land, shopping opportunities, fashion and consumption resonate with each other and present fresh insights into a world that was undergoing transformation well before the Agricultural Revolution.
Richard Jones is Senior Lecturer in Landscape History in the Centre for English Local History at Leicester University. He has published on the origins of English rural settlements, place-naming, and manure. He is currently exploring the topic of water in the English landscape past and present.
Christopher Dyer is Emeritus Professor of History at the University of Leicester. His research covers social and economic history, archaeology, and the study of the landscape, in the middle ages in England. His most recent book was A Country Merchant (Oxford, 2012).
ISBN 978-1-909291-56-0
September 2016
Paperback £16.99/$33.95
For more information and to order, go to http://www.herts.ac.uk/about-us/corporate-governance/our-structure/subsidiary-companies/uh-press/our-subject-areas/history/local-and-regional-explorations/farmers,-consumers,-innovators
---
Article on community co-production & heritage in History Workshop Journal
Our deputy director, Dr Julie Moore, and Dr Sarah Lloyd, Chair of the Heritage Hub, have published, 'Sedimented Histories: Connections, Collaborations and Co-Production in Regional History', in the new issue of History Workshop Journal, available open access - http://hwj.oxfordjournals.org/content/80/1/234.full.pdf+html
International Journal of Regional and Local History
We are pleased to announce that the Centre for Regional & Local History Research has entered into a partnership with the University of Lincoln and the International Journal of Regional and Local History, published by Maney Press.
The journal is currently looking for submissions of papers which address the history of regions and localities in the medieval, early-modern and modern eras. Regional and local are defined in broad terms, encouraging their examination in both urban and rural contexts, and as administrative, cultural and geographical entities. Regional histories may transcend both local and national boundaries, and offer a means of interrogating the temporality of such structures. Such histories might broaden understandings arrived at through a national focus or help develop agendas for future exploration.
The subject matter of regional and local histories invites a number of methodological approaches including oral history, comparative history, cultural history and history from below. We welcome contributions situated in these methodological frameworks but are also keen to elicit inter-disciplinary work which seeks to understand the history of regions or localities through the methodologies of geography, sociology or cultural studies.
The journal also publishes book reviews and review articles on themes relating to regional or local history.
Contact Dr Katrina Navickas, k.navickas@herts.ac.uk for more information.