What to do on the day of your December Ceremony?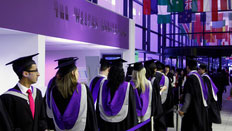 December Graduation Ceremonies are held in the Weston Auditorium – a perfect location for this formal event. Here you will be able to celebrate your achievements together with fellow graduates, friends and family.
You will start the day in the Sports Village Cricket Hall on the de Havilland Campus, where you will collect tickets and robes, and have your photographs taken. The Auditorium is a 5 minute walk from the Cricket Hall. Post-ceremony light refreshments will be available in the de Havilland Restaurant, adjacent to the Sports Village, for graduates and their guests with tickets.
Make sure you give yourself enough time - there may be queues for the robes/photographs and you will have to walk across to the Auditorium in time for the Graduation Ceremony.
What to bring

Please bring your confirmation email and photo ID (preferably your student card).

What to wear

If hiring a robe it is preferable to wear smart dress. Consider bringing spare pins to secure your robe and hairgrips for your hat.

Map and directions

Parking

Free parking is available on de Havilland Campus. It is likely that the main car park will be very busy, if it is full you will be directed to the nearest available car park. Please allow plenty of time to find a parking space.

Pre-Ceremony venue

The Cricket Hall in the Sports Village is the pre-Ceremony venue where ticket collection, robe hire and photo studios are located. We recommend you allow plenty of time and have suggested arrival times.

Entrance to the Auditorium

Guests will need to have tickets in order to enter the Auditorium. Entrance to the Auditorium is strictly by ticket only.

Children

Children must have a ticket to enter the Auditorium. Only babes in arms (up to 1 year) will be allowed entry without a ticket.

As the Ceremonies are formal in nature we do not recommended that they are suitable for those under the age of 7.

To avoid disturbing the enjoyment of others we would request that a responsible adult sits with children/babies near an exit as they easily become restless and bored.

The University reserves the right to ask your guests to take any child/baby out of the ceremony venue for a short time so that the event can continue without disruption.

Pushchairs and car seats are not permitted inside the Auditorium.

Luggage and buggies

Luggage, pushchairs and car seats are not permitted inside the Auditorium as they pose a health and safety risk in the event of an evacuation.

There is nowhere for these items to be left so we strongly advise that you do not bring them with you, or, if it is unavoidable that you make suitable arrangements in advance.

Due to the security risk, luggage must not be left unattended.

Any pushchairs or car seats left unattended is done so at the owners risk and the university cannot accept any responsibility.

Order of proceedings

The Ceremony

The Ceremony venue doors open 30 minutes before the Ceremony commences.

Every person wishing to gain entry to the Ceremony must be holding their own ticket. Speak with an usher on the door before you enter if you have your guests' tickets as they will not be permitted entry without them.

If you have not already advised us that you do not wish to shake hands with the Presiding Officer, please inform an usher immediately.

You must take a pre-assigned seat. Your guests have unallocated seating. You are not seated with your guests. If you have a young child they cannot sit with you at any time once you are in the Ceremony venue so please leave them under the care of your other (adult) guest.

A register of attendance will take place 20 minutes before the Ceremony commences. If you are absent at this time, your name will be crossed off the list and you will be assumed absent.

All mobile phones and other electrical devices must be switch off (not to silent as this interferes with the equipment used to record the ceremonies).

At the beginning of the Ceremony, everyone will be asked to stand for the entry of the Academic Procession.

There will be an opening address by the Presiding Officer and, at some ceremonies, a presentation of a Fellowship or Honorary Degree.

The presentation of degrees and diplomas will then commence. Awards are presented in hierarchical order within department. Students are presented in alphabetical order. Classifications are not read out other than distinctions and first class honours.

Your name will be read out and you will walk across the stage to shake hands with the Presiding Officer. If you prefer not to shake hands (e.g. due to your religion) it is essential that you inform us preferably prior to your Ceremony (see contact us for details) or an usher immediately upon entry to the Ceremony venue.

Remember to smile as your photo will be taken at this point! A letter of congratulations will be given to you and then return to your seat.

All students are filmed as they walk across the stage and appear in a video-streamed broadcast produced shortly after the Ceremony ends.

Please respect your fellow graduates by remaining silent throughout the Ceremony and applaud each student as they walk across the stage.

A closing address will be given by a senior member of the University.

A vote of thanks will be given by a selected student.

You are asked to stand for the exit of the Academic Procession. All graduates will be processed out directly behind them so you should pre-arrange a meeting point with your guests somewhere outside. This marks the end of the Ceremony.

After the Ceremony

You should return with your guests to the post-ceremony venue to return your hired robe, visit the University stands and have some light refreshments. You may then depart to continue your celebrations.

By the next working day the Ceremony will be broadcast via video streaming on the Ceremonies website so your friends and family can watch the occasion too.

Filming

The Ceremonies are filmed and will appear on our website the next working day after it has taken place. By attending the Ceremonies you and your guests are agreeing to appear in any recordings or photographs.

Your name

During the Ceremony you will be called up to the stage in the name you were registered with at the time your Board of Examiners met to confirm your award. If you wish to be called out by a different name please contact us before the registration deadline to let us know.

Your name will be published in the Graduation brochure. If you achieve a First Class or a Distinction this will be marked against your name. No other results will be published in the brochure. If you do not want your name in the brochure please contact us no later than 6 weeks before your Ceremony takes place.