Welcome to your alumni community!
Congratulations to the Class of 2017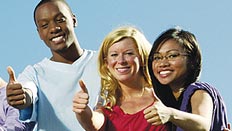 When you receive your award from the University of Hertfordshire, you automatically become an alumnus of the University and a member of the Alumni Association.
Being a part of our alumni community simply means that no matter when you graduated, as a former student of the University you will always be part of a global community around the world.
Our role to you is to offer a variety of programmer and services. This includes:
Just keep your contact information up-to-date so that you can benefit from receiving all the latest news, discounts and information.