Winners and runners-up in flare 2016
Winners
Best Growth Business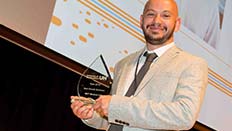 Dave Hawkins – MET Medical
The prestigious title of Best Growth Business, was awarded to Dave Hawkins for his business, MET Medical.
With an extensive fleet of ambulances and Rapid Response Vehicles, MET Medical provide cover for film shoots, sporting events, and festivals of all sizes, offering peace of mind to event organisers and their attendees.
Dave's business has recently added two ambulances to its fleet and now recruits around 100 staff.
Best Start-up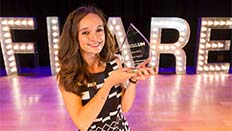 Olivia Berry – Equia Marketing Solutions
Photography graduate Olivia Berry won the award for Best Start-up, plus £5,000 for her rural marketing agency, Equia Marketing Solutions.
Offering services such as photography, web design, social media and PR, Olivia spends time getting to know her clients and their businesses, ensuring that they can achieve their goals through successful marketing campaigns.
Olivia currently works with clients in the Home Counties, Hampshire and Gloucester.
Best Idea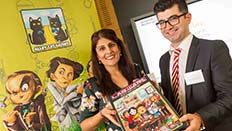 Kuly Heer and Caezar Al Jassar – Alley Cat Games
PhD student Kuly and her partner Caezar won Best Idea for their business, Alley Cat Games, which produces science-themed board and card games that are both fun and educational.
Their first board game, Lab Wars, was launched on Kickstarter in June 2016 and has since accumulated 1,640 backers, pledging nearly £50,000 to bring their project to life.
Healthcare Innovation Award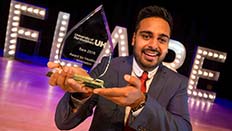 Ketan Ladva – Ourdose
The prize for Healthcare Innovation, sponsored by Eisai, was awarded to pharmacy student, Ketan Ladva for his medication app, Ourdose.
Ketan's app has been designed to reorder medication when it is low, saving monthly prescription costs and reducing medicine wastage.
Ketan plans to introduce a delivery system, which will arrange for pharmacies to collect and deliver patients' medication anywhere in the UK.
Runners-up
Daria Aksyuta – Same Chapter

Same Chapter is a mobile application that connects people based on their location and reading history.

App users have the opportunity to message their matches and form group reading discussions.

Daria plans to run the app for free in the first two years with a view to introducing monetisation strategies once the user pool is established.

Bansri Dattani – I SHOOT PEOPLE

I SHOOT PEOPLE provide photographic services for fashion advertising, weddings and events, with 3 key services being offered to clients:

photography.
post production.
project management.

With the support of UKTI, Bansri is currently working hard to build up an overseas client base.

Toby Hayton and Connor Millar – Dronepost

Dronepost is in the research and development phase of an innovative and dynamic in-house designed tilt-rotor drone, to be used in last mile delivery services of medical, commercial and special delivery items.

Connor and Toby's main objective for the future is for Dronepost to compete with major companies such as Amazon and DHL.

Kate Jennings – Ohana Moments

Ohana Moments is an event management service dedicated to the design and planning of family events from conception right through to completion.

With an exclusive offering, targeted at the mid to high-end consumer, Kate seeks to work with clients as they celebrate key life events such as engagements, weddings, first birthdays and anniversaries.

Andrew Massingham – Creator Story

Creator Story offer a fun, learning experience for young children who want to write their own creative and imaginative stories.

The aim of the book is to enhance the importance of creative writing as a skill that can be taught and developed over an individual's entire childhood.

Siann Millanaise – EVACREATE

EVACREATE develops, showcases and connects young creatives, giving them the tools to unlock their potential and fulfil their creative endeavours through a series of workshops, events and online material.

John Nwachukwu – Zap Intelligent Solutions

Zap Intelligent Solutions is the company behind First Transit Hub, an online bus booking and management system designed primarily for Nigeria, and the emerging markets.

Having launched the web portal in April, plans are already in place to launch a fully downloadable mobile app by December 2016.

Shirin Shafaie – Visual Academics Ltd

Visual Academics offer professional filmmaking services to the higher education sector.

The unique combination of expertise results in the design, production and delivery of effective, engaging, accessible and affordable online learning material.

Shirin hopes to develop an independent online platform which will enable Visual Academics to deliver online learning to subscribers across the globe.
flare ignite 2016
Launched in 2014, flare Ignite's core aim is to support and celebrate in-school entrepreneurial work by identifying and rewarding the most enterprising students.
This year prizes were awarded to the following students:
Esther Wong, from the School of Humanities, won Best Design for her exceptional design and build of a responsive website for a local St Albans restaurant.
Sagar Patel, from the School of Engineering and Technology, was awarded the Most Commercially Viable prize, for his final year project designing, manufacturing and testing a Novel Machine for Efficient Drying of bottles and cans.
Ben Spurgeon, from the School of Creative Arts, won Best Technical Solution. Ben produced an exceptional acoustic simulation and sound system modelling report for 2 venues, as part of his final year major project.
Lord Dover, Kayleigh Johnson and Anna Ross won the Impact on Society Award for their incredible outreach contribution to the School of Physics, Astronomy and Mathematics. This included running planetarium shows, software demonstrations and workshops to students and members of the public.
Kieran Bagnall, from the School of Computer Science, was awarded the prize for Most Innovative Idea, for developing an interactive web manipulation tool that will significantly aid those with autism to interact more effectively with the internet.
Nimit Jain, from the School of Engineering and Technology, won the Best Solution to a Problem award for his design of a personal rapid transit vehicle.