flare 2015 winners and runners-up
Congratulations to this year's winners and runners up!
In addition to their individual prizes, winners will also receive 1 year's membership to the Hertfordshire Chamber of Commerce, and free office space in the University's Incubation Centre.
Winners
Splaat Media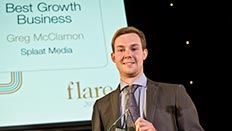 Best Growth Business:
Greg McClarnon - BA (Hons) Business Pathways
The top prize of £8,000 for Best Growth Business was awarded to Greg McClarnon for his school show and live event photography business, Splaat Media.
Launched in 2010 as a one man operation, Greg has grown the business into a highly successful venture, working with over 650 schools this year alone and with plans to increase that figure to 900 in 2016.
Health Hut Products Ltd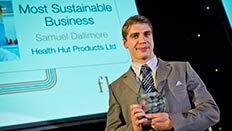 Best Business:
Samuel Dallimore - BSc Hons Technology with Management (Aerospace engineering)
The title of Best Business, and a prize of £5,000 was awarded to Samuel Dallimore for his business, Health Hut Products Ltd.
Health Hut manufactures and sells freshly made, raw, natural protein bars to Samuel's own recipes. No other manufacturer makes fresh protein bars, giving Health Hut a unique selling point. Predicted to expand over the next 3 years, Samuel plans to re-invest his profits to increase manufacturing capability.
Pernnelle Ltd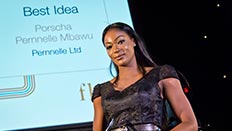 Best Idea:
Porscha Pernnelle Mbawu - BA (Hons) Business and Journalism & Media Cultures
The prize of £5,000, for Best Idea, was awarded to Porscha Mbawu for her luxury womenswear brand, Pernnelle, offering high fashion at competitive prices.
Porscha has used her business and journalism degree, combined with a lifelong passion for style and her years of experience working in the luxury fashion industry, to create her first collection of exclusive yet affordable womenswear with a baroque theme.
Runners-up
Big Bear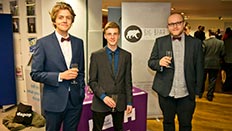 Bradley Blyth, Greg Burns and Jack Hughes – School of Creative Arts
Big Bear is an in house recording studio, production company and café facility.
Their aim is to provide clients with a high quality and affordable service. They plan to initially launch with the café and take on board a few studio-based projects. The focus will then shift to expanding the business into an independent record label.
Drift School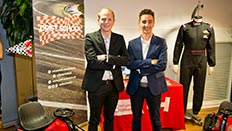 Ben Spurgeon – School of Creative Arts
John Mason – Hertfordshire Business School
Drift School offers a unique driving experience utilising Razor's Crazy Carts, teaching people how to manoeuvre a vehicle in a new and exciting way.
They will be operating as a mobile business, taking their services all over the UK for motorsports to corporate events. Alongside their core business, they will be providing a sales and rental service.
JCCN Accountants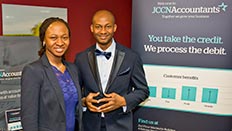 Onyebuchi John Nwachukwu – Hertfordshire Business School
JCCN Accountants is an accounting and finance service for new entrepreneurs and SMEs. A private limited company based in Hatfield, it started trading in January 2015.
The company's point of difference is its price, kept deliberately low to build a strong base of small and growing clients.
MoxView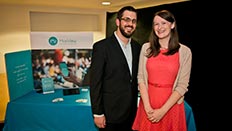 Vanessa Armstrong and Daniel Udell – School of Computer Science
MoxView is a start-up software company providing a social CCTV monitoring system and aiming to reach a global market.
The concept is to monitor cameras online using social networking models. Vanessa and Daniel hope to build a strong position by offering a free, ad-supported platform.
PS Time is Everything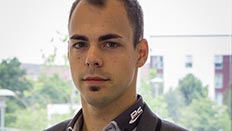 Patrik Štipák – School of Engineering
PS Time is Everything is an innovative company targeted at the motorsports industry. Its vision is to provide data analysing services, teaching and consultancy remotely – a completely unique approach.
Target customers include semi-professional and professional racing drivers and teams.
SN Innovation Trading Ltd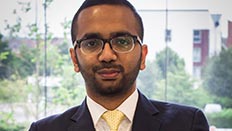 Syed Motasim Naqvi – Hertfordshire Business School
SN Innovation Trading aims to support the Government's export initiative, providing services for exporting scrap metals.
These metals will help to supply developing and undeveloped regions, where they can be used as raw material for industry.
SnapTracker Ltd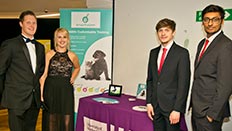 Jason Laird, Aaron Mangan, Holly Parsons and Harsh Sheth – Hertfordshire Business School
SnapTracker allows owners to track their lost pets to within a metre of their exact location using GPS software.
The team's goal is to offer customers a user-friendly, aesthetically pleasing device at an affordable price, while ensuring a high quality, reliable service.
StreetThread Couture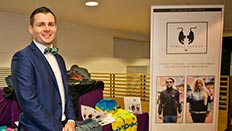 Francis Raeburn – Hertfordshire Law School
StreetThread Couture is an online vintage clothing retailer aimed at the hipster market, trading in the UK and internationally through the ASOS marketplace.
Francis buys in vintage clothing wholesale, photographs items with volunteer models and uploads them onto the store.
Tribag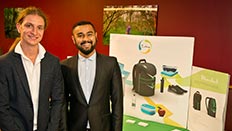 Yasir Arafat – School of Engineering
Radoslav Bojinov – School of Creative Arts
Tribag is a uniquely styled urban backpack, designed for active professionals.