2011/12 flare runners-up
Jonathan Lam
Bubbly Moment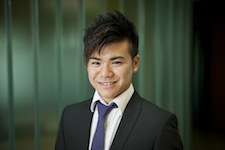 Aerospace Engineering student Jonathan entered flare with his business idea 'Bubbly Moment', an instant version of the increasingly popular Bubble Tea drink. Bubble Tea is currently only available to make in a time-consuming and traditional brewing method or available to purchase as a takeaway drink from specialist cafes. Bubbly Moment seeks to rival this with an affordable and instant version.
Jens Göbbels
Hyperqual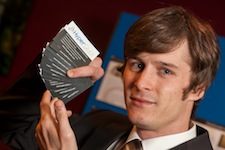 Hoping to revolutionise the world of market research, Marketing student Jens has created HyperQual, an innovative web-based solution that will enable market research professionals and research agencies to carry out online and interactive, comprehensive qualitative research.
Bradley Cartwright and Steve Hobin
In the Mix Bars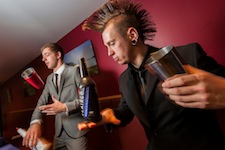 In the Mix Bars is a professional mobile bar and bartender service founded by University of Hertfordshire students, Bradley and Steve. The company can cater for both private and corporate events and pride themselves on their unique inclusion of exciting products such as molecular cocktails.
Eric Sawyer
Wed3D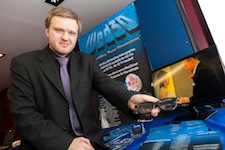 Set on revolutionising the world of wedding videography, Interactive Media Design student Eric has created Wed3D, a service providing 3D wedding videos in full High Definition. Eric received a Highly Commended Award from competition sponsor and judge, David Brown from Santander.
Masibu manima and Leon Mayne
LDN Slang
Business School alumnus Masibu and his business partner Leon entered flare with their creation LDN Slang. The multi-platform dictionary uses videos and social networking tools to define slang terms used in the Capital and document the linguistic shifts in the nation's youth culture. Masibu and Leon received a Highly Commended Award from competition judge Prital Moskal.
Martin Smith
Promptz
Inspired by the growing revenue stream generated by library fines, Human Resource Management student Martin has created Promptz, a text and email reminder service that also offers students local promotions and rewards. Martin received a Highly Commended Award from competition sponsor and judge, Tim Parfitt from Netcel.
James Owen
The Electric Home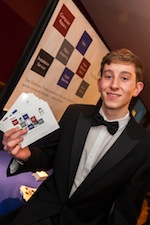 Business student James entered his business idea The Electronic Home into flare. The technology company offers sales, installation and repairs of home technologies including computers, televisions, home cinema systems and connected media streaming. James received a Highly Commended Award from competition sponsor and judge, Martin Carr from Exemplas.