2011/12 flare winner
flare Winner 2012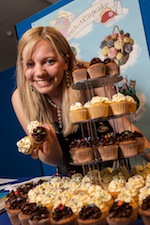 The prestigious title of 'flare winner 2012' and sole prize of £10,000 cash were awarded to Lucy Clark, owner of Heaven is a Cupcake. The Humanities graduate started the bespoke cupcake company in 2010 after completing her Masters degree in Modern Literary Cultures.
Lucy has single-handedly grown her brand into a well-known company within the Hertfordshire region. In 2010 she was awarded the 'Local Gem' title in the annual St. Albans Food and Drink Awards and has also built links with major corporations such as Tesco and Land Rover.
In addition to her cash prize, Lucy will receive business consultancy and mentoring from competition sponsors Exemplas and flare judge Dan Kendall of SanGen Systems. She will also receive one year's membership to the Hertfordshire Chamber of Commerce and Industry and office space in our Enterprise Incubation Centre.