Go Design Services
Grace Overington set up an ethical and sustainable model-making business Go Design in January 2022, after the COVID pandemic put her teacher training plans on hold.
Finding her design skills were in demand from the play, leisure and retail industries, she was frequently asked whether she knew anyone who could make the designs she'd created. As her degree was in model making, she spotted an opportunity to make them herself, but in a sustainable way; giving Go Design a clear USP in what is typically quite a waste-heavy industry.
Since Grace opened her workshop, the business has gone from strength to strength, securing commissions from designer brands, zoos, and leisure companies, using clever techniques to reuse, recycle and minimise the use of plastic.
About Go Design Services
Despite Go Design Services only being established for 9 months, Grace is already building an impressive network. She said "I really enjoy that side of running a business. I guess I am quite pushy! I message people on LinkedIn, introducing myself and the business, tell them exactly why they should work with us and how talented the team are. I think that's really important as people don't really push themselves enough."
Her persistence has paid off, with an already impressive client roster which is growing all the time. "I think clients are beginning to realise how important sustainability is in this area. They come to us with crazy ideas, and we can design and make them here, but in an ethical way. We are already working with big designer brands, and initially that wasn't even in my five-year plan. I am really proud to have achieved it within 9 months."
Grace is also passionate about talent development. She said "A lot of talented artists graduate with art degrees, but they're out of work, then they're expected to work for free for exposure, or on a minimum wage. I don't agree with that. I think all artists should know their worth – in this sector people don't really talk about money, but they should. I want to continue sparking conversation about that. As a Herts alumna myself, I employ fellow Herts graduates and am proud to have such a talented team."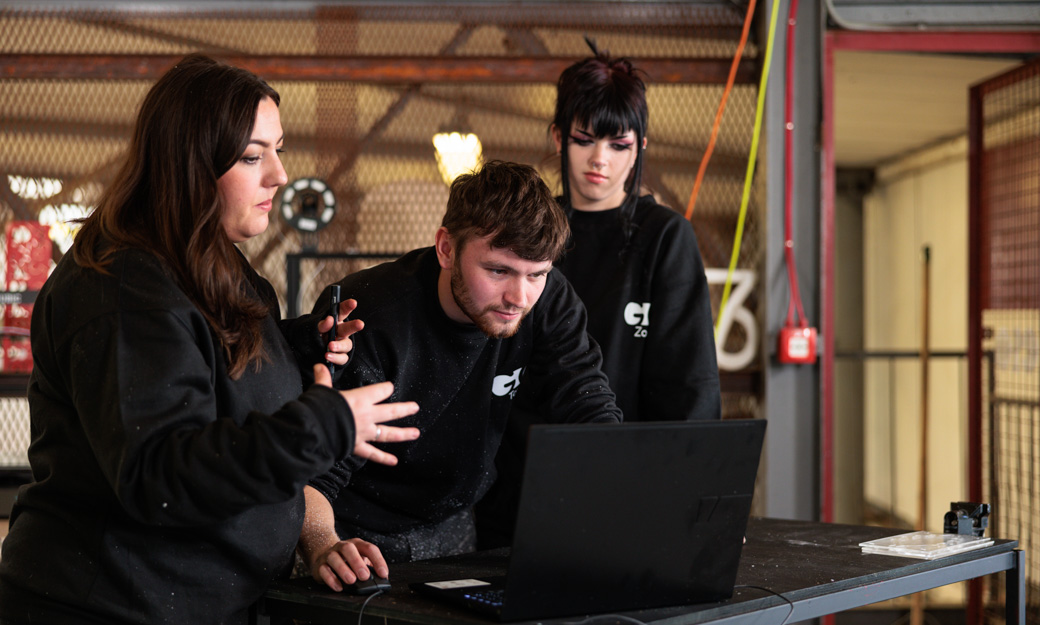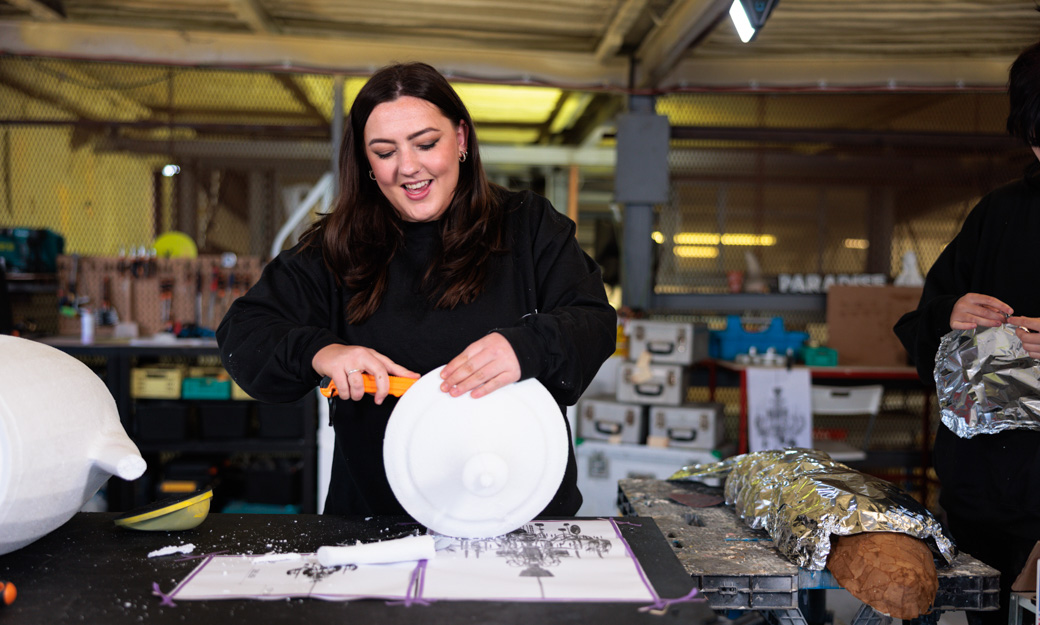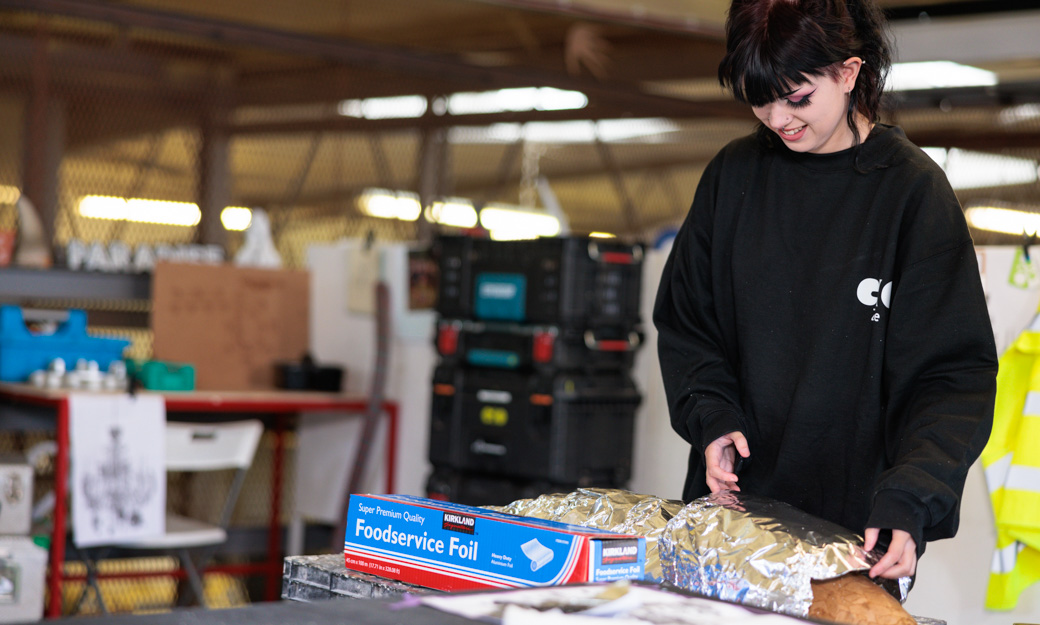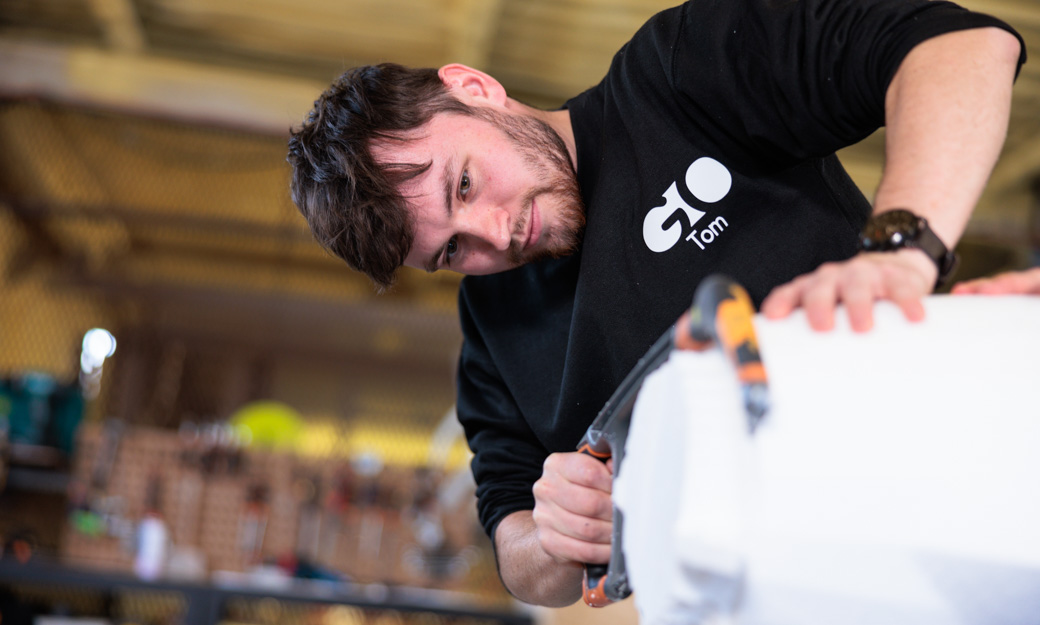 How we helped
Go Design Services was one of ten businesses who joined the 2022 Herts Sustainability Accelerator programme. Each received one to one mentoring, training, and specialist technical, commercial and marketing support, as well as access to a varied group workshop programme, grants and prototyping support.
For Grace, the association with the University has really helped give her new business credibility. She said "Being a fairly young woman starting out, it is great to have validation. To be able to say the University of Hertfordshire approves this, it's been so important."
Grace is keen to build out her client roster further in the short term, but longer term her ambition is for Go Design Services to operate as an established ethical agency. She has also developed a new sub brand called Dino Doctors; her team will visit zoos, theme parks and museums to help repair their dinosaur models, a service which is greatly in demand as the models are expensive and will often just be replaced rather than rebuilt. "I'd like Dino Doctors to operate as a franchise, hiring more artists to operate regionally, running their own sustainable maintenance repair services."
Despite the success of Go Design Services, Grace admits it's been challenging learning how to run a business and specifically manage people. "I probably should have reached out for help from the University sooner as it's been so great for me, my business advisor is brilliant. I think people don't know about the help that is out there, but there's a lot. I've recommended the University of Hertfordshire to at least five people, one of them has had help to secure funding already. I genuinely recommend getting that support." Let us do the same for you