BA (Hons) Visual Effects for Film and Television
This course is due to be renewed at a Periodic Review event which will be held on September 2020.
We anticipate that there will be further enhancements made to the course as a result of the Review.
Our website and printed literature will be updated following completion of the Periodic Review in order to provide applicants with further confirmed details on the following:
module titles
whether the modules are core or optional
the expected contact hours
how the course will be assessed
staff teaching on the course
Due to the ongoing Coronavirus pandemic, examinations may be replaced by an alternative form of assessment during the academic year 2020/2021. Please refer to the Programme Specification on these pages for further details.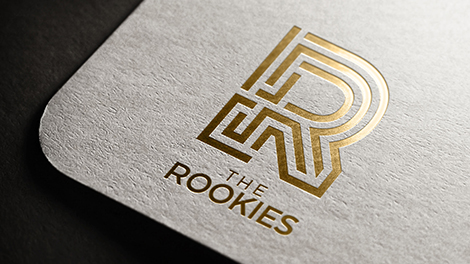 No.1 (UK) No. 2 (World) for Production Excellence in Visual Effects
This course includes the sandwich year options of:
*No fees are charged for this year
Key information

| | |
| --- | --- |
| UCAS code | W614 |
| Institution code | H36 |
| School of study | School of Creative Arts |
| Course length | Sandwich, 4 Years |
| Location | University of Hertfordshire, Hatfield |

Entry requirements

| UCAS points | A Level | BTEC |
| --- | --- | --- |
| 112 | BBC: L3 in Art and Design or a creative subject which includes drawing. | DMM: Subjects including Art and Design, Games Art and Amination, Amination, Level 3 Extended Diploma in Games, Animation and VFX Skills (NextGen), UAL Extended Level 3 Diploma in Creative Media (Production) |

Additional requirements

All students from non-majority English speaking countries require proof of English language proficiency, equivalent to an overall IELTS score of 6.0 with a minimum of 5.5 in each band.

If you do not have the required IELTS or equivalent for direct entry on to your degree programme, our Pre-sessional English and International Foundation courses can help you to achieve this level.

For more details on the University of Hertfordshire's entry requirements, please visit our Undergraduate Entry Requirements page.

Find out more about International Entry Requirements.

The University of Hertfordshire is committed to welcoming students with a wide range of qualifications and levels of experience. The entry requirements listed on the course pages provide a guide to the minimum level of qualifications needed to study each course. However, we have a flexible approach to admissions and each application will be considered on an individual basis.

Professional accreditations

Winner of The Rookies Film of the Year 2020 (BYGONE)

We are a Rookies Certified School. Find out more here.

Sign up for alerts

Get access to personalised content, tailored towards your interests:

Information on your favourite courses
Tips to help you through the application process
Blogs, vlogs and advice from current students
Why choose this course?
Students from the Visual Effects for Film and Television degree have worked on live projects including the BBC's 2010 Olympics presentation and music videos for Richard Ashcroft.
Teaching for the VFX degree is based on the extensive industry knowledge of our lecturing team. We have worked with high profile organisations and companies such as the BBC, The Mill, Red Vision and many others.
Many students are currently on work experience programmes with visual effects companies in London.
For the second year running, we're ranked No.1 in the UK and No. 2 in the world for Production Excellence in Visual Effects (Rookies 2020)
You could also study 2D Animation and Character for Digital Media, 3D Computer Animation and Modelling or 3D Games Art and Design.
What's the course about?
Please note that this course has closed applications for 2020 intake.
This degree is for anyone who wants to create the incredible digital visual effects we see on our screens, from weird and wonderful TV ads to Hollywood blockbusters. Using the latest technology, this course teaches you how to create and seamlessly integrate photo-real, computer-generated creatures, crowds, objects and stunt doubles. You'll also learn how to produce digital particle effects (such as fluid and fire), object dynamics, lighting, crowd simulation and many other tricks and techniques. Often working in collaboration with film students and the best central London production houses, you'll take part in some spectacular live projects and gain vital industry experience.
Your main campus is College Lane   
This is where the creative arts, science and health related subject are based. This means you'll share the campus with future nurses, scientists, artists and more. You can use the common rooms to relax with friends, work out in the 24-hour gym or have a drink in on-campus pub or cafes. We also have restaurants for you to eat in or grab something on the go. Want to pop over to the other campus? You can take the free shuttle bus or walk there in just 15 minutes.  
What will I study?
The Visual Effects for Film and Television (VFX) degree has a common year 1 with the other Animation degrees for core subjects and then specialises at year 2 and year 3 so those not sure about which pathway to follow can make an informed decision.
Teaching consists of hands-on workshops, lectures and seminars.
Level 4

Level 5

Level 6

Study abroad

This course offers you the opportunity to study abroad through the University's study abroad programme. Study abroad opportunities are available worldwide and in Europe under the Erasmus+ Programme.

Work placement

Work placement can take place during Semester B at Level 2 or during the summer. Students may undertake a year-long placement between the second and final year. Work placements are an opportunity to improve employment prospects and develop new skills.
Check out our student blogs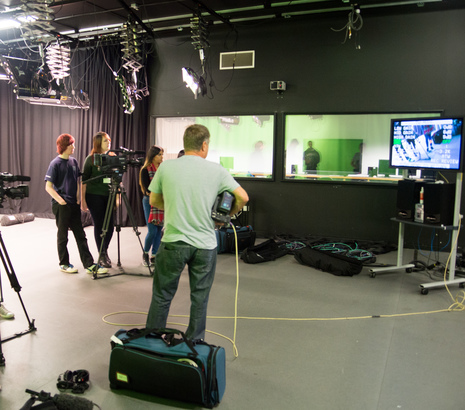 Student Blogs
Emily A - Week at a glance
My week at a glance
Hi, my name is Emily and I have just finished my first year at the University of Hertfordshire on the Film and Television Production course.
On Sundays before the week starts, I like to go through the lecture slides and make any notes in the margins of my notebook to prepare for the lectures I have that week. I also do any directed reading at the weekend to get ahead. However, now that our lectures are online, I just listen to and make notes on all my lectures at the start of the week.
As my course is quite practical, we have workshops throughout the week, as well as seminars, so I always try to do a bit of extra reading before those sessions to prepare.
My friends and I also work on our own film projects outside of the course, so it is important to be organised and complete classwork early to be available for these projects.
On a non-course related note, I also like to meal prep at the start of the week, by washing and chopping fruit and vegetables and keeping them in the fridge, so that I always have healthy snacks on hand, as the week gets busier.
I also have a part-time job freelance editing, so it is important to me to plan my days so that I can fit in my editing work alongside my uni work.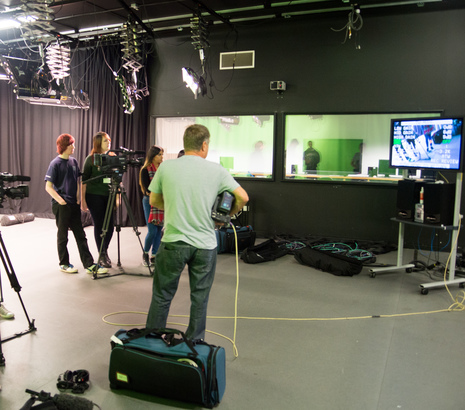 Student Blogs
Emily A - Guide to the facilities
Guide to the Film and Television Production Facilities at Herts
The Film, Music and Media Building
The building that you will spend most of your time on campus in on the Film and Television production course is the Film, Music and Media Building (the FMM for short). This is where we have our editing and camera workshops. The Walter Murch editing lab on the second floor is a great resource and it becomes extremely busy in the days leading up to a deadline. It is filled with 27" iMacs each equipped with customised Avid Media Composer keyboards.
The Loan Store is a great resource to have as it allows us to not only rent out equipment for our assignment projects, but also for our own independent projects that we produce throughout the year. It is in the basement of the Art and Design building. There are also three bookable edit suites down the hall from the loan store, equipped with Dell true colour monitors, Avid colouring desks and 2.1 surround sound systems. There is also a dubbing suite that is especially useful for recording Foley and Automated Dialog Replacement (ADR) for our projects.
Learning Resource Centres (LRCs)
Both the College Lane and de Havilland campuses have their Learning Resources Centres (LRCs), which are great tools when writing our film and television histories and contexts essays. There is a shuttle bus that takes you between the campuses that runs every ten minutes so if there's a book that you need on the other campus, you don't need to worry! The University has a wide range of books and academic journals on their online library, which is a great tool for wider reading and including supporting evidence and references in our essays.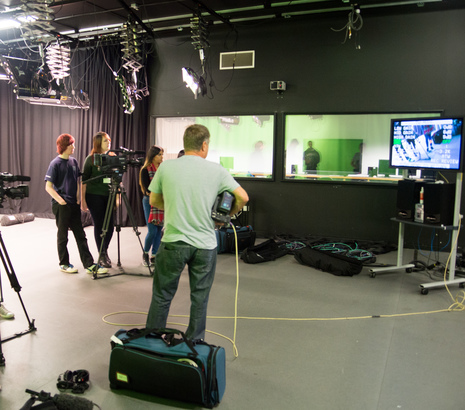 Student Blogs
Emily A - Why I chose Herts
Why I chose Herts
Hi, my name is Emily and I have just finished my first year at the University of Hertfordshire on the Film and Television Production course. I have absolutely loved my first year at Herts, and I would recommend this course and University to anyone thinking of studying film and tv production.
Moving away from Guernsey to attend university seemed quite daunting at first, but I settled in a lot quicker and easier than I thought I would. Everyone here seems nice, and I have made some amazing friends in my first year here.
I always knew that I wanted to attend a big university with a lot of students, so the University of Hertfordshire was perfect! I also love that they have such a high focus on sport and extracurricular activities, and the Sports Village on the de Havilland Campus is a great resource.
My advice for students coming to university would be to do your research and really figure out what you want to get out of university and what you want to experience during your time here, to find a university that is right for you. I would also recommend that you try and visit as many prospective universities as you can at their open days because I had already visited five other universities by the time I came to the University of Hertfordshire's open day, and (excuse the cliché) but from the moment I stepped on campus, I knew this was the university for me.
Thank you for reading and I wish you all the luck in your university journey!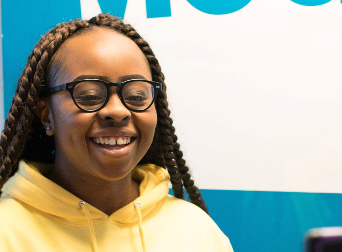 Meet Tomi Ojo who has been exploring her career opportunities and learning new skills since graduating. Tomi currently works within Elevation Networks as a National Citizen Service (NCS) Programme Intern.
| | |
| --- | --- |
| Current job role | Senior Programme Coordinator - Youth Media |
| Year of graduation | 2017 |
| Course of study | BA (Hons) Photography |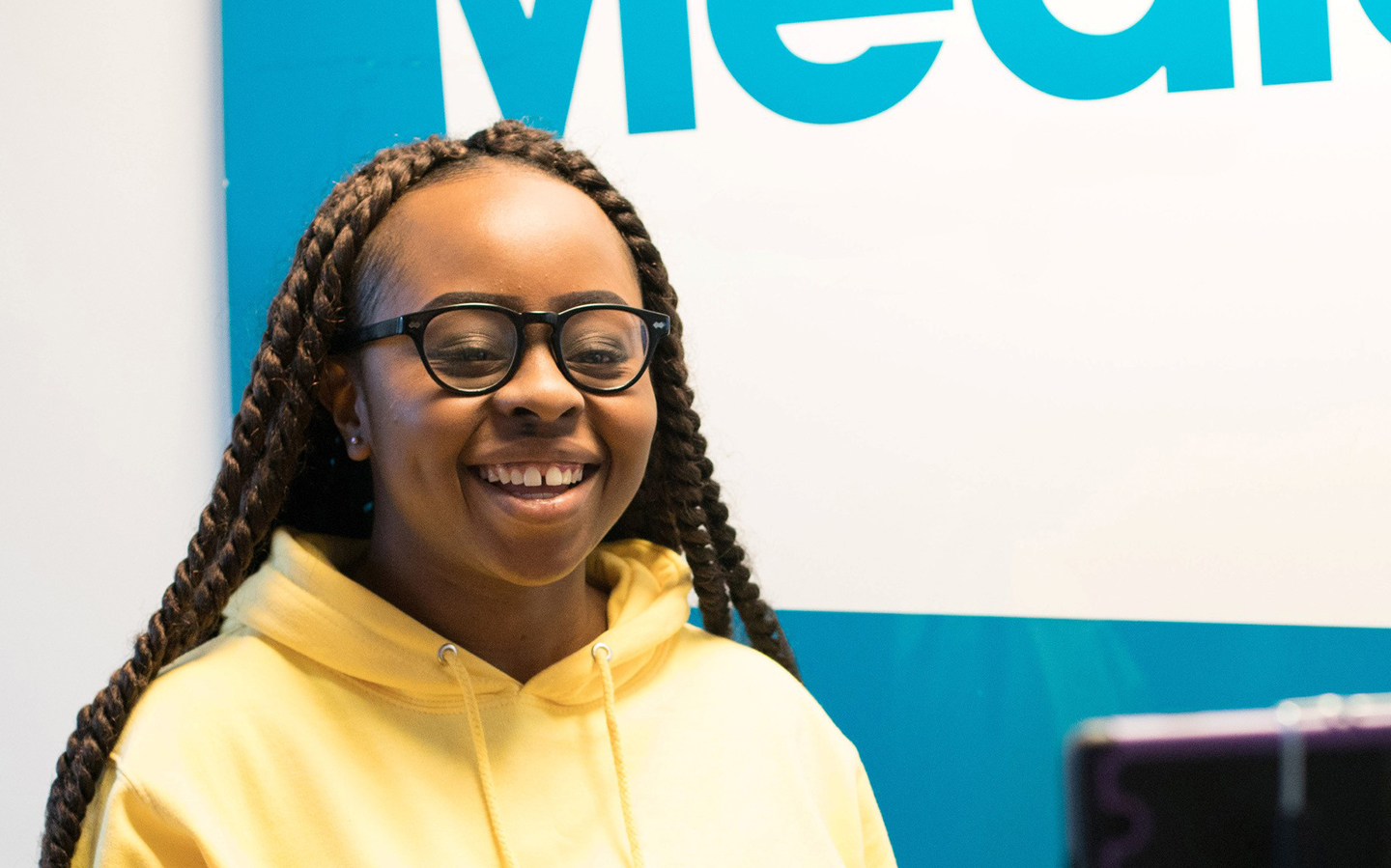 University experience and opportunities
Tomi took advantage of all of the opportunities that were available to her both inside and outside of her course. She says, 'The University gave me lots of opportunities to develop public speaking skills, both on my course and while being a Student Ambassador. This helped when being a team leader to speak to my group of 15 teenagers and lead them on their daily activities.'
Tomi had a great time at the University and says, 'I really enjoyed my course. It was mainly coursework based which worked well for me as exams made me nervous. My course mates were very supportive, and I found it really interesting to hear their opinions. I have some friends for life! The loan store was also very useful too as it provided free equipment for us to use for the duration of the course!'
She encourages future and current students to make the most of what the University has to offer. She says, 'Don't be scared because you're going on your own. Be open to criticism and other people's creative ideas. Not everyone sees your vision and that's okay as there's always room for improvement.'
Future aspirations
Tomi is determined to continue to develop in her role and possibly take her next steps overseas. She says, 'I would like to continue in the job role that I am currently in. Hopefully, I can move into social media and advertising. I would love to move abroad to America or Australia to work in a similar role. I'm really excited about my future!'
My course mates were very supportive, and I found it really interesting to hear their opinions. I have some friends for life!
What's next for my career?

Graduates will be capable of working in the growing and exciting area of computer animated visual effects. Seamless integration of effects into live action in feature film, TV and increasingly games includes the creation of photo real computer-generated assets, particle effects such as fluids, fire, physical recreation of object dynamics, crowds, creature animation and compositing, matt painting and camera matching.

Graduates may also progress to advanced academic studies and research.

Our graduates have the skills and impressive CVs to land coveted jobs in the growing and exciting area of computer-animated visual effects. You'll find opportunities in television, film, games and specialist visual effects companies.

View our Alumni profiles

Key staff

Mr Daniel Goodbrey
Joint Programme Leader in Digital Animation
Find out more about Mr Daniel Goodbrey

Mark Wallman
Lecturer in Visual Effects for Film and Television


Mr Martin Bowman
Joint Programme Leader in Digital Animation


Further information - includes assessment method

| Course fact sheets | |
| --- | --- |
| BA (Hons) Visual Effects for Film and Television | Download |
| BA (Hons) Visual Effects for Film and Television | Download |

| Programme specifications | |
| --- | --- |
| BA (Hons) Digital Animation | Download |
| BA (Hons) Digital Animation | Download |

| Additional information | |
| --- | --- |
| Sandwich placement or study abroad year | Optional |
| Applications open to international and EU students | Yes |

How to apply?

Fees and funding
Please note that some of the images and videos on our course pages may have been taken before social distancing rules in the UK came into force.