BSc (Hons) Sport and Exercise Science
Our programme is accredited by BASES and is part of the NSCA Eductional Recognition Programme
We offer strong links to industry with a highly successful sandwich year placement programme, which has led to numerous employment opportunities
Enjoy flexibility in learning across the sports science curriculum - choose from multiple optional modules across level 5 and 6
Key information

UCAS code

C600

Institution code

H36

School of study

School of Life and Medical Sciences

Course length

Full Time, 3 Years
Part Time, 5 Years
Sandwich, 4 Years

Location

University of Hertfordshire, Hatfield

Entry requirements

| UCAS points | A Level | BTEC |
| --- | --- | --- |
| 104 | BCC: Including at least one Science A level preferably Biology and/or PE (acceptable A levels: Human Biology, Biology, Chemistry, Physics, Psychology, Sports Science) | DMM: BTEC Sport and Exercise Science or Applied Science Extended Diploma at DMM. BTEC Sport Extended Diploma (RQF 2016) at DMM (With merits achieved in the following modules – Anatomy and Physiology and Fitness Training and Programming for Health, Sport and Well-Being) Level 3 OCR CTEC (Cambridge Technical in Sport and Physical Activity) Extended Diploma DMM (With merits achieved in the following modules – Body Systems and the Effects, Nutrition and Diet for Sport and Exercise, Sports Injuries and Rehabilitation). Additional Science BTEC's will be considered at tutor discretion. |

Additional requirements

GCSE: Grade 4/C in English and Mathematics and grade 3 and 4 in Double Science.

All students from non-majority English speaking countries require proof of English language proficiency, equivalent to an overall IELTS score of 6.0 with a minimum of 5.5 in each band.

If you do not have the required IELTS or equivalent for direct entry on to your degree programme, our Pre-sessional English and International Foundation courses can help you to achieve this level.

For more details on the University of Hertfordshire's entry requirements, please visit our Undergraduate Entry Requirements page.

Find out more about International Entry Requirements.

The University of Hertfordshire is committed to welcoming students with a wide range of qualifications and levels of experience. The entry requirements listed on the course pages provide a guide to the minimum level of qualifications needed to study each course. However, we have a flexible approach to admissions and each application will be considered on an individual basis.

Sign up for alerts
About the course
This course covers the three main disciplines of sport science: physiology (including nutrition), biomechanics and psychology. You'll gain a fundamental understanding of physiology, anatomy, psychology, biomechanics, sports performance, biochemistry, nutrition, and strength and conditioning – and then apply your knowledge through practical classes and research. During your studies you'll have many opportunities to use our state of-the art human performance labs, where you'll learn to assess and improve sporting performance, as well as gain invaluable knowledge on the role exercise plays in improving health and wellbeing.
You'll also develop the analytical, written and verbal skills expected by employers. Furthermore, this course is a National Strength and Conditioning Association (NSCA) recognised undergraduate programme, allowing students to complete the Certified Strength and Conditioning Specialist qualification near graduation.
Why choose this course?
Our excellent facilities ensure we can deliver a comprehensive programme of practical work to support lecture material. A focus on Personal Transferable Skills throughout the first and second year enables you to develop competence in a range of skill areas which will be of benefit professionally and personally and which are essential to success in a competitive employment market.
There are two dedicated sports science and therapy laboratories equipped with a range of treadmills, cycle ergometers and rowing machines. In addition, there is specialist physiology, biomechanical and biochemistry equipment, for example, online gas analysers. Find out more about our facilities. You can also make use of the University's £15 million Hertfordshire Sports Village at the de Havilland campus.
Other additional opportunities include:
Guest lecturers: e.g. GSK, HSV, Felicity Aston (first woman to walk the Antarctic solo)
Work Experience: including local, national and international employers taking students for their work experience module in final year (e.g. football, rugby clubs, hospitals, other universities)
Opportunities for students to support applied testing and research in the labs
Opportunities to gain internationally recognised qualifications:

Certified Strength and Conditioning Specialist (NSCA)
ACSM Certified Exercise Physiologist

Level 2 Fitness Instructor
Find out more about our sports staff
Graduate Stories
What will I study?
Our staff have high levels of expertise and experience, with many of them accredited/chartered with professional organisations such as the British Association of Sport and Exercise Sciences - BASES, the British Psychological Society - BPS, and the UK Strength and Conditioning Association - UKSCA. BASES is a nationally recognised achievement, whereby the standards of operation, physiological testing, and laboratory management are assessed in relation to recognised clinical criteria and quality control. This successful accreditation is proof of our staff demonstrating high standards in operation. Staff are also research and/or consultancy active ensuring that they remain at the forefront of developing their respective specialism and that our students are entwined in historical and contemporary debate and investigation. Our students typically spend 8 hours a week in lectures, and 8 hours a week in practical laboratory sessions, workshops, or seminars. Practical work is an important and significant element of the Sports and Exercise Science degree, and the high levels of competence and independence demonstrated by our students in the laboratory and practical environment enable them to become 'thinkers' and 'doers'.
Modules are assessed in a variety of ways via coursework, practicals and exams. The type of coursework is varied, depending on the module and includes essays, reports, practical write-ups, posters and seminar presentations.
Our laboratories boast an enviable range of performance testing equipment (e.g. Metalaysers for VO2 max testing; blood-taking facilities and blood analysers to measure blood lactate and cholesterol; running treadmills; cycling and rowing ergometers; Dynamometers, Anthropometric equipment; weight-lifting equipment, and even an indoor putting green for psychological and biomechanical analysis).
Throughout your time at the University you work closely with a personal tutor in order to help develop academic, personal, and vocational skills. This work is supported by the University intranet (Studynet) which provides a location for lecture notes, study guides, assessment details, example exam papers, and discussion forums amongst other things.
You also have 24-hour access (during term-time) to two outstanding learning resources centres.
Professional Accreditations
BASES undergraduate endorsement scheme
NSCA Educational Recognition Programme
ACSM – Pre-approved degree programme for eligibility to the ACSM - Certified Exercise Physiologist qualification (*specific module options required).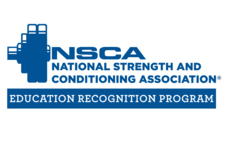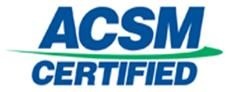 Careers
Our graduates progress to a wide range of careers which reflects the multidisciplinary nature of the degree programme.
Our graduates have gained employment with elite athletes, professional sports teams, health clubs and within the National Health Service. Also, in the leisure industry, military, fire service and as coaches. They have progressed to study for a Master's degree, PhD or teacher training qualification.
Job titles of recent graduates include:
Community Rugby Coach, Sports Lecturer, Police Officer, NHS Trainee Cardiac Physiologist, Special Needs Coach, Strength and Conditioning Coach, Fire Brigade Fitness Advisor, Health and Fitness Coach, IT Support Officer, Learning Support Assistant, PE Technician, Personal Trainer/Gym Instructor, Pharmaceutical Production Technician, Sport Science Support Officer, Lecturer in Sport Science in Further Education, Physiotherapy Assistant, Fitness Instructor, Recreation Assistant, Swimming Coach, Lifestyle Consultant, and Mental Health Physical Activity and Nutrition Advisor.
Examples of recent employers are the NHS, the English Institute of Sport, Lucozade Sport, and Mind.
What job can I get?
Our graduates work with elite athletes, professional sports teams, health clubs and in the NHS. Recent jobs for our graduates include community rugby coach, police officer, trainee cardiac physiologist, fire brigade fitness advisor, health and fitness coach, personal trainer / gym instructor, pharmaceutical production technician and nutrition advisor.
Study abroad

This course offers you the opportunity to study abroad in the Sandwich Year through the University's study abroad programme. Study abroad opportunities are available worldwide and in Europe under the Erasmus+ Programme.

Work placement

In the third year you have the opportunity to spend a year working in industry or studying at one of our partner universities in North America or Europe. However you do not have to undertake a placement year, there will still be ample opportunities for you to gain work experience within the main programme of study. (Disclosure and Barring Service (DBS) checks may be undertaken as part of this or the placement year).

Fees and funding

Fees 2020

UK/EU Students

Full time

£9250 for the 2020/2021 academic year

Part time

£1155 per 15 credits for the 2020/2021 academic year

International Students

Full time

£13000 for the 2020/2021 academic year

Part time

£1625 per 15 credits for the 2020/2021 academic year

You will be expected to purchase navy tracksuit bottoms, a white polo shirt and navy shorts before starting the course. These can be University of Hertfordshire branded, bought from us before induction, but do not have to be.

*Tuition fees are charged annually. The fees quoted above are for the specified year(s) only. Fees may be higher in future years, for both new and continuing students. Please see the University's Fees and Finance Policy (and in particular the section headed "When tuition fees change"), for further information about when and by how much the University may increase its fees for future years.

View detailed information about tuition fees

Read more about additional fees in the course fact sheet

Other financial support

Find out more about other financial support available to UK and EU students

Living costs / accommodation

The University of Hertfordshire offers a great choice of student accommodation, on campus or nearby in the local area, to suit every student budget.

Further information

How to apply