BA (Hons) Photography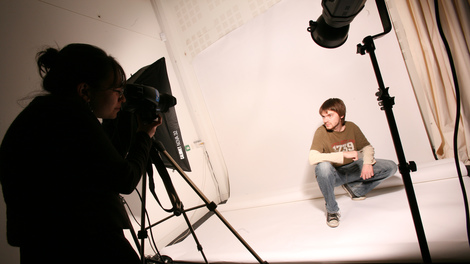 Gain work placements in the photography industry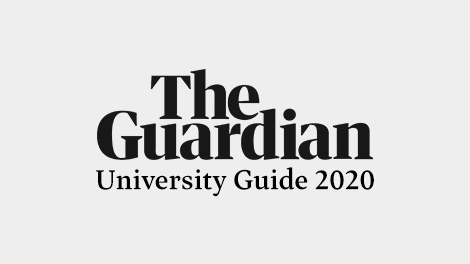 Ranked 16th in Film Production and Photography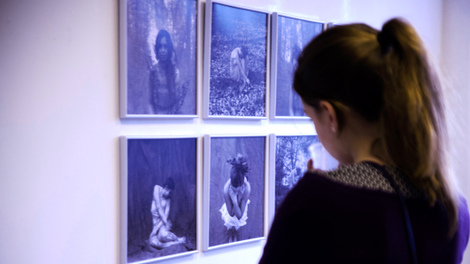 Exhibit your work to industry in our Graduate Degree Show
This course includes the options of:
*No fees are charged for this year
Key information

UCAS code

W641

Institution code

H36

School of study

School of Creative Arts

Course length

Full Time, 3 Years
Part Time, 6 Years
Sandwich, 4 Years

Location

University of Hertfordshire, Hatfield

Entry requirements

| UCAS points | A Level | BTEC |
| --- | --- | --- |
| 104-112 | BCC-BBC - Including formal or informal qualifications in Art or Design | MMM-DMM |

Additional requirements

IB requirement: 104-112 UCAS points.

Access course: Diploma with 45 level 3 credits at merit.

All students from non-majority English speaking countries require proof of English language proficiency, equivalent to an overall IELTS score of 6.0 with a minimum of 5.5 in each band.

If you do not have the required IELTS or equivalent for direct entry on to your degree programme, our Pre-sessional English and International Foundation courses can help you to achieve this level.

For more details on the University of Hertfordshire's entry requirements, please visit our Undergraduate Entry Requirements page.

Find out more about International Entry Requirements.

The University of Hertfordshire is committed to welcoming students with a wide range of qualifications and levels of experience. The entry requirements listed on the course pages provide a guide to the minimum level of qualifications needed to study each course. However, we have a flexible approach to admissions and each application will be considered on an individual basis.

Professional accreditations

We are accredited by the Association of Photographers, this is awarded to courses that meet strict criteria where content responds to the current demands in advertising, fashion and editorial photography.

Sign up for alerts

Get access to personalised content, tailored towards your interests:

Information on your favourite courses
Tips to help you through the application process
Blogs, vlogs and advice from current students
Why choose this course?
The friendly and supportive course encourages you to explore and evolve your photographic vision and practice through a programme of workshops, seminars, lectures and work experience opportunities. Through a sequence of practical projects, you gain a range of technical skills and professional knowledge. Experimentation and risk-taking are encouraged together with the critical study of photographic histories, theories and contemporary practices.
The photography programme emphasises professionalism and industry relevance. The tutors and visiting lecturers are practising photographers or potential employers from the media industries such as working photographers, agents, artists, art directors, marketing professionals and curators.
This Photography degree is designed for those that want to work towards a career as a professional photographer or in related media professions.
The degree prepares you for employment in a range of photography-related professions.
You'll explore and evolve your individual photographic vision and practice, specialising in your chosen genre.
Our tutors and visiting lecturers are practising photographers or potential employers.
Our student work is increasingly getting recognised within the photographic world. Our industry partners are high profile and recent student work placements include the prestigious photography agency Magnum. In addition, we have a number of interns working for the BBC.
Our lively talks programme also allows students to show and discuss current work-in-progress and receive direct feedback from key figures. Our recent visitors include Tereza Cervenova, Matthew Finn, Alexandra Lethbridge, Carl Bigmore, Sebastian Edge from The North London Darkroom and contemporary photographic agency Together Associates.
What's the course about?
If you want a career in photography, this is the course for you. Through a range of projects, you'll explore and evolve your vision and practice in photography. Through practical workshops, you will learn technical expertise and through feedback and group sessions you will critique and expand your visual language. You'll also study the theoretical side of photography, including its fascinating history and contemporary practices. Experimentation, creativity and collaboration are encouraged and facilitated throughout the course. The course has a clear industry focus that aims to develop your professional awareness. A key part of your Final Year is learning how to operate as a freelancer, interact with clients and approach potential employers. This culminates in the presentation of your final portfolio to employers and public-facing graduate shows.
Your main campus is College Lane   
This is where the creative arts, science and health-related subjects are based. This means you'll share the campus with future nurses, scientists, artists and more. You can use the common rooms to relax with friends, work out in the 24-hour gym or have a drink in our on-campus pub or cafes. We also have restaurants for you to eat in or grab something on the go. Our Learning Resources Centres are open 24/7, which means you can study whenever suits you best. Want to pop over to the other campus? You can take the free shuttle bus or walk there in just 15 minutes.   
What will I study?
First Year
Delivered through hands-on workshops you will be introduced to a wide range of professional techniques and approaches to photographic image-making. Guided my lecturers you will look at studio and portable lighting, shooting in the studio and on location, digital workflow and how to retouch and manipulate images, technical theory and use of the darkroom in colour and black and white. Developing films and enlarging photographic images through traditional and alternative methods.
In group sessions you will use informal discussion to support your photographic work, gaining feedback, critical awareness and confidence. The study of the histories and theories of photography gives you a foundation for your practice both in class sessions and through written work.
You will complete the first year with a public facing-exhibition and a solid grounding in the fundamentals of photography through final photographic work, practice, research, writing and theory. You will have gained confidence in academic research and writing and be ready to jump up to the second year.
Second Year
During year two, you begin to define who you are as a photographic practitioner and to identify your professional goals. You respond to assignments and negotiated projects by considering professional concerns such as markets, audiences, clients and users of the photography industry.
Advanced photography and digital imaging skills are taught through lecture/demonstrations, workshop sessions and studio practice. This stage also introduces and develops your professional awareness and provides an opportunity to experience a 'live' working environment through industry-style briefs set by professional photographers and designers. There is scope for work experience and study abroad in Europe or further afield. There is a second-year final exhibition where, in groups, you will begin to put into practice skills around presenting and curating photography in a group show.
Final Year
In the final year, you will embark on a self-defined, extended project that allows the time to evolve to a more sophisticated outcome. You will choose a specialism area to work in for example documentary, fashion, still-life and you will spend the year making the kind of work you want to represent you as an emerging photographer.
You will develop a professional portfolio of photography with which to launch your career. The portfolio will demonstrate your professional versatility by including client-led work alongside a self-directed project full of personal vision, media expertise and professional standards. You will also write a dissertation or a report which identifies an area of contemporary professional practice relevant to your work and feeds into and supports the practical making.
A key part of your final year study is learning how to operate as a freelancer, interact with clients and approach potential employers. This culminates in the presentation of your exhibition work and portfolio in two separate degree exhibitions which are open to invited media industry employers and the public.
Check out our student blogs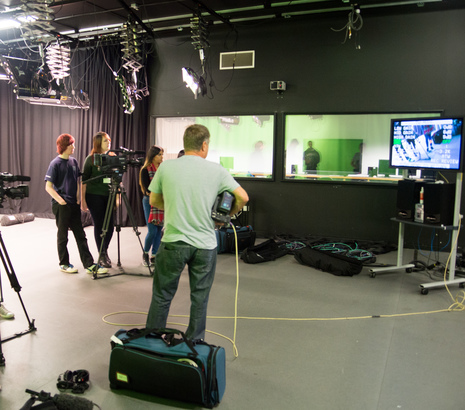 Student Blogs
Emily A - Week at a glance
My week at a glance
Hi, my name is Emily and I have just finished my first year at the University of Hertfordshire on the Film and Television Production course.
On Sundays before the week starts, I like to go through the lecture slides and make any notes in the margins of my notebook to prepare for the lectures I have that week. I also do any directed reading at the weekend to get ahead. However, now that our lectures are online, I just listen to and make notes on all my lectures at the start of the week.
As my course is quite practical, we have workshops throughout the week, as well as seminars, so I always try to do a bit of extra reading before those sessions to prepare.
My friends and I also work on our own film projects outside of the course, so it is important to be organised and complete classwork early to be available for these projects.
On a non-course related note, I also like to meal prep at the start of the week, by washing and chopping fruit and vegetables and keeping them in the fridge, so that I always have healthy snacks on hand, as the week gets busier.
I also have a part-time job freelance editing, so it is important to me to plan my days so that I can fit in my editing work alongside my uni work.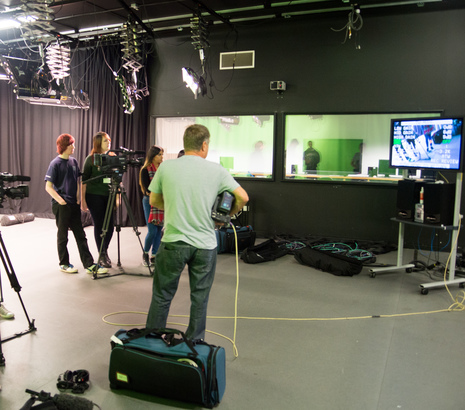 Student Blogs
Emily A - Guide to the facilities
Guide to the Film and Television Production Facilities at Herts
The Film, Music and Media Building
The building that you will spend most of your time on campus in on the Film and Television production course is the Film, Music and Media Building (the FMM for short). This is where we have our editing and camera workshops. The Walter Murch editing lab on the second floor is a great resource and it becomes extremely busy in the days leading up to a deadline. It is filled with 27" iMacs each equipped with customised Avid Media Composer keyboards.
The Loan Store is a great resource to have as it allows us to not only rent out equipment for our assignment projects, but also for our own independent projects that we produce throughout the year. It is in the basement of the Art and Design building. There are also three bookable edit suites down the hall from the loan store, equipped with Dell true colour monitors, Avid colouring desks and 2.1 surround sound systems. There is also a dubbing suite that is especially useful for recording Foley and Automated Dialog Replacement (ADR) for our projects.
Learning Resource Centres (LRCs)
Both the College Lane and de Havilland campuses have their Learning Resources Centres (LRCs), which are great tools when writing our film and television histories and contexts essays. There is a shuttle bus that takes you between the campuses that runs every ten minutes so if there's a book that you need on the other campus, you don't need to worry! The University has a wide range of books and academic journals on their online library, which is a great tool for wider reading and including supporting evidence and references in our essays.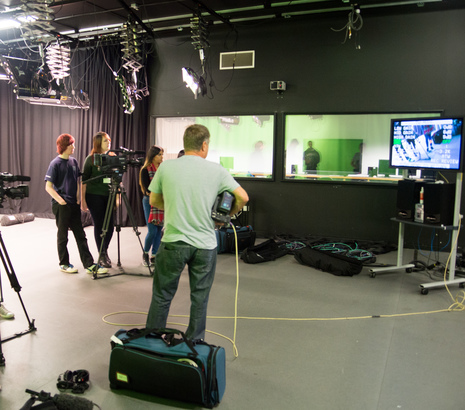 Student Blogs
Emily A - Why I chose Herts
Why I chose Herts
Hi, my name is Emily and I have just finished my first year at the University of Hertfordshire on the Film and Television Production course. I have absolutely loved my first year at Herts, and I would recommend this course and University to anyone thinking of studying film and tv production.
Moving away from Guernsey to attend university seemed quite daunting at first, but I settled in a lot quicker and easier than I thought I would. Everyone here seems nice, and I have made some amazing friends in my first year here.
I always knew that I wanted to attend a big university with a lot of students, so the University of Hertfordshire was perfect! I also love that they have such a high focus on sport and extracurricular activities, and the Sports Village on the de Havilland Campus is a great resource.
My advice for students coming to university would be to do your research and really figure out what you want to get out of university and what you want to experience during your time here, to find a university that is right for you. I would also recommend that you try and visit as many prospective universities as you can at their open days because I had already visited five other universities by the time I came to the University of Hertfordshire's open day, and (excuse the cliché) but from the moment I stepped on campus, I knew this was the university for me.
Thank you for reading and I wish you all the luck in your university journey!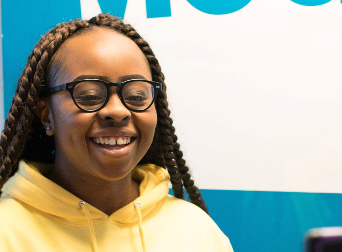 Meet Tomi Ojo who has been exploring her career opportunities and learning new skills since graduating. Tomi currently works within Elevation Networks as a National Citizen Service (NCS) Programme Intern.
Read more stories
Find out more about this course
| | |
| --- | --- |
| Current job role | Senior Programme Coordinator - Youth Media |
| Year of graduation | 2017 |
| Course of study | BA (Hons) Photography |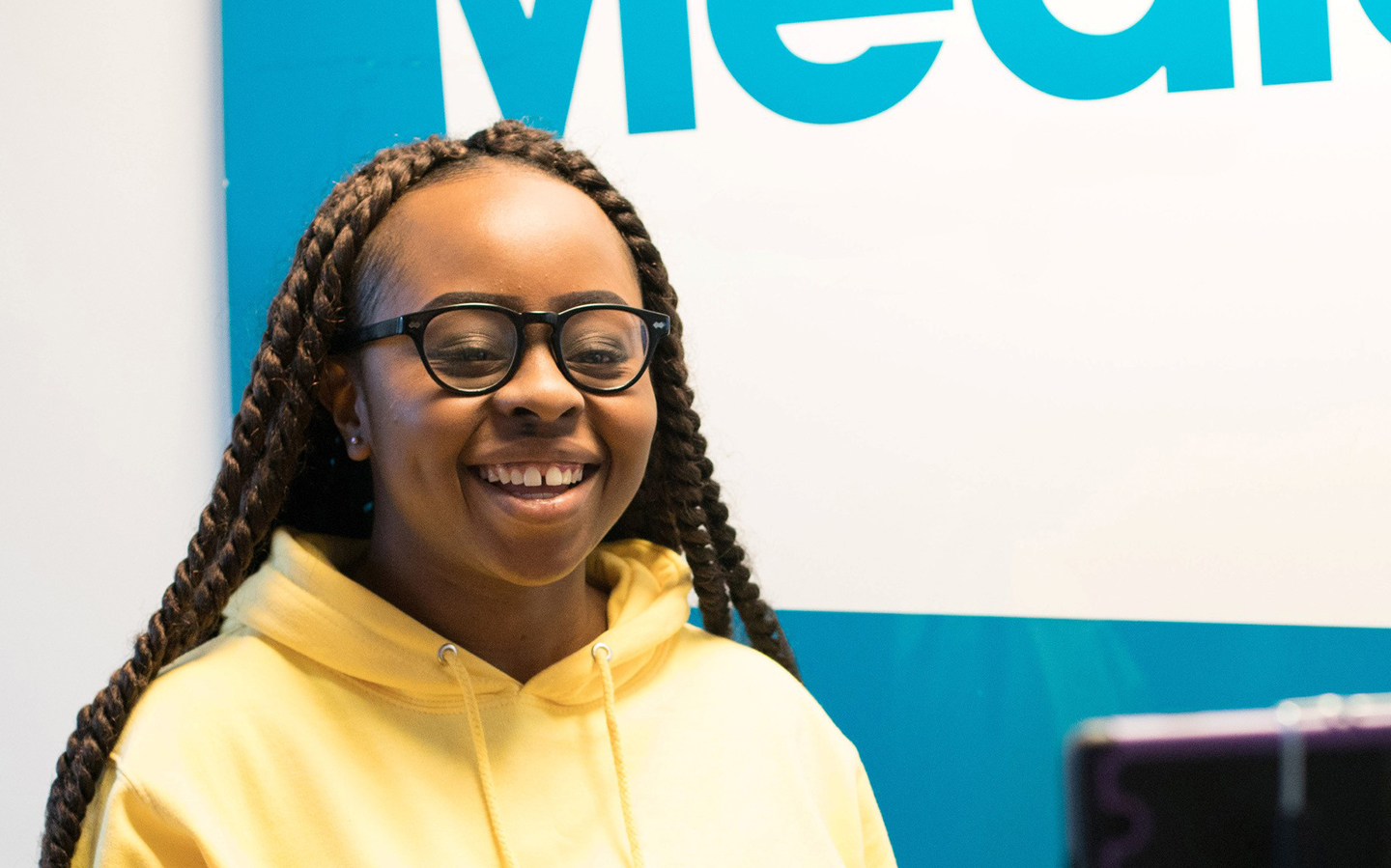 University experience and opportunities
Tomi took advantage of all of the opportunities that were available to her both inside and outside of her course. She says, 'The University gave me lots of opportunities to develop public speaking skills, both on my course and while being a Student Ambassador. This helped when being a team leader to speak to my group of 15 teenagers and lead them on their daily activities.'
Tomi had a great time at the University and says, 'I really enjoyed my course. It was mainly coursework based which worked well for me as exams made me nervous. My course mates were very supportive, and I found it really interesting to hear their opinions. I have some friends for life! The loan store was also very useful too as it provided free equipment for us to use for the duration of the course!'
She encourages future and current students to make the most of what the University has to offer. She says, 'Don't be scared because you're going on your own. Be open to criticism and other people's creative ideas. Not everyone sees your vision and that's okay as there's always room for improvement.'
Future aspirations
Tomi is determined to continue to develop in her role and possibly take her next steps overseas. She says, 'I would like to continue in the job role that I am currently in. Hopefully, I can move into social media and advertising. I would love to move abroad to America or Australia to work in a similar role. I'm really excited about my future!'
My course mates were very supportive, and I found it really interesting to hear their opinions. I have some friends for life!
What's next for my career?

Graduates are equipped to pursue a wide variety of careers including self employment as photographers in editorial, advertising, fashion, journalism, publishing; also in allied professions in multimedia, curatorial work, picture research and arts administration. Students might also go on to specialist postgraduate study.

On the Photography degree you are prepared for employment in a range of photographic professions which include commercial, client led practices such as advertising and editorial photography through to documentary photography and personally defined fine art photography, as well as related fields of employment such as production, picture editing, curating and gallery management

Many of our graduates work in freelance positions after their degree. Others go into areas of employment such as photo editing and retouching, or become CGI artists, photo librarians / archivists, producers, agents, art buyers, art directors, photographers' assistants, lighting technicians, digital operators, studio managers, photography curators / writers / historians and more.

View our Alumni profiles

Key staff

Dr Daniel Marques-Sampaio
Lecturer in Cultural and Contextual Studies. His research focuses on the urban experience in contemporary globalised cities.
Find out more about Dr Daniel Marques-Sampaio

Senior Lecturer Diane Bielik
Diane is a London-based photographer her conceptual photographic work is experimental and playful, often using found imagery alongside original imagery. She has a MA in Photography from LCC a teaching qualification from the IOE, she has taught photography


Programme Leader Matt MacPake
Matt MacPake is a documentary photographer, living in London, whose work is focused on people and the environment. Born in the North West of England, Matt holds BA (Hons) and MA degrees in Photography, and is Programme Leader for Photography.
Find out more about Programme Leader Matt MacPake

Further information - includes assessment method

How to apply?

Fees and funding

Fees 2021

UK Students

Full time

£9250 for the 2021/2022 academic year

Part time

£1155 per 15 credits for the 2021/2022 academic year

EU Students

Full time

£13450 for the 2021/2022 academic year

Part time

£1680 per 15 credits for the 2021/2022 academic year

International Students

Full time

£13450 for the 2021/2022 academic year

Part time

£1680 per 15 credits for the 2021/2022 academic year

In addition to the fees there are some compulsory course attached to this course:

Year 1
Workshop materials - £150-£250

Year 2
Workshop materials - £250-£350

Year 3
Workshop materials - £250-£350
Professional portfolio for industry - £150-£250

*Tuition fees are charged annually. The fees quoted above are for the specified year(s) only. Fees may be higher in future years, for both new and continuing students. Please see the University's Fees and Finance Policy (and in particular the section headed "When tuition fees change"), for further information about when and by how much the University may increase its fees for future years.

View detailed information about tuition fees

Read more about additional fees in the course fact sheet

Other financial support

Find out more about other financial support available to UK and EU students

Living costs / accommodation

The University of Hertfordshire offers a great choice of student accommodation, on campus or nearby in the local area, to suit every student budget.
Due to the ongoing Coronavirus pandemic, examinations may be replaced by an alternative form of assessment during the academic year 2020/2021. Please refer to the Programme Specification on these pages for further details.
Please note that some of the images and videos on our course pages may have been taken before social distancing rules in the UK came into force.