BA (Hons) Music Industry Management
Due to the ongoing Coronavirus pandemic, examinations may be replaced by an alternative form of assessment during the academic year 2020/2021. Please refer to the Programme Specification on these pages for further details.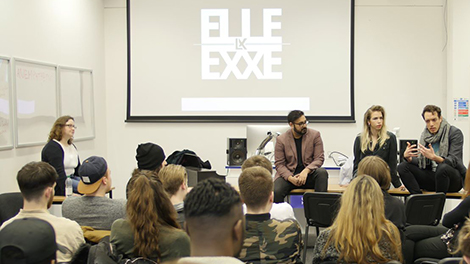 Study closely with and be part of our excellent alumni network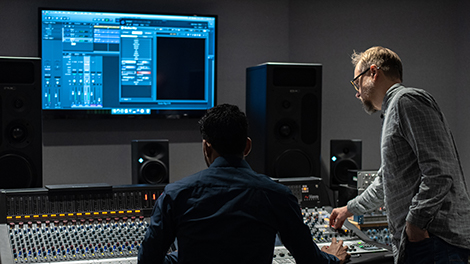 The programme is newly re-validated and updated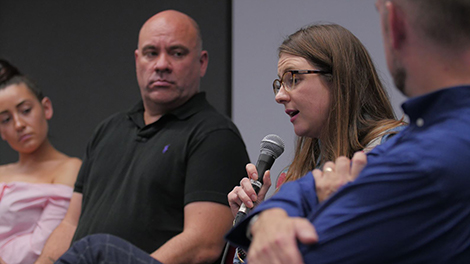 Benefit from close links to the Music industry
This course includes the options of:
*No fees are charged for this year
Key information

UCAS code

WN32

Institution code

H36

School of study

School of Creative Arts

Course length

Full Time, 3 Years
Part Time, 5 Years
Sandwich, 4 Years

Location

University of Hertfordshire, Hatfield

Entry requirements

| UCAS points | A Level | BTEC | IB |
| --- | --- | --- | --- |
| 104-112 | BCC-BBC | MMM-DMM | 104-112 UCAS points |

Additional requirements

Access course: Diploma with 45 level 3 credits at merit.

All students from non-majority English speaking countries require proof of English language proficiency, equivalent to an overall IELTS score of 6.0 with a minimum of 5.5 in each band.

If you do not have the required IELTS or equivalent for direct entry on to your degree programme, our Pre-sessional English and International Foundation courses can help you to achieve this level.

For more details on the University of Hertfordshire's entry requirements, please visit our Undergraduate Entry Requirements page.

Find out more about International Entry Requirements.

The University of Hertfordshire is committed to welcoming students with a wide range of qualifications and levels of experience. The entry requirements listed on the course pages provide a guide to the minimum level of qualifications needed to study each course. However, we have a flexible approach to admissions and each application will be considered on an individual basis.

Professional accreditations

Member of the UK Music Academic Partnership (MAP)

Sign up for alerts

Get access to personalised content, tailored towards your interests:

Information on your favourite courses
Tips to help you through the application process
Blogs, vlogs and advice from current students
Why choose this course?
The University of Hertfordshire's BA(Hons) Music Industry Management programme pride ourselves on our Music Industry links through the lecturers, guest speakers and alumni. We engage with Industry through guest speakers in lectures, alumni / current student networking events, Masterclasses and placements (including Universal Music Group and Domino Records).
Students rated satisfaction with academic support at 86% and satisfactory with resources at 86% in the 2017/18 NSS.
Our graduates go on to work for a wide range of organisations across the Industry from major labels such as Universal Music Group and Sony Music Entertainment to independent labels such as Hospital Records and Domino Records as well as organisations such as Kobalt, Global Media, Live Nation, AEG, The Orchard, PPL and Creative Artists Agency (CAA) as well as setting up their own businesses.
What's the course about?
The recently revalidated and updated BA (Hons) Music Industry Management degree introduces students to a wide range of subjects relevant to today's music industry. This degree covers business topics such as accounting, law, marketing, strategy, small business and entrepreneurship alongside key industry topics such as the live industry, the changing digital environment, international markets and will look at the different genres that make up what we know as popular music. An exciting aspect of the newly revamped programme offers students the opportunity to focus on areas of particular interest in their second year of study such as song writing, production, live music promotion and A&R. Delivered by a hugely experienced team of lecturers, all of whom have wide-ranging industry experience, the Music Industry Management (MIM) degree course is renowned throughout the UK music industry for helping develop the artist managers, live music professionals , entrepreneurs and record & music publishing executives of the future.
Your main campus is College Lane  
This is where the creative arts, science and health-related subjects are based. This means you'll share the campus with future nurses, scientists, artists and more. You can use the common rooms to relax with friends, work out in the 24-hour gym or have a drink in our on-campus pub or cafes. We also have restaurants for you to eat in or grab something on the go. Our Learning Resources Centres are open 24/7, which means you can study whenever suits you best. Want to pop over to the other campus? You can take the free shuttle bus or walk there in just 15 minutes.   
What will I study?
Through lectures, seminars, group work and self-study students investigate the various sectors, roles and functions of the Music Industry. These include record companies, music publishing and the live music sector, looking at how the industry is evolving through the introduction of new technologies. The programme highlights the importance of music too, and alongside their studies of the industry students are immersed in the history of popular music and it's impact on popular culture and society. The programme ensures that students understand the fundamental principles of business theory and concepts including law, finance and marketing
Visiting Lecturers
Debra Geddes
Debra joined University of Herts as a visiting lecturer in October 2017. An experienced media and communications professional who runs Great Northern PR, her clients include BMG Music, Universal Music Catalogue, Omnibus Press, Red Bull Music House, The BPI, Walt Disney Records and Abbey Road Studios. Debra was previously the Senior Publicity Director at EMI Records where she oversaw strategy for all artist PR and managed a team of ten press officers. A certified member of the Institute of Leadership and Management, Debra is also an Associate Fellow of the Higher Education Academy.
Billy Grant
Billy began life in the music industry working for Telstar Records as a compilations manager before moving into A&R where he oversaw a number of platinum-selling acts including Craig David and Mis-Teeq. He went on to set up independent record label 2Point9 – the biggest label in the UK Asian music scene - developing Hounslow-born Jay Sean who had a No 1 in the US Billboard Top 100 with "Down" feat Lil Wayne. As well as working on music projects, Billy is currently also involved in a number of content creation, digital marketing and branding projects.
John Leahy
John has over 25 years of experience working at record labels including Parlophone, EMI, Polydor and Domino where he was employed as General Manager. John is currently running leading indie Ignition Records / Sour Mash Records which releases the Noel Gallagher's High Flying Birds albums amongst others.
Check out our student blogs
Student Blogs
Jake F - My week at a Glance
My Week at a glance
Week at a glance – Hi! I'm Jake, I recently completed the final projects of my degree in Music and Sound Design Technology and in this blog, I will give you an overview of a typical week in my third and final year at Herts. My average third-year week would usually include two days of lectures, one or two shifts at work and the rest of the week spent working on assignments and socialising with friends.
I only had two days a week of lectures in my final year which meant I could be very flexible with how I spent my time. I would always attend all my lectures and typically spend another two to three hours working on assignments on these days during the evenings. The rest of the week I would usually aim to work six hours, but this varied as I had other commitments. It is not necessary to work six hours per day but as I am aiming for a first-class grade, this was enough for me to learn and practise everything I needed too without overworking myself.
During my final year, I worked at the Forum at UH (University of Hertfordshire) as a live sound and lighting technician, something I really enjoyed doing as it was the first time working in a job related to my sound engineering course. Usually, I would work two shifts a week, Wednesday night and Friday evening which worked out at around 12 – 15 hours a week, sometimes it was more and sometimes less. The fact the shifts were in the evening and at night was good as it allowed me to focus on my assignments during the day, but club nights would see me often working till 04:00 or later which did leave me tired the next day but this was part of the job and it was a great experience overall.
It was especially important that I put aside time for myself to relax and socialize with friends and to take time out of all the work I was doing. I and a friend from my course got into a routine of playing table tennis each night to get some light exercise and to take a break from the assignments. In the final year can be stressful sometimes, so it is particularly important to look after yourself by exercising, eating healthily (and enough!) and spending time with friends or relaxing by yourself
I think being at Uni is about finding the right balance of work and fun that works for you, it is a wonderful way to practise self-discipline and time management and you will learn a lot about yourself.
Student Blogs
Jake F - Guide to the facilities
Subject Facilities
As a sound engineering student, you have access to everything you need to prepare you for working in the industry. It is a very practical subject so having the right equipment, software, and hardware, is vital for getting the hands-on experience you need. Most of my work was done in the FMM, Film Music & Media building which has computer labs with all the latest programs, surround sound 'satellite' rooms, an acoustically treated room for film sound, and many other musical spaces and practise rooms. You also have access to the Art and Design buildings where you will find fully kitted out music studios with performing and recording rooms with the latest mixing desks and computers, a Foley studio which I used a lot for films, and the loan store. The loan store allows you to borrow equipment such as microphones, musical instruments and other equipment like video cameras and accessories.
Having access to these spaces was vital as part of my learning experience as there is no substitute for hands-on learning but Herts gave me everything, I needed to ensure I am prepared to start work or go onto further education.
I also had some lectures in the Forum where I learned about live sound and acoustics. I had the privilege to work at the Forum which gave me an even more extensive knowledge of live sound setups. The facilities at the Forum are incredible and working with such a high standard of equipment was always exciting. There are two music rooms in the Forum, the main auditorium which is a large capacity club room with a full lighting rig and a custom sound setup. There is also the attic which is a smaller venue which hosts Herts Jam which is a student-run music event held three times a year. The Forum has seen some big artists and bands play there, such as Enter Shikari and even the music video for Ed Sheeran's Lego House was filmed there.
As well as the specialist spaces, you have everything you would expect as a student like lecture halls and access to the library on campus where you can borrow books and magazines and use computers and printers. You also have access to the online library to check if they have a book and if it is available.
UH (University of Hertfordshire) exceeded my expectations of professional equipment and facilities and I would highly recommend anyone looking to study music technology or sound engineering to consider Herts. Despite graduating during the Covid-19 outbreak and it being a strange time, I feel prepared for my future, whenever and wherever that may be!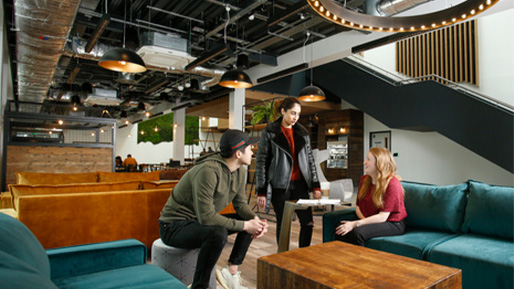 Student Blogs
Jake F- Why I chose Herts
Why I chose Herts
When I attended the open day and had the subject talk, Herts was able to relay confidence in their teaching abilities and the course itself, that other universities I visited were not able to do. They really sounded like they knew their stuff, and this was backed up by statistics in student satisfaction and almost 100% of students being in further education or work within six months of graduating. The course itself also sounded more suited to me as it was a mix of creative and technical teaching compared to some universities being much more technical and less practical and creative.
The facilities were impressive, and I could picture myself working in the labs and studios as we were shown around. I had never accessed any sound equipment before I had gone to university so seeing these facilities up close was a very motivating experience.
The course lived up to my expectations and I really enjoyed being taught there. The staff were very friendly and incredibly knowledgeable in their respective fields of work and I can't see how it could have been improved.
I also felt that I could imagine myself at Herts much more than the other universities I visited. This may have been due to it being a campus university where most of the University is based on one campus. This made it seem like a true community and a busy, bustling place full of young people like me. The campus itself was very appealing due to the modern accommodation facilities and other stylish buildings and spaces. The College Lane Campus has a very homely and connected feel due to the Oval building which sits surrounded by accommodation blocks. It, therefore, gave the impression of being very social which was appealing as I was overly excited about meeting many friends during my time there.
Another reason I chose Herts is its proximity to London. I love cities, especially London, and being so close was massively appealing to me. It was only 20 minutes on the train, and I took opportunities to travel there when I could, meeting family and friends and working in the city centre on some occasions. It also meant travelling home was easy as I could get a direct train to Manchester from London.
Going to a university far from my home was not an issue for me, if anything, it was more appealing as I like to experience living in different areas. It can be daunting moving far from your family, but you will meet so many people very quickly and soon, the university will feel like your home.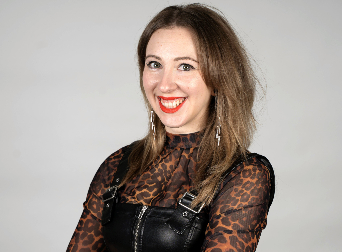 Alumni Stories
Lulu Davis
Meet Lulu Davis who started her own business, Incendia Music, while studying at university. Since graduating, she has grown it organically and now works with international clients across the rock and heavy metal spectrum.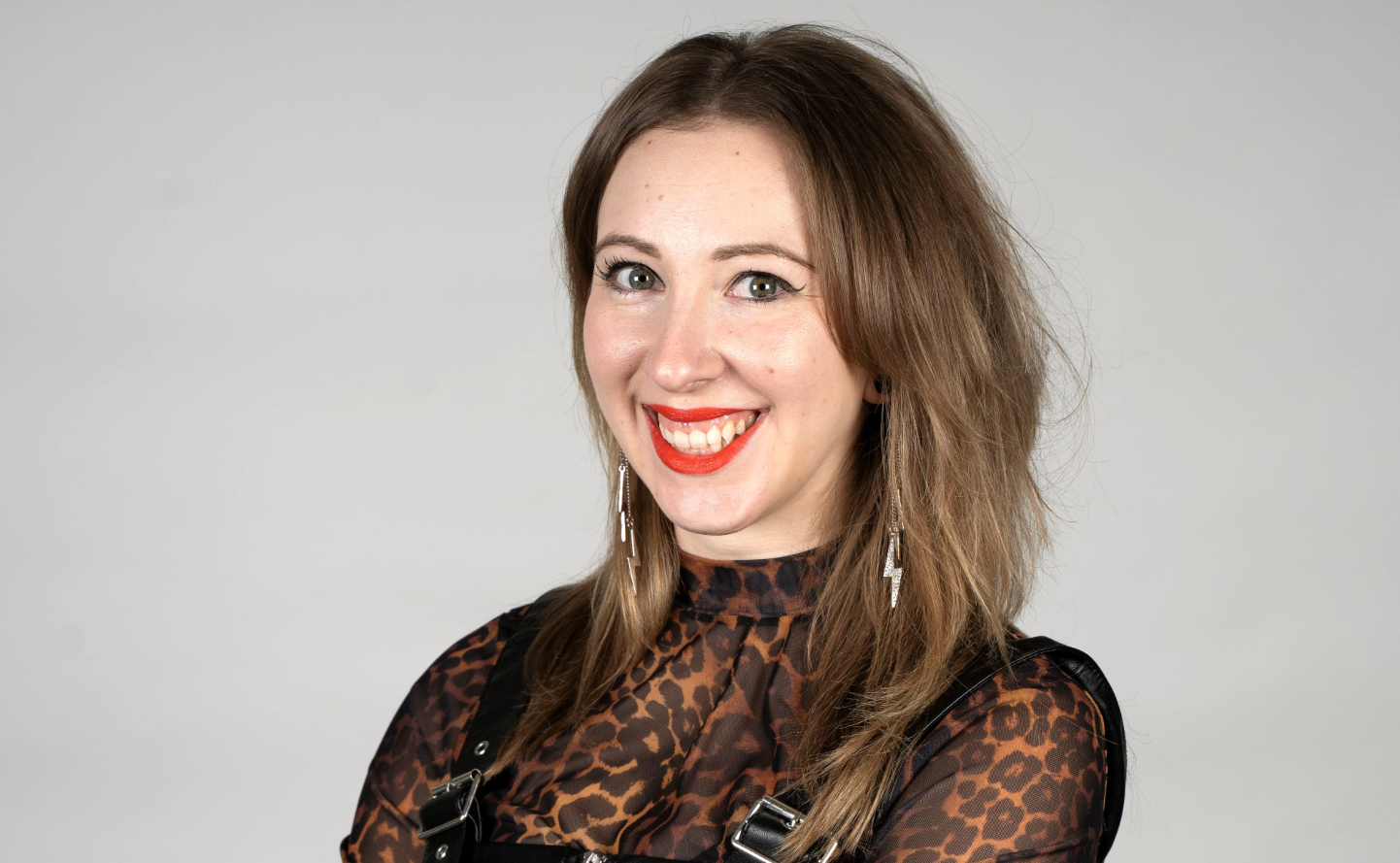 University life and experience
Before starting university, Lulu had always had a passion for music, so she knew that the University of Hertfordshire was the right place for her to study straight away. Lulu says that she knew that her course, and the opportunities it offered, would enable her to succeed in this challenging industry. She adds that being 'taught by lecturers who were active within the music industry' inspired her.
She says, her degree 'provided the educational knowledge I needed to create a foundation for a career in the music business. By being taught various modules that would later become paramount to my company's success; having the knowledge of marketing, publishing, law for instance, has definitely helped me navigate my way through a challenging industry.'
Not only did her degree give her the knowledge to succeed, but the experience. Throughout her studies Lulu, gained valuable industry experience through internships which put her in a great position after graduation. She even started her current business, Icendia Music, on a freelance basis while in second year.
Future aspirations
Since graduating, Lulu has grown her business organically. The company is now a 'team of three, have an office and work international clients across the rock and heavy metal spectrum.' In the future, she wants to grow her business further and to make a lasting impact on the rock and metal industry across the World.
By being taught various modules that would later become paramount to my company's success; having the knowledge of marketing, publishing, law for instance, has definitely helped me navigate my way through a challenging industry.
What's next for my career?

Marketing, Digital Distribution, Artist Management, A&R, A&R administration, Music Industry Research, Business Affairs, Copyright, TV and film synchronisation, PR, Live Music Production.

Our graduates work in many areas of the industry, including Marketing, Digital Distribution, Artist Management, A&R, Research, Business Affairs, Copyright, TV and Film Synchronisation, PR and Live Music Production.

View our Alumni profiles

Key staff

Senior Research Fellow & Lecturer Dennis Collopy
Dennis' career in the music industry has included senior roles at Chrysalis, RCA, Riva, BMG, EG, Big Life and Menace Music, working with an eclectic range of highly successful creative talent.
Find out more about Senior Research Fellow & Lecturer Dennis Collopy

Lecturer Keith Blackhurst
Industry veteran with over 20 years' experience in the music business. From founding DeConstruction Records and Publishing to running major label RCA Records, Keith has experienced most parts of the industry.


Principal Lecturer Maria Thomas
Alongside her work at UH, Maria is the Artistic Director of the Music Workshop Company and a freelance Music Manager particularly focusing on organisations in the start up period


Further information - includes assessment method

How to apply?

Fees and funding

Fees 2021

UK Students

Full time

£9250 for the 2021/2022 academic year

Part time

£1155 per 15 credits for the 2021/2022 academic year

EU Students

Full time

£13450 for the 2021/2022 academic year

Part time

£1680 per 15 credits for the 2021/2022 academic year

International Students

Full time

£13450 for the 2021/2022 academic year

Part time

£1680 per 15 credits for the 2021/2022 academic year

*Tuition fees are charged annually. The fees quoted above are for the specified year(s) only. Fees may be higher in future years, for both new and continuing students. Please see the University's Fees and Finance Policy (and in particular the section headed "When tuition fees change"), for further information about when and by how much the University may increase its fees for future years.

View detailed information about tuition fees

Read more about additional fees in the course fact sheet

Other financial support

Find out more about other financial support available to UK and EU students

Living costs / accommodation

The University of Hertfordshire offers a great choice of student accommodation, on campus or nearby in the local area, to suit every student budget.
Please note that some of the images and videos on our course pages may have been taken before social distancing rules in the UK came into force.