BA (Hons) Model Design (Model Effects)
Entry requirements

| UCAS points | A Level | BTEC |
| --- | --- | --- |
| 104-112 | BCC-BBC | MMM-DMM |

Additional requirements

Access course: Diploma with 45 level 3 credits at merit.
Portfolio: Presentation of an acceptable portfolio of artwork.
IB requirements: 104-112 UCAS points from a minimum of two HL subjects at H4 or above to include Visual Arts at SL or HL (with the remaining points to come from a combination of HL, SL and Core).
IELTS: All students from non-majority English speaking countries require proof of English language proficiency, equivalent to an overall IELTS score of 6.0 with a minimum of 5.5 in each band.

If you do not have the required IELTS or equivalent for direct entry on to your degree programme, our Pre-sessional English and International Foundation courses can help you to achieve this level.

For more details on the University of Hertfordshire's entry requirements, please visit our Undergraduate Entry Requirements page.

Find out more about International Entry Requirements.

The University of Hertfordshire is committed to welcoming students with a wide range of qualifications and levels of experience. The entry requirements listed on the course pages provide a guide to the minimum level of qualifications needed to study each course. However, we have a flexible approach to admissions and each application will be considered on an individual basis.

Professional accreditations

ScreenSkills accreditation is awarded in recognition of the highest level of contemporary industry teaching and facilities. This gives potential employers an indication that candidates from our degree course have been trained professionally and are ready to take up an industry role successfully.

Sign up for alerts

Get access to personalised content, tailored towards your interests:

Information on your favourite courses
Tips to help you through the application process
Blogs, vlogs and advice from current students
Why choose this course?
Design/make film and design miniatures, both traditional and digital
Benefit from fantastic links to industry and regular guest speakers
Outstanding record at Blades Model Makers Show, London
This is a unique combination of three interrelated degrees with a combined first year (Model, Character and Special Effects). The lecturing staff all have extensive subject knowledge gained from careers in the creative industries, hence students achieve professional standards in their work. We have excellent links with industry and provide placements on major movies at leading UK film studios.
You will learn how to create highly detailed models for a wide range of disciplines from concept cars for the automotive industry and product prototyping, through to the scale buildings used by architects or 'movie miniatures' used in films.
Excellent workshop facilities for both traditional model making machinery and cutting-edge prototyping technologies including; CAD, 3D printing, laser cutting and CNC machining sit alongside the specialist industry standard facilities for model making, product prototyping and prop making
Outstanding work experience opportunities and collaborative projects provided by our very close contacts in the creative industries
Industry professionals teach across all three pathways of the programme
Model Effects students achieve consistently high graduate employment rates
What's the course about?
All three of our model design courses share the same First Year, giving you an excellent introduction to model making, prop making, sculpture and special effects. Building on this foundation, you'll learn how to create highly detailed models for a range of disciplines, such as concept cars for the automotive industry, scale models for architects and miniatures for films.
In second year you will learn how to create highly detailed models for a range of disciplines, from concept cars for the automotive industry to the scale models used by architects and 'movie miniatures' for films.
In your Final Year you'll work on major projects and create a professional portfolio to impress employers. Throughout your studies you'll use the latest computer-aided design technology alongside more traditional machining. This course is accredited by Creative Skillset, reflecting the highest standard of teaching and facilities.
What Our Employers Say About Us
The University of Hertfordshire is widely recognized within the industry for its outstanding Model Design Programme. The course has continued to evolve over recent years and has consistently produced graduates who are both professional and employable. The course incorporates a wide variety of design and manufacturing skills, technologies and processes, which equip graduates to succeed in industry. David Austen, Managing Director, Berry Place
The Model and Special Effects Programme at the University of Hertfordshire has consistently produced some of the most employable graduates in our industry.

Mark Ward, Managing Director, Asylum Models and Effects
Model Design Successes
The Model Design Programme is the only Special Effects course to have been accredited by Creative Skillset, the industry kite mark of quality following a rigorous assessment process by experts working in the Creative Industries and is awarded to practice-based courses which best prepare students for a career in the industry.
The programme has outstanding links with industry and this results in high profile work experience opportunities for our students. In 2013, our students worked on major feature films at leading UK studios, including making action props on Guardians of the Galaxy, Jupiter Ascending, Exodus and Black Sea.
In 2014, 92% of our second year students undertook work experience on four major feature films at Leavesden, Pinewood, Shepperton and Twickenham studios.
Graduates from this degree often work with leading figures in the creative industries and a host of companies including: Anarchy Ltd, Artem, Asylum, Berry Place, Darkside FX, Ferox Effects, Foster + Partners, Gerry Judah, Seymour Powell, Pipers and Zone Creations etc.
The programme regularly exhibits at the New Blades exhibition (held at Holborn Studios in London). In 2013, our graduates won three prizes making a total of thirteen awards we have won at New Blades in the last 4 years.
Articles about the work have featured in a variety of international publications including Wired Magazine and CNN.
Model Design Facilities
Our students' work in a large airy purpose built studio (with individual spaces for every student), which is situated above an extensive workshop that contain a wide range of traditional and cutting edge technologies. Students are able to use a wide variety of equipment/machinery and state of the art rapid prototyping facilities: laser cutters, 3D printers, CNC milling and routing. Our students also use a well-equipped sculpture studio, which has excellent life drawing and modelling facilities, a plaster mould making area and industry standard extraction in the fiberglass/resin casting room. The sculpture workshops also provide excellent brazing, soldering and welding facilities for most types of metal fabrication and finishing. In addition to these dedicated workshop facilities, our students are taught a variety of computer aided design processes in both 2D and 3D packages in computer suites, which are situated close to the Model Design studio. Our students have access to all of the facilities across the school including excellent photographic equipment/studios and printing.
Your main campus is College Lane 
This is where the creative arts, science and health-related subjects are based. This means you'll share the campus with future nurses, scientists, artists and more. You can use the common rooms to relax with friends, work out in the 24-hour gym or have a drink in our on-campus pub or cafes. We also have restaurants for you to eat in or grab something on the go. Our Learning Resources Centres are open 24/7, which means you can study whenever suits you best. Want to pop over to the other campus? You can take the free shuttle bus or walk there in just 15 minutes.   
What will I study?
You'll experience a wide variety of learning styles on this course. During your studies you'll develop your capacity for self-directed study and your interpersonal skills. We particularly emphasise the importance of 3D making leading to physical artefacts created through structured research and design; well-prepared written and verbal presentations; and computer literacy. Alongside elements of standard lectures, seminars, tutorials and practical workshops, you also learn through case studies, individual and group projects and other student centred activities. In your final year you will have the opportunity to practice your independent study skills by completing a major project and dissertation.
You will experience a wide variety of teaching styles on the programme including:
standard lectures
practical workshops
case studies
individual and group projects
The Model Design Degree Programme uniquely, has a combined first year covering model making, prop making, sculpture and special effects. Second and third year students specialise in one of three-degree pathways: Model Design (Model Effects), Model Design (Character and Creative Effects), Model Design (Special Effects).
First Year
You will be introduced to current materials, techniques and design processes in a combined first year (all three degree disciplines) and gain a strong grounding in workshop machinery and practices, which are relevant to the whole programme.
Second Year
You will learn how to create highly detailed models for a range of disciplines, from concept cars for the automotive industry to the scale models used by architects and 'movie miniatures' for films. You will use cutting-edge technologies including CAD (computer-aided design) and CAM (computer-aided modelling) that complement the traditional techniques learned in the machine shop to produce highly finished, professional-quality models.
All of our second year students have the option to undertake a professional work experience module with one of our many high profile industry contacts.
Final Year
Your final year is designed to prepare you for entry to the industry as a highly employable graduate. You will make a variety of project outcomes that demonstrate your professional ability and you will also spend time producing a professional portfolio and self-promotional material designed to impress potential employers at your first interview and beyond.
'The staff we have are fantastic, the work experience opportunities are brilliant, everyone on the course is welcoming and friendly. I could not imagine myself being anywhere else.'
Check out our student blogs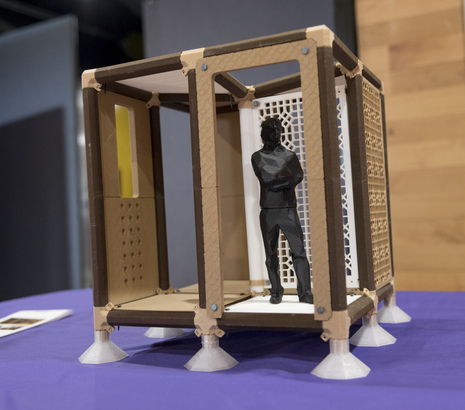 Student Blogs
Eleanor - Week at a glance
My week at a glance
Model Design is an all assignments course, some practical and some written. Typically, this will mean that not a lot of the week is kept to a specific timetable. Each year you will have a three-hour lecture each week for your written work module. (This module is about 25% of the course). For my first year, this was on a Thursday afternoon and for my second year, it was on a Tuesday afternoon. This is the only fixed regular contact time you will have. The rest of the time will be filled with your own planning around your current projects and depending on at what point of the project it is there will be tutorials timetabled in. Here is a day to day of what you could expect on those days (but not all in one week):
AM – Intro talk
PM – Tutorial (group A)
AM – Tutorial (group B)
PM – Lecture [fixed each week]
PM – Nothing will be timetabled here
AM – Tutorial
PM – Tutorial
AM – Show and Tell Presentations (group A)
PM – Show and Tell Presentations (group B)
These are when they may usually happen but not always. During the rest of the time when nothing is in the timetable, it is your time to manage. This could be a mixture of things you could be doing. Some pieces of equipment need booking onto so you will need to look ahead to see what is available and whether it lines up with what is timetabled at the time. Time management skills are vital with this course and they will develop throughout the years, they certainly have for me!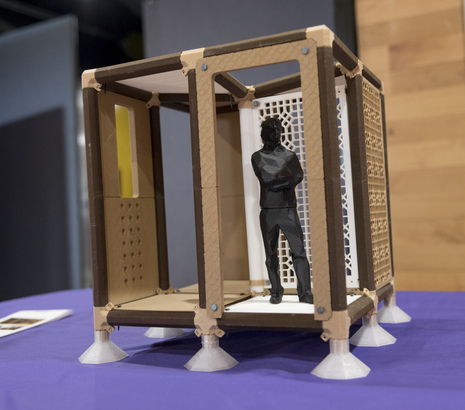 Student Blogs
Eleanor - Useful tips
Useful tips for studying Model Design at Herts
Here are a few things I wish I knew before coming to study Model Design. They aren't obvious to you until after you have already started in my opinion.
I came to university straight after school and so had an exceptionally long holiday from the end of school to the start of university. When I started in the first year, I realised how my drawing skills were lacking compared to what they were like at school. What I wished I had done was carried on drawing over the summer in the run-up to university. Even if this would have been a few sketches every now and then I really think it would have helped. During the first few weeks and projects in the first year, I was slow to get back into the swing of sketching and accurate drawing.
Useful tools to start with
Where they do give you a list of tools that would be useful to have before you start, I do think that some are more important to get the right kind or just were missing off the list.
Cutting mat – a cutting mat is useful for not only cutting on but also making the desk you are working on clear and a nice flat surface. It also makes it clear to see any small pieces you are working with.
Scalpel - A lot of first-year is based on advancing your hand skills and a scalpel is essential to be able to do this. I would also make sure you have lots of spare blades as well.
Steel ruler – This is essential for not only measuring with but using to cut a straight line with the scalpel. The steel ruler is best if you get the type that has zero measurements at the very end.
Engineer's square – This is the best tool I own and is so helpful especially at the beginning. When I read the tools list before I started, I made the mistake of getting myself a big one (way too big for what I needed). The best type to get is the one that is small and made of metal.
Spring clamps – Once I got around to buying these, they made my life so much easier and I wish I had them from the start.
Safety specs – Having your own safety specs is a necessity, not only for your safety but also the ones you can borrow are just not as nice as well as there only being a few. It's also just nicer to have your own in general.
Pencils – It sounds obvious, but a good sharp pencil will help a lot.
A4 sketchbooks – All projects will need two A4 sketchbooks. I made the mistake of getting a 'really nice' sketchbook at the start of the year when all I needed was basic ones to keep me going as each project ideally needs two new sketchbooks. There is really no need for expensive sketchbooks (The art shop on site is good for these!).
These are just what I would recommend starting with. Over the years you will know what works best for you and will buy your own set of helpful tools.
I hope this helps as I feel if I had been told these I would have had a smoother start to university and felt more prepared.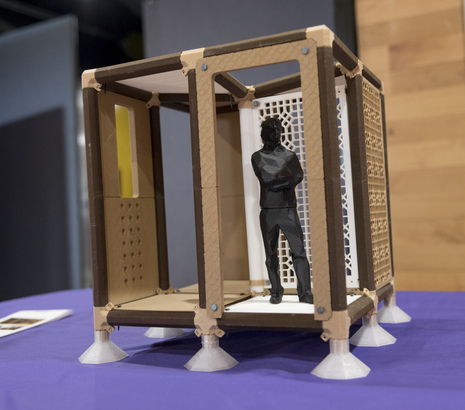 Student Blogs
Eleanor - Guide to the facilities
A guide to the Model Design facilities
The model design course is part of the School of Creative Arts and because of this, it means as a model design student you have access to all the creative arts facilities. Most of the facilities not related to the model design course will need booking onto. The main two buildings you will be working in are the Art and Design building and the Todd building.
The Art and Design building is made up of three floors: LG, G and first. The area specifically for model design students is the 3D design studio on the first floor. Within the studio, there are individual benches to work. As a model design student, you will have your own desk to work at and store your tools and materials in the locker attached under each desk. Many of us like to add personal touches to our desks to make them our own. This is not only for the practical purpose, but some like to do it to make them feel comfortable in their environment. For me, I made two standing shelves to go on top of the desk to allow it to be more organised.
The 3D design studio is a large area where all three years of work. At the front is the first years, then the second years and at the back of the studio is the third years. At the back, there is also a route to the one of the 3D workshops downstairs. At the front of the studio, there is a side room which is where most the lectures for all three years takes place.
The 3D workshop directly below the studio is heavily used by the model design students. Within the studio, there are lathes, milling machines, pillar drills, laser cutters, 3D printers, bandsaws, disc sanders and many more. There is also a spray booth and moulding room just off to the sides of the workshop. I am in this workshop for a lot of my work. As well as this 3D workshop there is another one which is used by model design students. In this workshop, you will find our character students as there is a much cleaner space to do sculpting. The workshop also has areas to do metalwork. There are other workshops around the Art and Design building which are used more by other students of the School of Creative Arts.
The Todd building is attached to the Art and Design building and is used by model design students to do any computer work in the computer suites. This is for CAD (Computer-Aided Design) work that needs to be done. The main programmes we use are Corel Draw and Rhino 6. There are some computers up in the studio however in busy times it is easier to access one in one of these suites.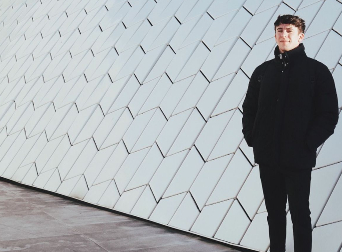 Alumni Stories
Sam Sampson
Meet Sam Sampson who utilised the flexibility of his degree to discover his passion. Since graduating in 2017, he has been working as a Junior Creative at Wasserman Experience.
Read more stories
Find out more about this course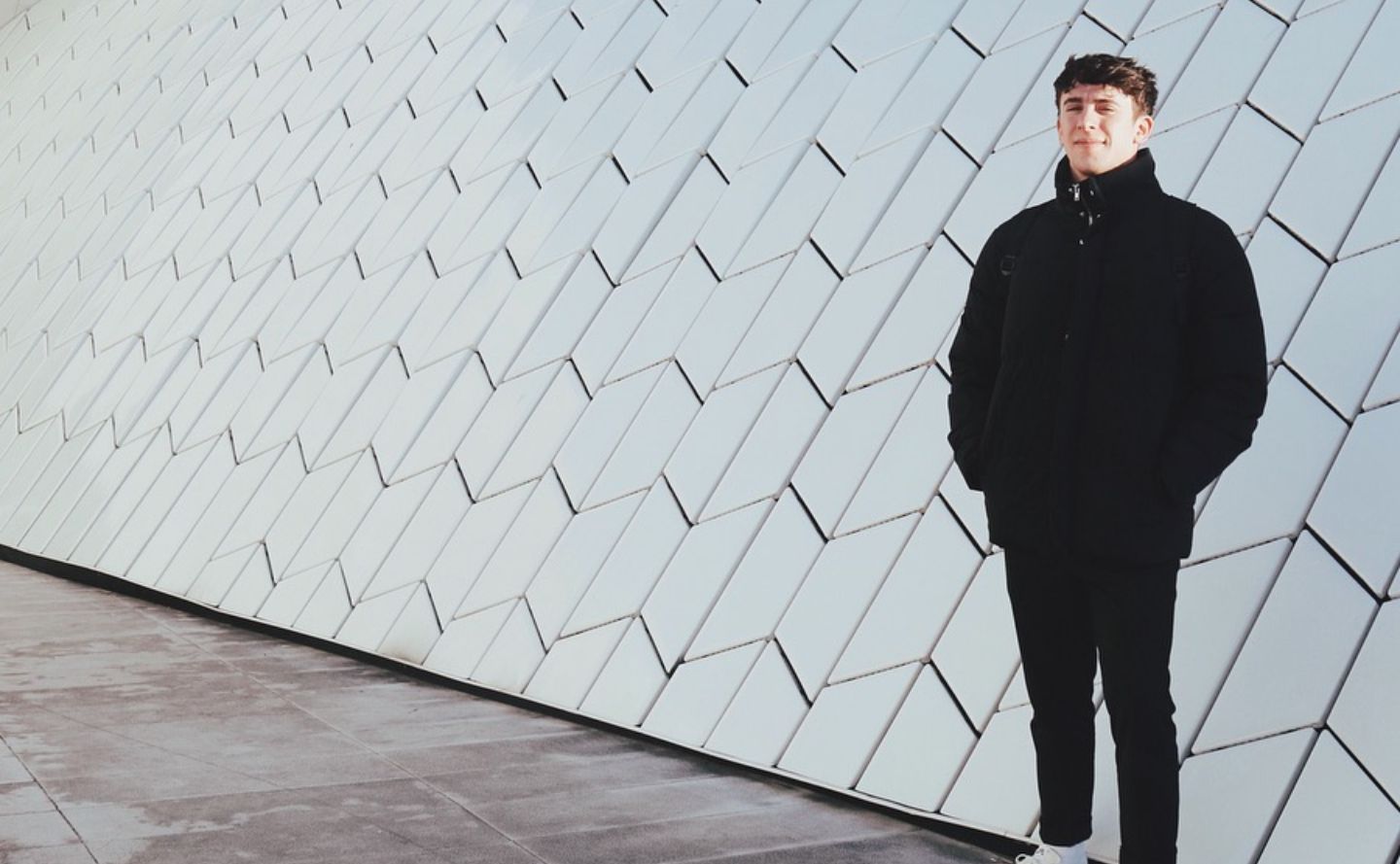 Flexible studying opportunities
When Sam came to study at the University, he was a Philosophy student but ended up changing his major to Digital Media Design. 'Luckily, the humanities department provided a major/minor split in my studies. This meant whilst I was studying philosophy, I could pick from a range of other courses that I had not considered. I chose "New Media Publishing" and found that it was much more aligned to my personality, so I changed to a full creative degree. If it had not been for that system, I would not be in my current role.'
Flexibility is a key way in which the University supports students to tailor their studies to fit their lives and best suit their skills and career aspirations. This is part of our commitment to recognise potential and nurture talent, providing students with fantastic opportunities and experiences. Sam says, 'the University of Hertfordshire truly shaped me personally as well as my career. I can guarantee that no other University would have provided me with the same opportunities they did and I can confidently say that if I had not studied here, I wouldn't be as happy in my career as I am today.'
Supporting athletes
Sam is also an athlete and was fortunate enough to qualify for the sport scholarship programme due to his involvement in judo. Extracurricular activities such as these enhance the student experience, giving students multiple ways to develop and uncover their potential. Sam says, 'The performance gym (Performance Hertfordshire) is a truly spectacular facility for all athletes. The staff are very highly qualified and provided me with ongoing support via specialised training regimes, nutritional advice and physiotherapy that was imperative to my performance as an athlete. I could not recommend Performance Hertfordshire enough.'
Sam began his studies uncertain of what he wanted to do or how his future career would unfold. However, through the support and ingenuity of the University's degree programmes, Sam has been able to discover potential he hadn't previously recognised and enter an industry that suits his skills and interests.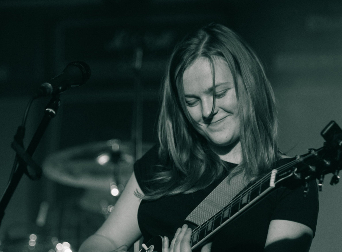 Alumni Stories
Elise Robinson
Meet Elise Robinson who has used her degree and creativity to propel her career. Elise currently works as a Marketing Project Senior at Marshall Amplification plc.
Read more stories
Find out more about this course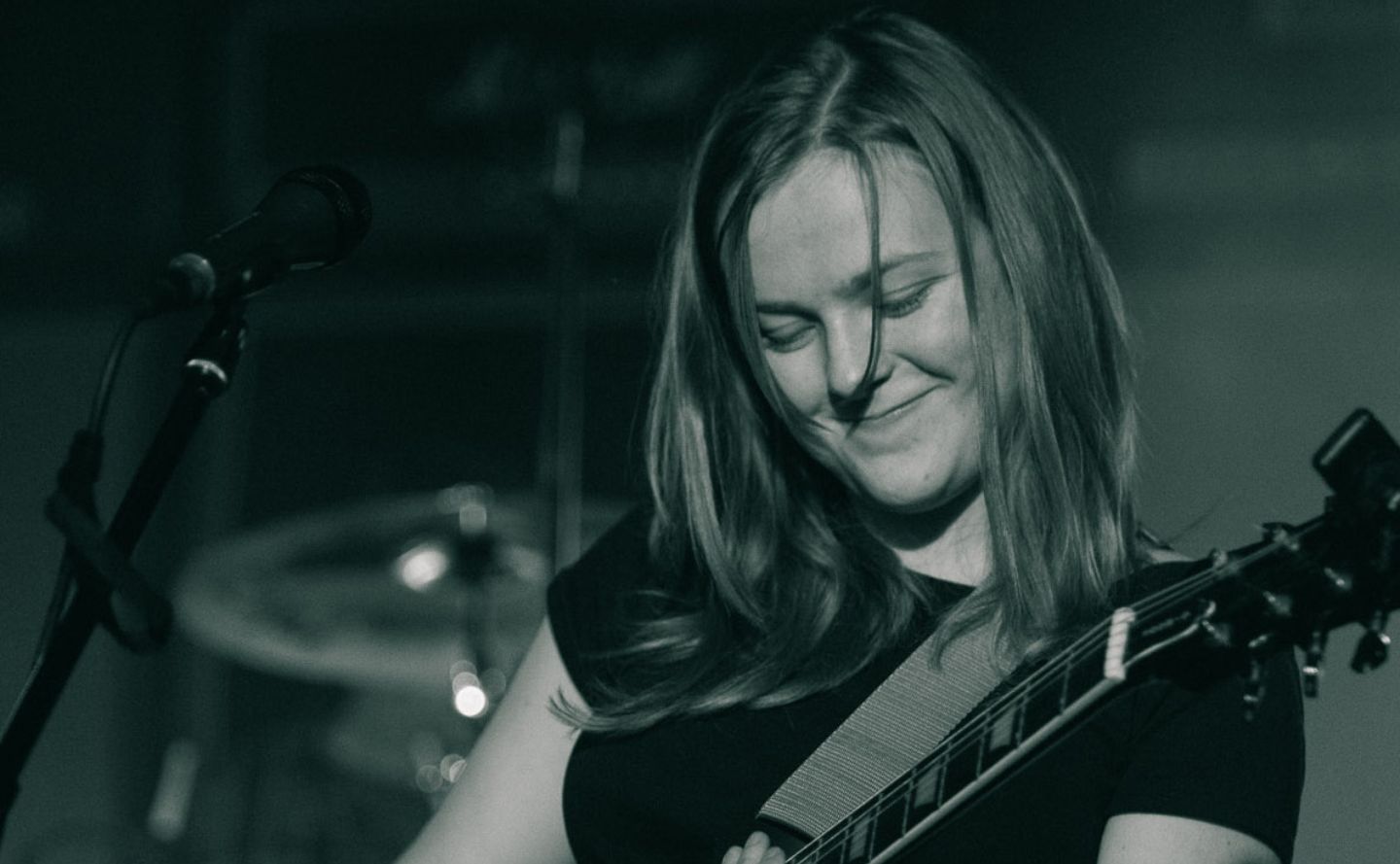 Currently, it's Elise's job to ensure smooth communication between the design and communications teams and other parts of the business. 'It's a bit like being an account manager for a design agency but in-house, where the other departments are your clients. I've taken a slight sideways step from a creative role to a management role, but it's my creative background and experience that helps me make informed decisions for the business.'
Embracing a different path
Having studied Graphic Design at Herts, graduating in 2014, and originally intending on leading a creative career in a commercial area, Elise soon embraced the opportunity of changing course and pursuing a more meaningful pathway.
Her degree provided her with a very broad understanding of cross platform campaigns and what it takes to deliver them. While she may not be in a creative role now, that broad understanding means she can confidently represent the creative teams and make strategic decisions.
Elise says she chose to study at Herts as the Graphic Design course reflected her career ambitions. She thinks choosing a Graphic Design course is a very personal choice because they vary so much. Some are very fine art focused, and some are much more commercial/business orientated. She wanted the latter, and Herts offers a very practical, business-orientated course that suited her and reflected the type of career she wanted to go in to.
Commercial experience
The commercial elements of the course alongside the industry exposure Elise received during her studies enabled her to develop an impressive wealth of experience and contacts which she could take with her into the professional world. 'The contacts I made whilst at university (printers, artists, clients and more) have been invaluable in my career so far. As the course was mostly practical design projects you had to go out and find suppliers and people to collaborate with.'
A wide set of skills is always attractive to an employer, especially when entering a creative role. Possessing a comprehensive skill base will make you even more employable. Elise encourages students hoping to follow a similar career path to diversify their skillset by exploring related disciplines. 'If you can do graphic design, why not also brush up on your photography, web design or illustration?'
What's next for my career?

Our graduates work across the design and creative industries, often for internationally renowned architectural practices and major product and packaging design consultancies in the UK and abroad. Many graduates work in the film and TV industry contributing to high-profile advertisements, television programmes and blockbuster movies.

Our graduates work across the design and creative industries, often for film companies, internationally renowned architectural practices and major product and packaging design consultancies in the UK and abroad. Many graduates work in the film and TV industry on high-profile advertisements, TV shows and blockbuster movies. Our graduates have gone on to employment with the likes of Anarchy Ltd, Warner Bros, Gerry Judah, Foster + Partners, Pipers Models, ATOM, Red Bull Racing, Zone Creations and Dyson.

View our Alumni profiles

Key staff

Nick Morgan
Head of Programme: Nick has over 20 years working in design, architectural and advertising model making and special effects.
Find out more about Nick Morgan

Further information - includes assessment method

| Course fact sheets | |
| --- | --- |
| BA (Hons) (SW) Model Design (Model Effects) with Sandwich Placement/ Study Abroad | Download |

| Programme specifications | |
| --- | --- |
| BA (Hons) Model Design | Download |
| BA (Hons) Model Design | Download |

Additional information

Sandwich placement or study abroad year

Optional

Applications open to international and EU students

Yes

Course length

Full Time, 3 Years
Sandwich, 4 Years

Location

University of Hertfordshire, Hatfield

How to apply?

Fees and funding

Fees 2023

UK Students

Full time

£9250 for the 2023/2024 academic year

EU Students

Full time

£14750 for the 2023/2024 academic year

International Students

Full time

£14750 for the 2023/2024 academic year

In addition to the fees there are some compulsory course attached to this course:

Year 1
Personal tool kit - £120-£180
Materials required per project £200-£250

Year 2
Materials required per project £250-£300

Year 3
Materials required per project £300-£500

*Tuition fees are charged annually. The fees quoted above are for the specified year(s) only. Fees may be higher in future years, for both new and continuing students. Please see the University's Fees and Finance Policy (and in particular the section headed "When tuition fees change"), for further information about when and by how much the University may increase its fees for future years.

View detailed information about tuition fees

Read more about additional fees in the course fact sheet

Other financial support

Find out more about other financial support available to UK and EU students

Living costs / accommodation

The University of Hertfordshire offers a great choice of student accommodation, on campus or nearby in the local area, to suit every student budget.