MOptom Master of Optometry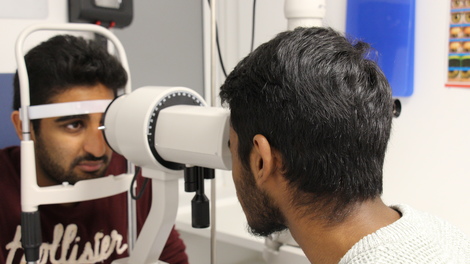 Strong clinical focus with practice throughout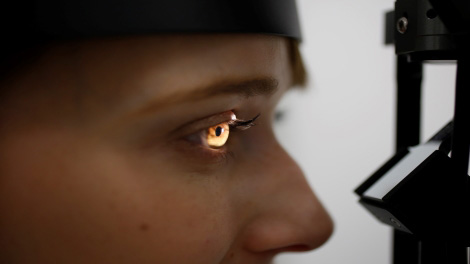 Access to our bespoke clinical facilities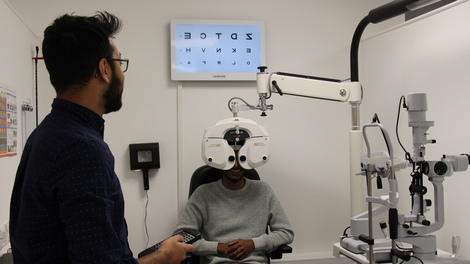 Integrated Masters leading to full registration
Key information

| | |
| --- | --- |
| UCAS code | B510 |
| Institution code | H36 |
| School of study | School of Life and Medical Sciences |
| Course length | Full Time, 4 Years |
| Location | University of Hertfordshire, Hatfield |

Entry requirements

| UCAS points | A Level | BTEC |
| --- | --- | --- |
| 136 | AAB: 2 A Levels from science subjects i.e. Biology, Human Biology, Maths, Physics or Chemistry. A-Levels in General Studies and the Extended Project are excluded. Ideally Maths should be studied beyond GCSE level. | DDD: BTEC Extended Diploma with a science profile (not including Early Years). Must be science-based subject to include Mathematics, Physics, Chemistry, Biology/Human Biology or Applied Science plus 1 A Level Mathematics or Biology at grade B or above. |

Additional requirements

GCSE: 5 GCSEs at grade 5/B or above including 5/B in English Language, Mathematics and Science.

All students from non-majority English speaking countries require proof of English language proficiency, equivalent to an overall IELTS score of 7.0 with a minimum of 7.0 in each band.

If you do not have the required IELTS or equivalent for direct entry on to your degree programme, our Pre-sessional English and International Foundation courses can help you to achieve this level.

For more details on the University of Hertfordshire's entry requirements, please visit our Undergraduate Entry Requirements page.

Find out more about International Entry Requirements.

The University of Hertfordshire is committed to welcoming students with a wide range of qualifications and levels of experience. The entry requirements listed on the course pages provide a guide to the minimum level of qualifications needed to study each course. However, we have a flexible approach to admissions and each application will be considered on an individual basis.

| UCAS points | A Level | BTEC |
| --- | --- | --- |
| 136-144 | AAB-AAA: At least two A-Levels (and no more than 4, must be included in the tariff points calculation. At least two A-Levels at the higher grades from science subjects (i.e. Biology, Human Biology, Mathematics, Physics or Chemistry). One of the science A-Levels must be from Biology or Mathematics. Resit students will require a minimum of an A grade in the subjects being re-examined (if they satisfy the above). A-Levels in General Studies and the Extended Project are excluded. AS Levels are not included in the tariff calculation. Applicants are ideally, required to have studied Mathematics beyond GCSE level. | DDD: BTEC Extended Diploma with a science profile (not including early years or health and social care): DDD. (Must be science based subject to include Maths, Physics, Chemistry, Biology/Human Biology, Applied Science) PLUS 1 A level maths or biology at minimum grade B. |

Additional requirements

GCSE: 5 GCSEs at grade 5/B or above including 5/B in English Language, Mathematics and Science.

All students from non-majority English speaking countries require proof of English language proficiency, equivalent to an overall IELTS score of 7.0 with a minimum of 7.0 in each band.

If you do not have the required IELTS or equivalent for direct entry on to your degree programme, our Pre-sessional English and International Foundation courses can help you to achieve this level.

For more details on the University of Hertfordshire's entry requirements, please visit our Undergraduate Entry Requirements page.

Find out more about International Entry Requirements.

The University of Hertfordshire is committed to welcoming students with a wide range of qualifications and levels of experience. The entry requirements listed on the course pages provide a guide to the minimum level of qualifications needed to study each course. However, we have a flexible approach to admissions and each application will be considered on an individual basis.

Professional accreditations

The University of Hertfordshire holds full approval from the GOC to provide the Master of Optometry (MOptom).

Sign up for alerts

Get access to personalised content, tailored towards your interests:

Information on your favourite courses
Tips to help you through the application process
Blogs, vlogs and advice from current students
Why choose this course?
Our exceptional 4-year integrated programme provides a unique opportunity to explore all aspects of Optometry, integrating theory, research and practice throughout.
Benefits of studying Optometry at the University of Hertfordshire include:
New simulation facilities
An opportunity to develop your skills with surrogate patients before entering work settings
The incorporation of the College of Optometrists' pre-registration period means that upon completion of your degree you will be a registered Optometrist
Access to a variety of practice placements including placements in hospitals
At the end of your degree, you will be eligible for full registration with the General Optical Council, allowing you to practice professionally within the UK.
What's the course about?
This distinctive course integrates theory, research, science and clinical practice right from the start. What makes it unique is that it's the first optometry degree to incorporate the College of Optometrists' pre-registration period within the course. That means that once you graduate, you'll be a fully registered optometrist.
During your degree, you'll have access to the latest specialist laboratories, equipment and simulation facilities, and take part in innovative methods of learning that embed evidence-based practice and knowledge.

Work experience is a vital part of the course, and you'll have placements in hospitals and community practice, getting a taste of different career paths.
Your main campus is College Lane   
This is where the creative arts, science and health-related subjects are based. This means you'll share the campus with future nurses, scientists, artists and more. You can use the common rooms to relax with friends, work out in the 24-hour gym or have a drink in our on-campus pub or cafes. We also have restaurants for you to eat in or grab something on the go. Our Learning Resources Centres are open 24/7, which means you can study whenever suits you best. Want to pop over to the other campus? You can take the free shuttle bus or walk there in just 15 minutes.  
What will I study?
You will undertake your studies both on campus as well as on university arranged clinical placements.

Teaching will be delivered in lecture theatres and our state-of-the-art laboratories and clinical suites, equipped with state of the art equipment and bespoke optometry cubicles.
A variety of teaching methods including lectures, tutorials, seminars and practical classes will be employed throughout your degree, supported by computer-assisted and self-directed study. The use of surrogate and simulated experience allows for clinical practice in a safe and supervised environment. This flexible approach promotes student involvement, utilising a broad mix of progressive approaches.
Level 4

Level 5

Level 6

Level 7

Work placement

In preparation for life after graduation, work placements and practice are integrated throughout the programme. This will allow you to gain hands-on work experience, applying theory into practice. Our students will complete work placements in all years including placement in the hospital. These placements are based within local NHS Trust Hospitals, specialist clinics, independent community practices, and with optical companies who manage multiple practice; to give you a taste of the different career paths available to you.
What's next for my career?

A career in Optometry is a rewarding one, offering you the opportunity to combine your interests in science and practice. Once you have graduated you may join the NHS healthcare team or private practice, working in a choice of environments along with a competitive salary.

Additionally, technical roles within the industry are a popular route for those graduating with an MOptom.

Once you graduate, you'll be a fully registered optometrist with the General Optical Council. You'll be qualified to perform a comprehensive eye examination, give advice on visual and ocular problems and prescribe optical appliances. You may want to work in private practice, within the hospital eye service, industry or academia.

Key staff

Further information - includes assessment method

How to apply?

Fees and funding

Fees 2021

UK Students

Full time

£9250 for the 2021/2022 academic year

EU Students

Full time

£13450 for the 2021/2022 academic year

International Students

Full time

£13450 for the 2021/2022 academic year

General Optical Council fee (currently £30)

Personal optical equipment will need to be purchased on beginning your second year (estimated cost £1,500)

*Tuition fees are charged annually. The fees quoted above are for the specified year(s) only. Fees may be higher in future years, for both new and continuing students. Please see the University's Fees and Finance Policy (and in particular the section headed "When tuition fees change"), for further information about when and by how much the University may increase its fees for future years.

View detailed information about tuition fees

Read more about additional fees in the course fact sheet

Other financial support

Find out more about other financial support available to UK and EU students

Living costs / accommodation

The University of Hertfordshire offers a great choice of student accommodation, on campus or nearby in the local area, to suit every student budget.
Due to the ongoing Coronavirus pandemic, examinations may be replaced by an alternative form of assessment during the academic year 2020/2021. Please refer to the Programme Specification on these pages for further details.
Please note that some of the images and videos on our course pages may have been taken before social distancing rules in the UK came into force.