BA (Hons) Finance and Economics
Entry requirements

| UCAS points | A Level | BTEC | Access Course Tariff | IB Requirement |
| --- | --- | --- | --- | --- |
| 120-128 | BBB-ABB | DDM | 120-128 points | 120-128 points |

Additional requirements

GCSE: Grade 4/C in English Language and Mathematics

All students from non-majority English speaking countries require proof of English language proficiency, equivalent to an overall IELTS score of 6.0 with a minimum of 5.5 in each band.

If you do not have the required IELTS or equivalent for direct entry on to your degree programme, our Pre-sessional English and International Foundation courses can help you to achieve this level.

For more details on the University of Hertfordshire's entry requirements, please visit our Undergraduate Entry Requirements page.

Find out more about International Entry Requirements.

| UCAS points | A Level | BTEC | Access Course Tariff | IB Requirement |
| --- | --- | --- | --- | --- |
| 120-128 | BBB-ABB | DDM | 120-128 points | 120-128 points |

Additional requirements

GCSE: Grade 4/C in English Language and Mathematics.

All students from non-majority English speaking countries require proof of English language proficiency, equivalent to an overall IELTS score of 6.0 with a minimum of 5.5 in each band.

If you do not have the required IELTS or equivalent for direct entry on to your degree programme, our Pre-sessional English and International Foundation courses can help you to achieve this level.

For more details on the University of Hertfordshire's entry requirements, please visit our Undergraduate Entry Requirements page.

Find out more about International Entry Requirements.

Professional accreditations

This is an adaptable finance and economics programme with flexible pathways, not tailored to any one professional body, providing you greater versatility in your professional choices.

Sign up for Clearing support package

Exclusive content to help you through Clearing

Tips and info sent straight to your inbox
Clearing advice livestream
Subject campus tour
1-on-1 call with advisor
Downloadable university starter kit
Opportunity to have your first year society membership fee paid upon enrolment
Why choose this course?
A practical programme backing up theory with professional skill development
Strong academic culture built on supporting and celebrating each other
Ranked 8th in The Guardian University Guide for Economics (2023)
Develop valuable analytical, qualitative, and predictive skills alongside a solid grounding in economic and financial theory.
Explore modern economics and its application to financial systems and organisations, as you learn about financial markets and economic theory.
Go beyond theory, with stimulating discussions on traditional and non-conventional economic approaches, and the role finance plays in the health of an economy.
Learn to predict personal finances, organisational and national budgets, discover how every decision matters, from political problems to business operations and our lifestyle choices.
The finance group has a culture of shared values and aspirations, which is an important aspect of both yours, and our, success in helping you fulfil your potential.
Hertfordshire Business School (HBS) maintains strong relationships with professional bodies and business connections. Meet entrepreneurs–in–residence, business ambassadors and industry leaders at networking events or in guest lectures through our Business Academy.
Feedback from one student really sums it up: "Overall, without the support from lecturers and the programme leader I would not have had such a positive university experience nor gone onto a Masters. The staff made me realise my potential which I then unlocked. "
If you have a keen interest in financial markets, you may also like our BA (Hons) Finance. For those interested in the corporate sector, our BA (Hons) Business and Finance may also appeal.
Our Staff
Your team includes experienced academics, researchers, and consultants alongside guest lecturers from industry, many of whom are alumni.
You also benefit from an academic support team, wellbeing team and personal tutor to help you adjust to the demands of university learning and living.
What's the course about?
Learn about the constantly evolving financial sector, within the wider, more philosophical, context of economics. Discover how financial markets operate, the behavioural side of finance and company financing. 
Study traditional economic theories including macroeconomics, microeconomics, and quantitative methods, alongside heterodox methods looking at how economists think, analyse, and problem solve
Lift your competency in quantitative and data analysis as you work on your problem-solving and critical-thinking skills. Practise how to communicate your findings and conclusions coherently, a crucial skill in business.
Explore potential ways of addressing real-world problems from a financial, ethical, and economic perspective. Be encouraged to think independently, challenging theory where necessary, and with good reason.
Get active support in boosting your CV through industry placement, study abroad or internships (including the latest online bite-sized digital experiences).    
Above all, you are mentored and supported, to aim high to achieve future personal and professional success. 
Where you'll study
Your learning experience will happen on our modern de Havilland campus, with self-study materials to support you from our virtual learning platform, StudyNet.
Hertfordshire Business School is located within a large University campus, at our de Havilland site. You'll be sharing this campus with others studying business, law, sports, education, and the humanities, as well as the Sports Village, which features a gym, swimming pool, coffee shop, and climbing wall and our Enterprise Hub.
There are dining options, a bar, and a recreational space on campus where you can shoot some pool or play video games. The Enterprise Hub is a vibrant destination where local firms and students can work and learn in comfort. In addition to open study spaces, our Learning Resources Centre also features private study rooms, and is open 24/7 allowing you to study around your schedule.
The student union bar and additional facilities are only a 20-minute walk or short bus ride away at our second campus. Student housing is available at both campuses.
What will I study?
Your first year builds a solid foundation of knowledge in financial principles and economic theory helping you to build a general understanding of finance in the context of society. 
In your second year, you develop the necessary analytical and professional skills for work, to improve your productivity and organisational contribution. Explore essential elements such as business ethics, econometrics, consumers, and firms.
In your final year, take on real-world challenges as you put your knowledge to the test. There is also a wide number of optional modules so you can tailor the course to areas of interest.
Throughout, we promote team working skills, instilling you with people and organisational skills alongside your analytical and financial expertise.
There are also opportunities to further enrich your personal development through our GoHerts program, placements, internships, study-abroad and Future Success team events.
Level 4

Level 5

Level 6

Study abroad

You can take a sandwich year abroad, making that decision in your second year. Studying at one of our international partners is a huge personal development opportunity and an amazing experience.

More companies are now working internationally, the experience of living in another country will make a great impression on future employers.

With over 100 partners in 40 countries, the world really is your oyster! Our dedicated study abroad office advises you on your options, to help you make the most of this opportunity.

If you study abroad between your second and third year of study, you'll pay no tuition fee, either to the partner university or us.

Find out more about Study abroad opportunities  

Please note Erasmus+ funding is only available until May 2023. For students starting their course in September 2022 and wishing to study abroad in 2023-24 or 2024-25, please refer to the Turing Scheme.

Work placement

At the end of your second year, you have the option to experience a year of working life with a placement, or a shorter internship, a huge CV booster! 

Professional work experience is the biggest contributor to your future employability.  It allows you to put your knowledge into action, while learning how a business operates and making some handy professional connections. 

For those wishing to finish within the 3-years, we help you find other opportunities to enhance your CV such as employer competitions, insight days, digital programmes, volunteering, student leadership roles, and achievement awards. 

At the end of your second year, you have the option to experience a year of working life with a placement, or a shorter internship, a huge CV booster! 

Professional work experience is the biggest contributor to your future employability.  It allows you to put your knowledge into action, while learning how a business operates and making some handy professional connections. 

For those wishing to finish within the 3-years, we help you find other opportunities to enhance your CV such as employer competitions, insight days, digital programmes, volunteering, student leadership roles, and achievement awards. 

Students on the programme have recently had the opportunity to work at Avnet, Balfour Beatty, Hertfordshire County Council, Network Rail and NHS.

Our dedicated HBS Future Success Team help you make the most of the experience, holding your hand from start to finish. You also get assistance with your CV, plus help preparing for interviews and presentations, at our ground-breaking mock Assessment Centre Experience.
Check out our student blogs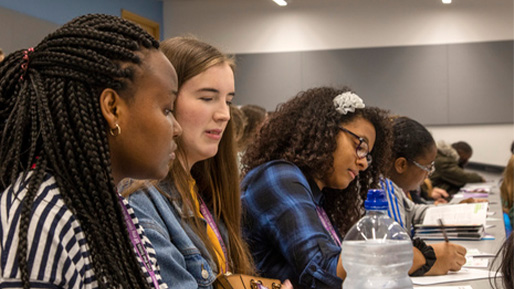 Student Blogs
Kayleigh - Week at a glance
My week at a glance
At the beginning of each week, I write up my lecture PowerPoints ready to take with me to my lectures so I can add notes to it during the lecture. I find that writing up my lectures helps me to take in the information given to us. I tend to do my reading in bits throughout the week to help break it up, but I make sure it's done before I go to the relevant lecture. I find doing this betters my understanding of the topic that is going to be covered in that lecture!
For each Accounting module, I had an hour lecture and an hour seminar each week! For French, I had a two-hour lectorial, which is a lecture and seminar in one session! I went into university three days of the week for lectures and seminars; I had two days at home!
Towards the end of October, assignments start to get set so you have a lot more work to be doing. I like to start the research for my assignments when they get set. Don't leave them until the last minute, you'll do much better when you have time to think about what you're going to write! Managing your time between assignments and work for your lectures can be difficult but if you make yourself a plan, you'll be fine!
I lived at university, so I also had to find time to get my weekly food shop. I tended to go on one of my days off in the morning and then in the afternoon, I could get back to my uni work! I would also work for the university on open days and other events as a student ambassador, so I also had to factor that into my schedule. You need to make sure you have some time for yourself so you can wind down, you don't want to overload yourself! I like to spend a day of the weekend watching Netflix or meeting up with friends!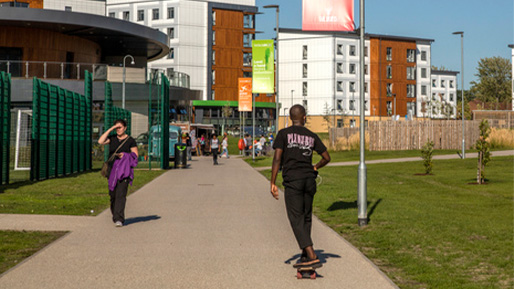 Student Blogs
Kayleigh - Things you should know
Things you need to know before studying Accounting at Herts
There can be some preconceptions of what accounting is; it is NOT all maths! There is a lot of maths involved in the course, but it is not complicated maths so don't worry, there is also a lot of written aspects too. There are several types of accounting ranging from financial to management accounting, all of which you cover over the three-year course! All the lecturers are qualified accountants, and most have worked in the industry for a significant amount of time and they have so much information for you. They're always willing to help you as much as they can!
With any degree, there is a lot of reading. You use a different textbook for each module, and they set reading weekly for you. Most of the textbooks are on the online library and so are free to access so don't go buying the textbooks straight away. For certain modules, doing the reading helps deepen your understanding of the topic significantly. For me, doing the reading for my Taxation module helped me to better understand the topics we studied but don't try to do it all at once because you won't take any information in. Remember to break it up so you don't overload yourself!
You will be assessed in both exams and assignments for the course. Your assignments can range from an essay or a report but could also be a presentation in a group. Most modules have a mixture of exams and assignments so don't stress too much about doing exams because you have your assignments to fall back on if necessary.
I would highly recommend that future students research what a chartered professional qualification is and the different bodies that offer them. Once you complete your degree in accounting it does not mean that you are a fully qualified accountant; you will need to complete a chartered qualification. The University offers a different amount of exemptions upon completion of the course from ACCA (Association of Chartered Certified Accountants), ICAEW (Institute of Chartered Accountants in England and Wales) and CIMA (Chartered Institute of Management Accountants). In your first year, ACCA comes in for a highly informative talk. In this talk, they encourage you to sign up to their ACCA accelerate scheme. I would highly recommend this, the cost savings for yourself in the future is beneficial. They also send you emails keeping you up to date with everything that's going on.
Accounting can be a difficult degree but don't stress. Planning your time wisely and being organised with assignments will make an enormous difference. Don't forget to enjoy your time at university and make as many new friends as you can! Good Luck!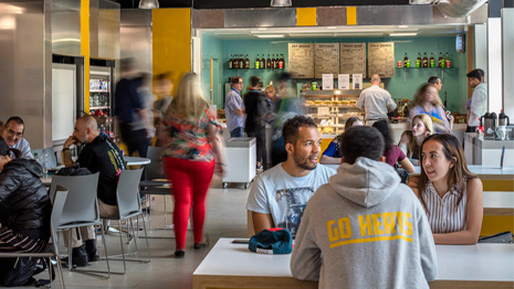 Student Blogs
Kayleigh - Why I chose Herts
Why I chose Herts
The first reason being that Herts had the perfect course for me, Accounting with French. Herts allows you to do a language alongside a business degree which not that many other universities offer! Not only do I receive several exemptions from my professional accounting qualification, but I also got to continue studying French, which is something I really enjoyed at college and wanted to continue at university!
Herts is remarkably close to London but it's not in London. This is perfect for me because I moved from living in a village in the countryside to quite a busy town! I come from north Lincolnshire so Herts is also far enough from home that I would have to be completely independent but not too far that it would take me all day to travel home. Well a three-hour drive to me isn't that bad anyway. I have lived in halls and off-campus for all three years of university! This has allowed me to meet so many people and some of my best friends! Also, this meant that I was never more than a five-minute walk from the Learning Resource Centre (LRC) on campus that is open 24/7, great for when you have deadlines looming.
When I visited Herts for the first time on my applicant day, I had the best day! I met three of the lecturers that have taught me over the past three years of university, which was reassurance the lecturers were lovely! My French teacher was so encouraging and excited! When I started in September there were only five people in my French class, so it was very one to one which was so beneficial to me overall!
I know that moving away from home for the first time can be very daunting, but don't worry! Everyone in your halls is in the same boat! Go out and enjoy freshers! Order takeaways together and get to know each other! It will be one of the best things you do! My self-confidence has improved so much because I went to university!