BSc (Hons) Sports Studies with Psychology
Entry requirements

| UCAS points | A Level | BTEC |
| --- | --- | --- |
| 104 - 112 | BCC - BBC | MMM - DMM |

Additional requirements

GCSE: Grade 4/C in English Language and Maths.

All students from non-majority English speaking countries require proof of English language proficiency, equivalent to an overall IELTS score of 6.0.

If you do not have the required IELTS or equivalent for direct entry on to your degree programme, our Pre-sessional English and International Foundation courses can help you to achieve this level.

For more details on the University of Hertfordshire's entry requirements, please visit our Undergraduate Entry Requirements page.

Find out more about International Entry Requirements.

The University of Hertfordshire is committed to welcoming students with a wide range of qualifications and levels of experience. The entry requirements listed on the course pages provide a guide to the minimum level of qualifications needed to study each course. However, we have a flexible approach to admissions and each application will be considered on an individual basis.

Professional accreditations

The University of Hertfordshire, Division of Sport, Health and Exercise has recently been assessed for Laboratory Accreditation via the British Association of Sport and Exercise Sciences (BASES).

The course does not allow graduate membership of the British Psychological Society (BPS) but this could be obtained through a further year of study on a MSc Psychology Conversion Course.

Sign up for alerts

Get access to personalised content, tailored towards your interests:

Information on your favourite courses
Tips to help you through the application process
Blogs, vlogs and advice from current students
Why choose this course?
2nd in the East of England for Sports Science (2023 Complete University Guide)
Study core Sports Business Management, Sports Development & Psychology
Opportunity to enhance your study and CV with a year abroad
If you love sport and you're also interested in psychology, this is the course for you. You'll get a grounding in sports business management, sports development and psychology throughout the degree programme.
You might be thinking about a career in sports development or maybe forensic and clinical psychology. Perhaps you see yourself working in a more managerial role, or possibly working in education and teaching. Because you'll study various aspects of sport and psychology, this course will set you on the path to a wide range of career opportunities.
With optional modules, you can tailor your degree to what interests you most. For example, you can choose modules in exciting areas such as nonverbal behaviour, cyberpsychology and forensic psychology. Plus, you'll be able to attend a vibrant research seminar series, hosted by us, welcoming leading academics from across the UK and around the world.
Benefit from our specialist sports facilities
You'll have access to some of the best University sports facilities in the UK. You'll benefit from our brand new multi-million-pound Institute of Sport Building based at the de Havilland campus and will be able to join our on-campus Sports Village. Facilities include a 25-metre swimming pool, a 12m high climbing wall and a 110+ station gym. The gym has both strength and cardio equipment, such as rowing machines, cable stations and a free weights area. Facilities also include match-quality courts, sports halls and new generation astro pitches and so much more. There is also a smaller 24-hour gym on the College Lane campus.  
Whether you're interested in sport on a competitive or casual level, there is something for you. There are opportunities for students to participate, compete and represent us in a wide variety of sports. We are also one of the few universities with an Active Students and Staff programme. This means we offer free sports and exercise sessions to all our students and staff. This is something you can tap into as a participant or possibly also as a facilitator.  
What's the course about?
In your first year, you'll learn about the sports industry, cognitive psychology, physical activity and sports development settings. You'll also explore national and international sports business management and social psychology. To help you settle into university life, you'll take a module focused on developing the academic skills which you need to be a successful student.       
Your second year builds on what you learnt in first year. You'll study global perspectives of sports development, process and practice in high performance sport, and leadership and management of sports events. The module on research methods helps you understand the principles and methods that underpin social science of research. You'll be able to use this to critique and understand research done in the areas of sports development, psychology and sports business management. It'll also come in handy for your final year project in your final year. There are also a few optional modules for you to choose from.  Learn about exciting topics such as nonverbal behaviour and cyberpsychology. 
Work placement/study abroad option: Between your second and final year, you'll have the option to study abroad or do a work placement for up to a year. Not only will this give you an amazing experience to talk about but will also give your CV a boost. If you'd rather go straight to your final year, that's fine too. You'll decide in your second year with us, so there is still plenty of time to think about this. 
In your final year you'll be able to develop your research skills through the research dissertation module. You'll get a personal supervisor to support you with the research. This means you'll design and undertake you own project on a topic relevant to your area of interest. You'll also be able to study other modules in the final year, such as enterprise and entrepreneurship, behaviour change for physical activity and insight and also evaluation of sports development. In addition, you'll also be able to choose optional modules such as educational psychology, forensic psychology and health psychology.
   For a full list of modules, see the section under 'What will I study?'  
One of your campuses is de Havilland
You'll share this campus with students from business, law, sport, education, and humanities subjects. The student housing is close to our Sports Village which includes a gym, swimming pool and climbing wall. You can get breakfast, lunch, or dinner in our on-campus restaurant or bar (in the newly built Enterprise Hub) on days you don't feel like cooking. You can also use the common room to play pool, video games or just to hang out with friends.  Our Learning Resources Centres are open 24/7, which means you can study whenever suits you best. Want to pop over to the other campus? You can take the free shuttle bus or walk there in just 15 minutes.  
One of your campuses is College Lane
This is where the creative arts, science and health-related subjects are based. This means you'll share the campus with future nurses, scientists, artists and more. You can use the common rooms to relax with friends, work out in the 24-hour gym or have a drink in our on-campus pub or cafes. We also have restaurants for you to eat in or grab something on the go. Our Learning Resources Centres are open 24/7, which means you can study whenever suits you best. Want to pop over to the other campus? You can take the free shuttle bus or walk there in just 15 minutes. 
What will I study?
Degree programmes are structured into levels, 4, 5 and 6.  These correspond to your first, second and third/final year of study.  Below you can see what modules you'll be studying in each. 
At level 4, you'll study 60 credits from the Sports Studies suite of modules and 60 credits from Psychology. At level 5 and 6, you'll study 90 credits from the Sports Studies, and 30 credits from Psychology.    
Modules are assessed in a variety of ways via coursework, debates, presentations, viva and practical. The type of coursework is varied, depending on the module and includes reports, reflections, practical write-ups, portfolios, posters and seminar presentations.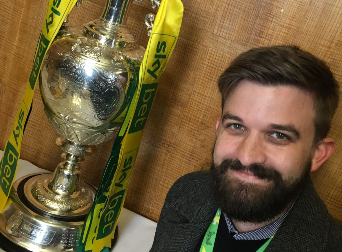 Alumni Stories
Gavin Beard
Meet Gavin Beard who has taken his love for sports into industry. Since graduating he has worked his way up the career ladder and is now the Head of Marketing for Norwich Football Club.
Read more stories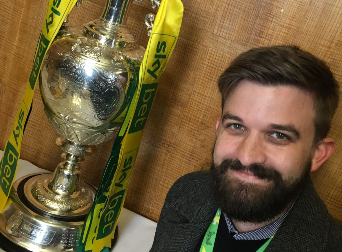 More than a degree
Gavin graduated from the University of Hertfordshire with more than a degree; his university experience helped him to gain valuable insight to several disciplines and allowed him to narrow down his career choices.
He says, 'My degree allowed me to study various disciplines, including coaching, science and business. Having exposure to these different areas helped me understand what I favoured, and it was clear that business (and in particular, marketing) was an area I felt I could forge a career in.'
After successfully completing his degree Gavin began moving up the career ladder, working at many well respected companies such as Coral, BT Sport and currently Norwich City Football Club. Gavin puts a lot of his success down to the degree he studied and the support provided by the university.
He comments, 'The variety of modules and the exposure to different disciplines within my course were extremely useful. This was crucial in helping me determine my path. After year one, I knew I liked marketing, so I worked with the ERASMUS team to find a pathway to help me study this abroad. I then studied business in Valencia for a year and it was an experience I'll never forget.'
Aspirations for the future
Gavin is still really enjoying his career in leading the Marketing team at Norwich City Football Club. He says, 'It's an incredibly varied role; one day I could be leading the campaign to promote the new kit, the next it'll be marketing the Take That gig at Carrow Road!'
Gavin is hopeful for the future and says 'Given my experience, my future roles will continue to be in marketing, hopefully I will help Norwich to become an established Premier League team. Then who knows!'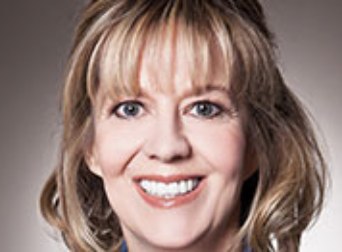 Alumni Stories
Dr Suzy Walton
Meet Suzy Walton who has utilised her psychology degree to benefit those around her. She is on numerous governing boards and has supported the work of the Ministry of Defence.
Read more stories
Find out more about this course
Current job role
Multi sector Board Director Former Senior Civil Servant Ministry of Defence and Cabinet Office
Year of graduation
1994 / 1995
Course of study
BSc(Hons) Psychology
MSc Psychology
University life and experience
Suzy initially decided to study at the University of Hertfordshire due the reputation of the course and its proximity to her home and easy access to London. Throughout her degrees, Suzy was managing a hectic schedule working in London as well as looking after a young family.
However, she found the support and information offered to her unparalleled. She says, 'I remember finding information very accessible however – even when I had to sometimes turn up in the wee small hours to use the library because the children wouldn't let me do so earlier!'
Her studies have enabled her to achieve great success in her career and Suzy uses the knowledge and skills gained to enable her to communicate with fellow colleagues and solve complex problems. She says that, 'Psychology has given me is the ability to be objective as a board member. I can take a robust approach to issues and listen to the evidence, stating my own case clearly and objectively.'
She stresses that she is also she is 'also able to step back – as one must on a board – and put the data aside and focus on the human relationships and the key enabling factors that will allow any decision made by a board to actually translate into a difference on the ground.'
One of the highlights of her time studying at the University was being taught by Dr Richard Wiseman. She says, that 'Through him I learnt a lot about the psychology of deception and my own expertise in this was put to extreme use by the Ministry of Defence. I can't say any more on this without breaching the Official Secrets Act!'
Future aspirations
Suzy is currently the Vice-President of the Royal Society of Medicine (Patron – Her Majesty the Queen). and is also the longest-standing board member at the Institute of Directors. She is also on the global board of ACCA which is the regulator for the accountancy profession around the world. She has many other roles mostly in and around government.
She has achieved great things throughout her career and in the future would like to continue to bring her passion and expertise to corporate governance. She enjoys that her expertise and knowledge enables her to have a direct impact an organisation's strategy while having legal responsibilities for its safety, solvency and compliance.
'I want the UK to continue to be one of the centres of excellence worldwide in corporate governance and I hope to be able to continue working to achieve that. I also want to continue to enjoy my family.'
Suzy also has 7 children – the youngest arrived in lockdown 2020.
What's next for my career?

There are a variety of career opportunities within sports related employment routes and careers where transferable skills related to psychology are valued.

View our Alumni profiles

Further information - includes assessment method

| Course fact sheets | |
| --- | --- |
| BSc (Hons) Sports Studies with Psychology | Download |

| Programme specifications | |
| --- | --- |
| BSc (Hons) Sports Studies with Psychology | Download |

Additional information

Sandwich placement or study abroad year

Optional

Applications open to international and EU students

Yes

Course length

Full Time, 3 Years
Part Time, 6 Years
Sandwich, 4 Years

Location

University of Hertfordshire, Hatfield

How to apply?

Fees and funding

Fees 2023

UK Students

Full time

£9250 for the 2023/2024 academic year

Part time

£1155 per 15 credits for the 2023/2024 academic year

EU Students

Full time

£14750 for the 2023/2024 academic year

Part time

£1845 per 15 credits for the 2023/2024 academic year

International Students

Full time

£14750 for the 2023/2024 academic year

Part time

£1845 per 15 credits for the 2023/2024 academic year

*Tuition fees are charged annually. The fees quoted above are for the specified year(s) only. Fees may be higher in future years, for both new and continuing students. Please see the University's Fees and Finance Policy (and in particular the section headed "When tuition fees change"), for further information about when and by how much the University may increase its fees for future years.

View detailed information about tuition fees

Read more about additional fees in the course fact sheet

Other financial support

Find out more about other financial support available to UK and EU students

Living costs / accommodation

The University of Hertfordshire offers a great choice of student accommodation, on campus or nearby in the local area, to suit every student budget.