‹
Apply through Clearing
If you've got your results you can beat the rush and make your application now.
BSc (Hons) Sports Studies with Psychology
Due to the ongoing Coronavirus pandemic, examinations may be replaced by an alternative form of assessment during the academic year 2020/2021. Please refer to the Programme Specification on these pages for further details.
This course includes the sandwich year options of:
*No fees are charged for this year
Key information

UCAS code

C603

Institution code

H36

School of study

School of Life and Medical Sciences

Course length

Full Time, 3 Years
Part Time, 6 Years
Sandwich, 4 Years

Location

University of Hertfordshire, Hatfield

Entry requirements

| UCAS points | A Level | BTEC |
| --- | --- | --- |
| 96 | CCC | MMM |

Additional requirements

GCSE: Grade 4/C in English

All students from non-majority English speaking countries require proof of English language proficiency, equivalent to an overall IELTS score of 6.0.

If you do not have the required IELTS or equivalent for direct entry on to your degree programme, our Pre-sessional English and International Foundation courses can help you to achieve this level.

For more details on the University of Hertfordshire's entry requirements, please visit our Undergraduate Entry Requirements page.

Find out more about International Entry Requirements.

The University of Hertfordshire is committed to welcoming students with a wide range of qualifications and levels of experience. The entry requirements listed on the course pages provide a guide to the minimum level of qualifications needed to study each course. However, we have a flexible approach to admissions and each application will be considered on an individual basis.

Professional accreditations

The University of Hertfordshire, Division of Sport, Health and Exercise has recently been assessed for Laboratory Accreditation via the British Association of Sport and Exercise Sciences (BASES).

The course does not allow graduate membership of the British Psychological Society (BPS) but this could be obtained through a further year of study on a MSc Psychology Conversion Course.

Sign up for alerts
Why choose this course?
Opportunity to visit Utrecht University as part of a Sports Business Management exchange
Final year project poster presentation day: opportunity for final year students to experience a conference-style event, which is attended by the External Examiner.
Excellent links with alumni who often offer opportunities to current undergraduate students
Student mentoring scheme whereby first year students access support from postgraduate, final year and second year students who, in turn, enhance their CVs by acting as mentors
You will benefit from some of the best university-based sports and fitness facilities in the UK.
Opportunities to support research.
What's the course about?
This course brings together several distinct but interrelated themes, to promote broad understanding and the examination of diverse areas in Sports and Psychology. The dominant programme themes are Physical Activity and Sports Development, and Sports Business Management which develop in terms of depth and complexity as the level of study increases. These are studied alongside research methods required for Higher Education, where students have the opportunity to further develop their research skills and experience within the second and third year. Students will also study Social, Cognitive and Developmental Psychology, and will be introduced to study skills for psychology.
At level 4, all students study 60 credits of Sports Studies modules, and 60 credits of Psychology modules. At level 5 and 6 students study 90 credits from the Sports Studies suite of modules, and study 30 credits of Psychology modules.
What will I study?
Formal lectures tend to form the core of most modules, and lecture slides will be available on StudyNet, often alongside other web based learning resources. Modules are assessed by coursework or exam, or a combination of the two. The majority of the exams fall within the psychology based modules. The type of coursework is varied, depending on the module and includes essays, reports, posters and seminar presentations, as well as more innovative technology-based methods such as the use of wikis. Each student has their own personal tutor with whom they meet in small groups on a regular basis.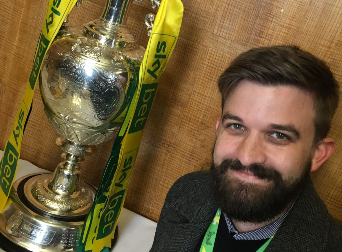 Alumni Stories
Gavin Beard
Meet Gavin Beard who has taken his love for sports into industry. Since graduating he has worked his way up the career ladder and is now the Head of Marketing for Norwich Football Club.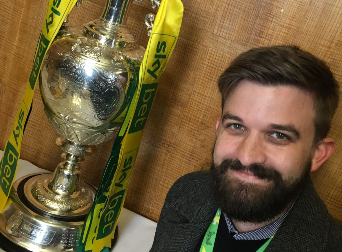 More than a degree
Gavin graduated from the University of Hertfordshire with more than a degree; his university experience helped him to gain valuable insight to several disciplines and allowed him to narrow down his career choices.
He says, 'My degree allowed me to study various disciplines, including coaching, science and business. Having exposure to these different areas helped me understand what I favoured, and it was clear that business (and in particular, marketing) was an area I felt I could forge a career in.'
After successfully completing his degree Gavin began moving up the career ladder, working at many well respected companies such as Coral, BT Sport and currently Norwich City Football Club. Gavin puts a lot of his success down to the degree he studied and the support provided by the university.
He comments, 'The variety of modules and the exposure to different disciplines within my course were extremely useful. This was crucial in helping me determine my path. After year one, I knew I liked marketing, so I worked with the ERASMUS team to find a pathway to help me study this abroad. I then studied business in Valencia for a year and it was an experience I'll never forget.'
Aspirations for the future
Gavin is still really enjoying his career in leading the Marketing team at Norwich City Football Club. He says, 'It's an incredibly varied role; one day I could be leading the campaign to promote the new kit, the next it'll be marketing the Take That gig at Carrow Road!'
Gavin is hopeful for the future and says 'Given my experience, my future roles will continue to be in marketing, hopefully I will help Norwich to become an established Premier League team. Then who knows!'
After year one, I knew I liked marketing, so I worked with the ERASMUS team to find a pathway to help me study this abroad. I then studied business in Valencia for a year and it was an experience I'll never forget.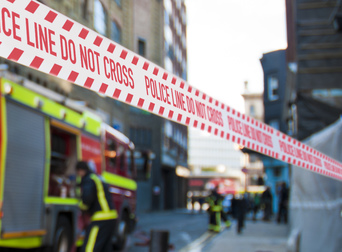 Alumni Stories
Hayley Hood
Meet Hayley Hood who has used her degree in Psychology to give her a fascinating insight into the criminal mind. She is currently a Senior Crime Analyst in Hertfordshire Constabulary.
A clear path to success
Hayley Hood is one of the rare few individuals who started her undergraduate degree knowing exacly where she wanted to go. Before beginning her studies, she knew she wanted to work for the Police and already had experience as a Special Constable.
However, Hayley perhaps had more of a reason to be driven than other students; she started her studies having completed a two-year access course and with a young daughter.
Hayley states that the 'breadth of understanding that [she] developed from [her] course' allowed her to make informed decisions about her next steps and aspirations for her professional career. Most importantly, it reaffirmed her passion for the subject and empowered her to further progress onto postgraduate study.
Career aspirations
Upon completion of her studies, Hayley joined Hertfordshire Constabulary as an Assistant Crime Analyst before progressing onto a full Crime Analyst position. This was followed by periods of acting up as the Senior Analyst in times of absence, giving her the experience to apply for a permanent Senior Analyst post.
Despite having worked for Hertfordshire Constabulary for several years, Hayley states that the role is constantly evolving. She says, 'Technology is constantly changing, both in the Police and the real world, which means that not only has the role changed but also the types of crimes and the ways that they're committed.'
Hayley firmly believes that her success in her career is down to the essential skills and knowledge she developed during her undergraduate and postgraduate studies which have enabled her to develop her skills and knowledge as crimes evolve.
Technology is constantly changing, both in the Police and the real world, which means that not only has the role changed but also the types of crimes and the ways that they're committed.
What's next for my career?

There are a variety of career opportunities within sports related employment routes and careers where transferable skills related to psychology are valued.

Find out more about Careers and Employment

There are many career opportunities for our graduates, including sports development, management, physical activity promotion, health promotion, business, teaching and research.

View our Alumni profiles

Further information - includes assessment method

How to apply?

Fees and funding

Fees 2020

UK/EU Students

Full time

£9250 for the 2020/2021 academic year

Part time

£1155 per 15 credits for the 2020/2021 academic year

International Students

Full time

£13000 for the 2020/2021 academic year

Part time

£1625 per 15 credits for the 2020/2021 academic year

*Tuition fees are charged annually. The fees quoted above are for the specified year(s) only. Fees may be higher in future years, for both new and continuing students. Please see the University's Fees and Finance Policy (and in particular the section headed "When tuition fees change"), for further information about when and by how much the University may increase its fees for future years.

View detailed information about tuition fees

Read more about additional fees in the course fact sheet

Other financial support

Find out more about other financial support available to UK and EU students

Living costs / accommodation

The University of Hertfordshire offers a great choice of student accommodation, on campus or nearby in the local area, to suit every student budget.
Please note that some of the images and videos on our course pages may have been taken before social distancing rules in the UK came into force.