BSc (Hons) Sports Business Management
Due to the ongoing Coronavirus pandemic, examinations may be replaced by an alternative form of assessment during the academic year 2020/2021. Please refer to the Programme Specification on these pages for further details.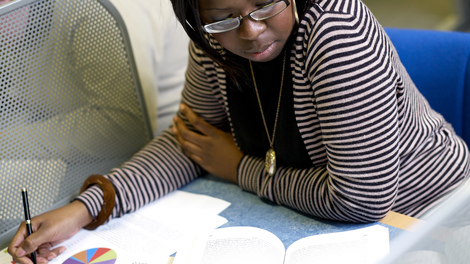 Learn key entrepreneurial skills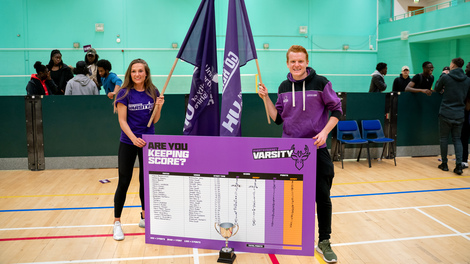 Gain experience leading and managing sport events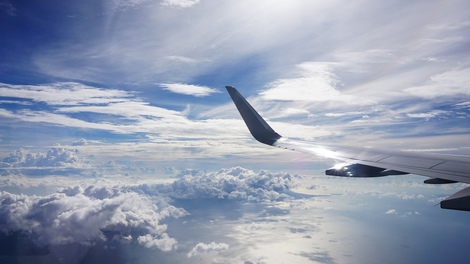 Opportunity to enhance your study and CV with a year abroad
This course includes the options of:
*No fees are charged for this year
Key information

UCAS code

N880

Institution code

H36

School of study

School of Life and Medical Sciences

Course length

Full Time, 3 Years
Part Time, 5 Years
Sandwich, 4 Years

Location

University of Hertfordshire, Hatfield

Entry requirements

| UCAS points | A Level | BTEC |
| --- | --- | --- |
| 104 - 112 | BCC - BBC | MMM - DMM |

Additional requirements

GCSE: Grade 4/C in English Language and Mathematics

All students from non-majority English speaking countries require proof of English language proficiency, equivalent to an overall IELTS score of 6.0 with a minimum of 5.5 in each band.

If you do not have the required IELTS or equivalent for direct entry on to your degree programme, our Pre-sessional English and International Foundation courses can help you to achieve this level.

For more details on the University of Hertfordshire's entry requirements, please visit our Undergraduate Entry Requirements page.

Find out more about International Entry Requirements.

The University of Hertfordshire is committed to welcoming students with a wide range of qualifications and levels of experience. The entry requirements listed on the course pages provide a guide to the minimum level of qualifications needed to study each course. However, we have a flexible approach to admissions and each application will be considered on an individual basis.

Sign up for alerts

Get access to personalised content, tailored towards your interests:

Information on your favourite courses
Tips to help you through the application process
Blogs, vlogs and advice from current students
Why choose this course?
If you're interested in the business potential of the sports industry, then the sports business management course for you. This course has a strong emphasis on practical experience being applied to the sports business management field.
You'll develop your understanding of the business of sport, exploring the sports industry in the UK, as well as from a broader global perspective. You'll learn key business concepts and theories, using them to review modern sports businesses and best practice in sports management. Throughout the course, there is a strong emphasis on the leadership and management of sports events, as well as developing the strategic skills you'll need to be successful in today's sports industry. You'll develop your entrepreneurial skills too, so when you graduate, you'll have a balanced portfolio of knowledge and practical skills which really boosts your employability.
You might be thinking about becoming a director within a sports company and/or organisation, you may want to manage a leisure centre or sports club at a local, regional or international level. You could be considering starting your own business or perhaps you see yourself working in a more managerial role, or maybe working in education and teaching. Work experience opportunities are integrated into the programme. So whatever career you decide to pursue, work-related experience combined with academic study and a focus on communication skills will enhance your prospects.   
This course is full of opportunities, including the potential to visit Utrecht University in the Netherlands for an exchange*. The University also works closely together with national and international researchers, coaches and athletes, who engage with our facilities and workforce.
*Subject to COVID-19 guidelines. 
Benefit from our specialist sports facilities  
You'll have access to some of the best University sports facilities in the UK. You'll benefit from our brand new multi-million-pound Institute of Sport Building based at the de Havilland campus and will be able to join our on-campus Sports Village. Facilities include a 25-metre swimming pool, a 12m high climbing wall and a 110+ station gym. The gym has both strength and cardio equipment, such as rowing machines, cable stations and a free weights area. Facilities also include match-quality courts, sports halls and new generation astro pitches and so much more. There is also a smaller 24-hour gym on the College Lane campus.   
Whether you're interested in sport on a competitive or casual level, there is something for you. There are opportunities for students to participate, compete and represent us in a wide variety of sports.  We are also one of the few universities with an Active Students and Staff programme. This means we offer free sports and exercise sessions to all our students and staff. This is something you can tap into as a participant or possibly also as a facilitator.   
What's the course about?
In your first year, you'll learn about the sports industry from both a national and international perspective, foundations of sports coaching and aspects related to physical activity and sports development. You'll also learn about sports within a global world and apply knowledge learnt to diverse groups. To help you settle into University life, you'll take a module focused on developing the academic skills you need to be a successful student.    
Your second year, builds on what you learnt in the first year. You'll study leadership and management of sport events, global perspectives of sports development and applied sports coaching. The module on research methods helps you to understand the principles and methods that underpin sports business management research. You'll be able to use this to critique and understand the research done in the areas of sports business management. It will also come in handy for your final year dissertation. In addition, we also offer optional modules for you to choose from such as process and practices in high-performance sport, sports ethics or facilities and funding.  
Work placement/study abroad option*: Between your second and final year, you'll have the option to study abroad or complete a work placement for up to a year. Not only will this give you an amazing experience to talk about, but it will also give your CV a boost. If you would rather go straight to your final year, that's fine too. You can decide in your second year with us, so there is still plenty of time to think about this.  
In your final year, you'll be able to develop your research skills through our research dissertation module and focus on a work experience dissertation within the field of sports business management. You'll get a personal supervisor to support you with the research and/or work experience dissertation. Here, you'll design and undertake your own project on a topic relevant to your area of study, and more importantly, it will be aligned to an area that interests you. You'll also be able to study other modules in the final year, such as enterprise and entrepreneurship, behaviour change for physical activity and advanced sports coaching.  
Applying for this course is easy. Simply add us to your UCAS account by using the institution and course code mentioned in 'Key information'. There is no interview for this course. We're just interested to hear why you want to study this subject at degree level.    
For a full list of modules, see the section under 'What will I study?'    
 *Depending on the COVID-19 guidelines and developments  
Your main campus is de Havilland
You'll share this campus with students from business, law, sport, education, and humanities subjects. The student housing is close to our Sports Village which includes a gym, swimming pool and climbing wall. You can get breakfast, lunch, or dinner in our on-campus restaurant or bar (in the newly built Enterprise Hub) on days you don't feel like cooking. You can also use the common room to play pool, video games or just to hang out with friends.  Our Learning Resources Centres are open 24/7, which means you can study whenever suits you best. Want to pop over to the other campus? You can take the free shuttle bus or walk there in just 15 minutes.  
What will I study?
Degree programmes are structured into levels, 4, 5 and 6.  These correspond to your first, second and third/final year of study.  Below you can see what modules you'll be studying in each.     
Modules are assessed in a variety of ways via coursework, debates, presentations, viva and practical. The type of coursework is varied, depending on the module and includes reports, reflections, write up of practicals, portfolios, posters and presentations. 
Check out our student blogs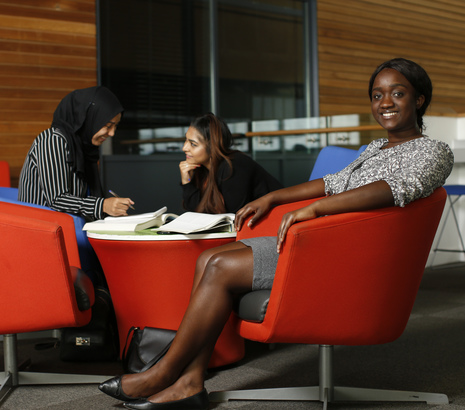 Student Blogs
Jess - Week at a glance
My week at a glance
So, I applied for this course through clearing and it has been a highly educational and enjoyable two years and I am incredibly happy that I was told about this course through my teachers at the other campus. The way that our course works is that you go to your local consortium college (whether that be: Oaklands, West Herts, North Herts or Herts Regional- my college) and you learn a similar specification to those at the university campus, however, the material taught varies slightly in the way we carry out tasks; taking a more practical approach instead helps prepare us more for the workplace!
In the second year of our course, the biggest project we completed was a work-based learning project worth 30 credits. If we failed this, we would fail the entire year. This project asks for us to carry out research and make our own report. Having finished this project, I really enjoyed the process. This is the module with the most focus in year two due to the fact it carries the most marks!
My course is taught from Hertford Regional College, Ware Campus, one of University of Hertfordshire's consortium colleges and the requirements are for me to be in two days a week. In the first year of my foundation degree, I needed to come in on Tuesday and Thursday. In the second year, it was Thursday and Friday. A typical day of a student at our college as part of the HE (Higher Education) department would look like:
09:30 Lecture starts - Our one to one lecturer would begin their lecture at 09:30 in comparison to a normal 09:00 start at University. Our first day in the week would normally consist of a 09:30 lecture until 11:00. However, despite that fact that this may seem quite long it goes by quickly as the information we learn is never too bulky to keep and is delivered in a fun and educational way.
11:00 -15/20 minute break
11:20-12:30 - Group discussion and extra topics normally discussed- we would normally discuss in our small class size (around 10 of us) about what we think about the topic we are learning about, whether we agree/disagree with each other,
12:30- 13:30 - An hour lunch break
13:30-14:30 -Class resumes
14:30- 14:15 - Second section of the day
14:30-15:15 - Lecture two
15:15-15:45 - one to one tutoring- progress checks- are you meeting your targets? what is your weekly attendance, have you been attending on time? how do you feel you are getting on? what is something you are struggling with?
15:45-16:15 - Last section of the day- Something which may at first appear off-putting about the foundation degree course is the normal day of our class and how similar it may appear to a normal school or working day. Personally, this has been very good in getting me into work mood which is the main aim of the course as it tests your punctuality, your ability to present original and organic ideas with substance and lastly tests your ability to get on with others (ie future colleagues). The course really prepares you for the real and competitive working world.
Student Blogs
Jess - Choosing my course
What I love most about my course
Over the past two years, What I love most about my course is the flexibility, confidence-building opportunities and the ability to investigate weaknesses in my skills and improve them as well as my and confidence in my abilities. Although the course is not taught directly from the university over the last two years, I felt highly independent.
As time when on I felt that being independent was very easy compared to when I was at college because if I were unsure about the quality of work I was producing, I would always ask questions. The course allows you to develop your skills individually and the small class sizes are great for those who may not learn well in a large lecture full of people. The smaller class size allows individuals to receive the help that you won't get in a lecture class size.
For someone who suffers badly with social anxiety this course has been ideal as I now feel much more comfortable in my surroundings and environment and find it easy to relax and learn, therefore, if you feel overwhelmed with big lecture halls that have a 200-student capacity, this course is perfect for you. We are also able to see other Higher Education (HE) colleagues on the top floor art department who are studying HE Visual Merchandising and Graphic Design. This is nice as sometimes it may feel as though we aren't at university so when we see students who are also studying HE courses, it makes us feel like we belong.
The graphic design and visual merchandising students also have a separate room upstairs- so if anyone is interested in studying one of the creative subjects, I would definitely say that Herts Regional College (HRC) cater well for it- especially as the campus itself is commonly known as the "creative enterprise campus".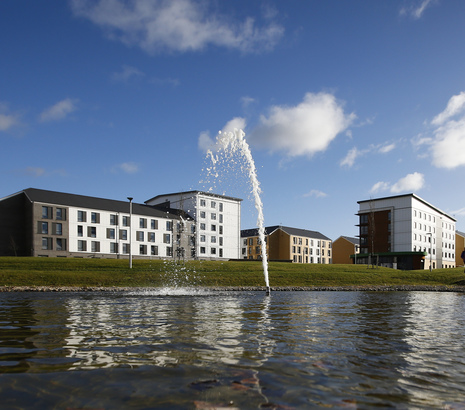 Student Blogs
Jess - Things you should know
Something interesting for a prospective student to consider
Something I think would be interesting to a prospective student when considering the FDA course is how great it is to commute to if you live within the Ware/Hertford area. For me, I lived a seven-minute drive from the facilities, so it was in perfect distance. I would really say this may be a massive positive for prospective students who do not wish to go far away from home/are unable to study far away from home due to medical or personal reasons.
An added element worth noting is that our course is cheaper. The standard course at the university is a fair amount more expensive in comparison; per year our course costs £6,165 compared to £9,250 at University.
Another thing worth noting is that the experience feels more personal compared to a larger course with lots of people. You get to know everyone on your course so that you are very comfortable with all of them by the time that your course ends. When you enter your third year you are taught on campus.
A final thing to consider is if you feel it has all gone wrong on results day, whether that be in your A levels or your Level three BTEC. This course is a great alternative for students who did not do as well as they may have hoped for whatever reason that may be! Another thing which is good for potential students considering this course is that you can still retake Maths/English alongside side the course. If there is a grade you were previously unhappy with you can still retake it, however, after 19 there may be fees that apply for you to be able to retake your Maths and English qualifications. The course is very welcoming and after the two years you can then go to the main campus with everyone else and by that stage, you would have built up your confidence and be ready to take on University life! Enjoy!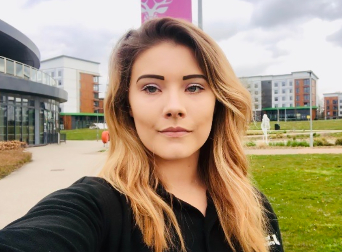 Alumni Stories
Annabelle Bullock
Meet Annabelle Bullock, a BUCS gold medalist, who studied Sports Studies alongside her athletic pursuits. As an athlete she competed in target shooting and as a member of the women's Lacrosse team.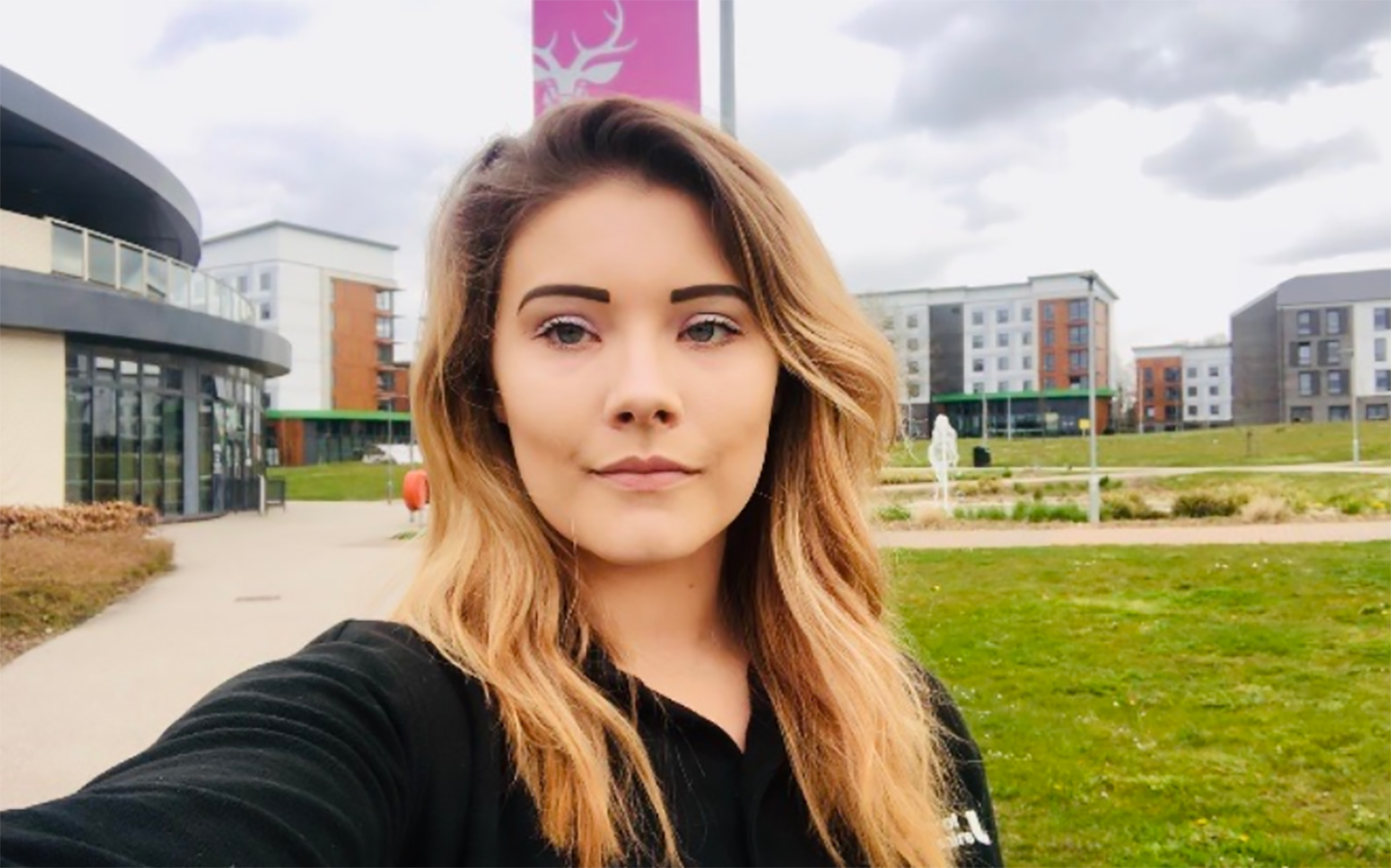 University experience and support
The University supported Annabelle by making her one of its sponsored athletes providing her with greater flexibility and access to sporting facilities and opportunities. This helped her develop a broad and transferable set of skills and experience.
Annabelle says, 'Being an athlete and studying was challenging, but the University and my lecturers were so supportive. Being made a sponsored athlete also came with a bunch of perks. All this support and the opportunities that the University provided helped me to build the skills and confidence I needed to be truly successful in my job today.'
Annabelle currently works as one of the Education Liaison Coordinators at Herts. Having established fantastic contacts within the University, her student activities meant she could seamlessly progress into a professional role that complimented many of her skills and interests.
'I always assumed that I would do something within sport, but when it came to my final year in BSc Sport Studies, I had found my passion for Coach Education. During my MA in Education at the University, I discovered another passion for helping others and working with student athletes.'
Opportunities to explore
The University is committed to recognising talent in its students and offering any exciting opportunities that can enrich their studies and further their careers. Annabelle's lecturers' encouraged her to explore her passion for research which inspired her to continue with postgraduate study. Most impressively, the University helped her win its first BUCS gold medal in target shooting, which she says 'felt amazing as I was the only one in the team!'
Annabelle's advice for new and current students is to 'Do things that are out of your comfort zone because the skills and experiences you develop may just be the thing that your employer is looking for. Take all of the opportunities you can. I thought I was going to be an athlete forever, then I discovered coaching. I am very lucky that my first "proper" job is something that I absolutely love but I am still able to continue coaching. This summer I am helping coach a target shooting national team in the biggest junior, under 21, competition in the country.'
All this support and the opportunities that the University provided helped me to build the skills and confidence I needed to be truly successful in my job today.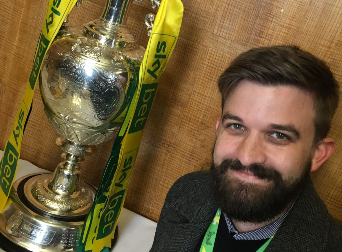 Alumni Stories
Gavin Beard
Meet Gavin Beard who has taken his love for sports into industry. Since graduating he has worked his way up the career ladder and is now the Head of Marketing for Norwich Football Club.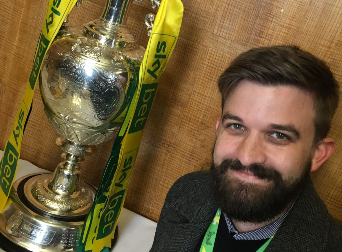 More than a degree
Gavin graduated from the University of Hertfordshire with more than a degree; his university experience helped him to gain valuable insight to several disciplines and allowed him to narrow down his career choices.
He says, 'My degree allowed me to study various disciplines, including coaching, science and business. Having exposure to these different areas helped me understand what I favoured, and it was clear that business (and in particular, marketing) was an area I felt I could forge a career in.'
After successfully completing his degree Gavin began moving up the career ladder, working at many well respected companies such as Coral, BT Sport and currently Norwich City Football Club. Gavin puts a lot of his success down to the degree he studied and the support provided by the university.
He comments, 'The variety of modules and the exposure to different disciplines within my course were extremely useful. This was crucial in helping me determine my path. After year one, I knew I liked marketing, so I worked with the ERASMUS team to find a pathway to help me study this abroad. I then studied business in Valencia for a year and it was an experience I'll never forget.'
Aspirations for the future
Gavin is still really enjoying his career in leading the Marketing team at Norwich City Football Club. He says, 'It's an incredibly varied role; one day I could be leading the campaign to promote the new kit, the next it'll be marketing the Take That gig at Carrow Road!'
Gavin is hopeful for the future and says 'Given my experience, my future roles will continue to be in marketing, hopefully I will help Norwich to become an established Premier League team. Then who knows!'
After year one, I knew I liked marketing, so I worked with the ERASMUS team to find a pathway to help me study this abroad. I then studied business in Valencia for a year and it was an experience I'll never forget.
What's next for my career?

Graduates are equipped for careers in sports management for example event management, sports administration, leisure centre leadership, private sector sport and leisure and operating their own business models in the area of sport. Sports graduates may also transfer into related sector graduate schemes within business or local government. Our students are also well equipped for postgraduate study.

After your course, you'll be well equipped for careers in sports management including event management, sports administration and leisure centre leadership, working for private sector sports businesses or developing your own sport-based business model. You could also study at postgraduate level or join a graduate scheme, either in the public or private sector.

View our Alumni profiles

Further information - includes assessment method

How to apply?

Fees and funding

Fees 2021

UK Students

Full time

£9250 for the 2021/2022 academic year

Part time

£1155 per 15 credits for the 2021/2022 academic year

EU Students

Full time

£13450 for the 2021/2022 academic year

Part time

£1680 per 15 credits for the 2021/2022 academic year

International Students

Full time

£13450 for the 2021/2022 academic year

Part time

£1680 per 15 credits for the 2021/2022 academic year

*Tuition fees are charged annually. The fees quoted above are for the specified year(s) only. Fees may be higher in future years, for both new and continuing students. Please see the University's Fees and Finance Policy (and in particular the section headed "When tuition fees change"), for further information about when and by how much the University may increase its fees for future years.

View detailed information about tuition fees

Read more about additional fees in the course fact sheet

Other financial support

Find out more about other financial support available to UK and EU students

Living costs / accommodation

The University of Hertfordshire offers a great choice of student accommodation, on campus or nearby in the local area, to suit every student budget.
Please note that some of the images and videos on our course pages may have been taken before social distancing rules in the UK came into force.