BSc (Hons) Paramedic Science
NHS Learning Support Fund
Training grants of at least £5,000 a year are available for eligible healthcare students which you will not have to pay back.
You may also be eligible for an additional £2,000 towards childcare costs to help balance your studies with family life and £3,000 for students who find themselves in unforeseen financial hardship.
Find out more
Key information

Entry requirements

| UCAS points | A Level | BTEC |
| --- | --- | --- |
| 120-128 | BBB-ABB - B in a Natural Science subject (Biology, Human Biology, Chemistry, Applied Science or Physics) | DDM - Must achieve DDM in Applied Science. Other science BTECs will be considered (e.g. sports & exercise science). BTEC National Extended Diploma in Health and Social Care will be considered if the student is taking the 'Health Studies' route, and is taking a minimum of 3 out of the following Optional units: Scientific Techniques for Health Science, Microbiology for Health Science, Medical Physics Applications in the Health Sector, Genetics, Biomedical Science or Biochemistry for Health. |

Additional requirements

GCSE: Grade 4/C in English Language, Mathematics and Science.

International Baccalaureate Diploma: 120-128 points to include a minimum of 2 HL subjects at grade 5, one of which must be a natural science. Remaining points to come from a combination of HL, SL and Core subjects.

Access to Higher Education Diploma: Must be in science or medicine/nursing/allied health subject. 120-128 points from 45 credits at Level 3.

Other qualifications: Graduates with a minimum of 2:2 (lower second class) in an undergraduate degree in a science or healthcare subject will be considered. Note: Applicants who already have a HE qualification will not be eligible for a Student Loan for Paramedic Science. Healthcare professionals with relevant qualifications and experience will be considered on an individual basis. We will consider applicants who have undertaken Open University modules / courses in science subjects.

All students from non-majority English speaking countries require proof of English language proficiency, equivalent to an overall IELTS score of 7.0 with no less than 6.5 in any one band.

If you do not have the required IELTS or equivalent for direct entry on to your degree programme, our Pre-sessional English and International Foundation courses can help you to achieve this level.

For more details on the University of Hertfordshire's entry requirements, please visit our Undergraduate Entry Requirements page.

Find out more about International Entry Requirements.

The University of Hertfordshire is committed to welcoming students with a wide range of qualifications and levels of experience. The entry requirements listed on the course pages provide a guide to the minimum level of qualifications needed to study each course. However, we have a flexible approach to admissions and each application will be considered on an individual basis.

Professional accreditations

Eligibility to apply for registration with the Health and Care Professions Council as a qualified Paramedic, enhancing your employability.

This BSc (Hons) Paramedic Science course is endorsed by the College of Paramedics.

Throughout the programme some study is undertaken with other undergraduate health care professionals, which develops your understanding of common areas of health care delivery.

Sign up for alerts

Get access to personalised content, tailored towards your interests:

Information on your favourite courses
Tips to help you through the application process
Blogs, vlogs and advice from current students
Why choose this course?
no. 1 in the UK for Paramedic Science (2023 Guardian League Table)
Placements with East of England or London Ambulance Service
Learn from experienced paramedic lecturers and develop your skills in our simulation facilities
Are you caring and resilient? Do you have good communications skills and the ability to make decisions while remaining calm? If the answer is yes, you could be the first point of contact for people when they are at their most vulnerable, and Paramedic Science may just be the right course for you.
Our course leads to eligibility to apply for registration with the Health and Care Professions Council (HCPC) straight after graduation. That means that as soon as you leave us, you'll be fully qualified as a paramedic. As a result, 100% of Herts Paramedic Science graduates are in employment or further study 15 months after graduating from their 1st degree (Source: Graduate Outcomes Survey 2018-19), and 100% of students were satisfied overall with their course in the 2021 National Student Survey (NSS).
Many of our students go on to undertake further study, becoming specialist or advanced paramedics, or progress to senior positions within the NHS. Our former students are also very active in the professional body, the College of Paramedics and have helped to further the paramedic profession. By studying at Herts, you will be part of a world-wide family of alumni, who are caring for patients every day of the year.
During your course, you will do placements with either the London Ambulance Service NHS Trust (LAS) or the East of England Ambulance Service NHS Trust (EEAST). When you're not on placement, you will practise in our simulation areas. We use innovative technologies to provide an immersive experience, where you can develop and enhance your clinical and communication skills.
What are the facilities like?
You'll benefit from specialist facilities within the Wright Building on College Lane, which include clinical skills laboratories and simulation areas. You will have access to a wide range of equipment that will prepare you for your clinical placement. This includes models to help you understand the relevant clinical anatomy; 'part-task' trainers to practice skills such as intravenous access and airway management; and high-fidelity manikins that simulate abnormal physiologies. Our lecturing and technical staff will set up simulated scenarios for you to manage, in a range of environments, including our Simulation Ambulance. These can be captured on high-definition video cameras for de-briefing and feedback to develop your learning.
What's the course about?
In your first year, you'll learn about human anatomy and physiology. You will explore what makes up the human body and how everything functions within it. You'll be introduced to behavioural and social issues that you might encounter when working, as well as how to assess and manage all types of accidents and illnesses. That's the theory side of things. As practical experience is so important, you'll be out on placement from your first year of study. This placement is aimed at getting you used to the clinical environment and to develop excellent communication skills.
In your second year, you will learn more about patient assessment. By now you will already know what a normal healthy body looks like. In this year, you will learn what can go wrong, how to identify it and most importantly, what to do about it. You will work in clinical settings under the supervision of fully qualified health professionals. You'll study the latest research and evidence, to ensure your practice is in line with the most recent developments in the field. You will also learn about the legal and ethical considerations of the profession.
In your third year you will delve deeper into the foundations of level 4 and 5. You'll learn about clinical pharmacology, which combines bioscience and pathophysiological knowledge – or in plain English, the knowledge of physical processes that occur with disease or injury. This year emphasises ethical practice, taking all factors into consideration. You'll learn to reflect on the effects of your choices on the patients and their loved ones. And of course, more placements until you are ready to go out on your own.
Your main campus is College Lane
This is where the creative arts, science and health-related subjects are based. This means you'll share the campus with future nurses, scientists, artists and more. You can use the common rooms to relax with friends, work out in the 24-hour gym or have a drink in our on-campus pub or cafes. We also have restaurants for you to eat in or grab something on the go. Our Learning Resources Centres are open 24/7, which means you can study whenever suits you best. Want to pop over to the other campus? You can take the free shuttle bus or walk there in just 15 minutes.  
What will I study?
Degree programmes are structured into levels, 4, 5 and 6.  These correspond to your first, second and third/final year of study.  Below you can see what modules you'll be studying in each. 
Level 4

Level 5

Level 6

Work placement

Throughout your BSc (Hons) Paramedic Science degree, practice placements will be interspersed giving you the all important valuable work experience you need on graduation. Placements will give you the opportunity to link theoretical knowledge you gain via lectures and seminars with your practical experiences, providing you with a complete understanding and application of patient care practices. This strongly enhances your employability skills.

What if I need support?

You'll get a personal tutor to guide you through your course, all the way to graduation. You might also want or need extra support during your time with us. Rest assured, no matter what you study, we've got you covered. For help with study skills, including referencing, essay writing and presentations, you'll have access to our academic support services. You can attend workshops, 1-to-1 sessions and online tutorials. Both our LRCs run drop-in study skills sessions. And the best thing is, it's all free.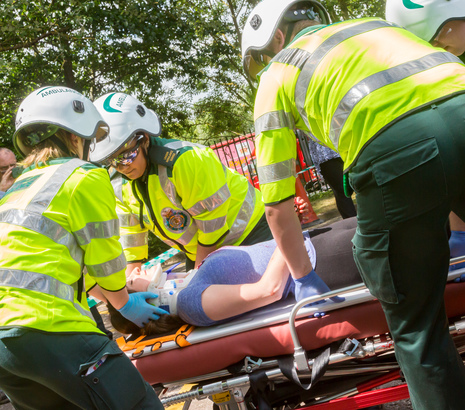 Student Blogs
Cameron - Week at a glance
Week at a glance
Once upon a time, before this current pandemic, there was such thing as a "normal week" at university. As hard is it may be, it is important to cast out minds back to such times. I hope my account of one such week is good to reminisce over and hopefully give you some insight into what kind of a lifestyle you can look forward to.
My weeks would normally start busy, with Monday and Tuesday being mainly full of lectures. Usually, my spare time in the day would be used to run home and grab some food, before running back across the town to get to the next lecture. In the evenings, I would go to the climbing club on Monday and St Johns on Tuesday. These are a good way to relax after long days of lectures.
Wednesdays are quite good, in the way that half the day is taken up with sports. The first half of the day was usually a lecture, then I would go to the climbing club then usually to the pub afterwards with a few friends.
Thursdays always a day for practical sessions, which are the best lectures we have. Its where you get to try out procedures and examination techniques you learned earlier in the week, which I think every student Health Care Professionals (HCPs) will agree is the main reason they are on the course, to begin with. The rest of the day I would usually spend in the library writing essays and reading around the topics covered earlier in the week, as well as dealing with any smaller admin tasks, such as meetings with lecturers.
Fridays there weren't usually any lectures, so the day was mainly taken up with working on course content from home, so a mix of going over covered content, finding new content or writing essays.
Saturday and Sunday were free time and that's something I don't think people generally consider with the university. There are copious amounts of free time with no one telling you what to do. Coming straight from college to that is a frightening concept, having no real accountability except to yourself for vast amounts of the week. It's not just weekends, but all the time you're not in lectures, there's no one forcing you to do anything specific.
Self-motivation is key here, so I would always try to push myself into doing something at least somewhat productive. One thing I tried to do as much as I could be pick up hours of work or volunteering. I also tried to refine my cooking in terms of taste and price (You would be amazed how cheap you can make good food for with a bit of practice). I'd also exercise as much as possible at the climbing wall, trying to go an extra three times a week on top of the two normal sessions. There's also the obvious part of doing as much self-lead study as possible, aiming for the best grades I could.
And even when I wasn't being productive, that's ok. No one can be going 100% all the time because that's how you burn out and then you stop being productive, which is just working against yourself. Relaxation is just as key to success as hard work. I'd relax by doing stuff with friends, calling friends and family and spending time on my computer and watching Netflix.
Whilst my week is undoubtedly different to others, I hope it's a useful insight into a student paramedic life (While not on placement, that's a WHOLE different world). I'm sure everyone has their own way of doing stuff but that's my take on a week.
University is unlike any other time in your life. There are so many cultures all around you, both internationally and localised to courses; lifestyles ranging from those with courses in Science Technology Engineering and Mathematics (STEM), healthcare and the arts. It's an experience I wholeheartedly recommend because you learn to take care of yourself, grow in maturity and independence while gaining an unparalleled view of the world.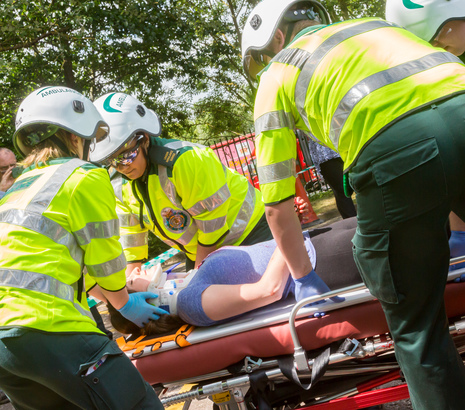 Student Blogs
Cameron - Things you should know
Things you need to know before studying Paramedic Science at Herts
Anyone applying to this course, as with most healthcare professional courses, is very much aware of the career they are looking to start, which is a blessing of sorts. These are just a few things I think people should know whilst consider a career as a health care professional.
Since its recognition as a profession in the 1990s, to the "Paramedic Evidence Based Education Project" in 2013, it has become more obvious that paramedics are moving rapidly into being an evidence-based healthcare profession. This means that our practice is constantly changing as evidence finds more effective practices or removes less-effective practices. Gone are the days of "scoop and shoot," and here are the days of treating patients, leaving the ambulance services and being a key part of emergency medicine. When I started this degree, I didn't understand the true nature of the role as I do now. It's far more complicated than I first thought, and it is more obvious than ever that a degree is what is needed to understand the profession as it changes.
Another thing that needs considering is the range of careers available. In times gone by, paramedics just worked on ambulances. Now, you can find them in all corners of healthcare, ranging from GP surgeries to A+E, to oil rigs and cruise ships. #notallparamedicsweargreen was started to highlight this, and I highly encourage all interested in this course to look it up.
The course itself is a strange beast unto itself. The two main theoretical components are the science elements and patient assessment and management. Whilst the other aspects of the course can feel a little bit less relevant, you realise their usefulness in practice very quickly. Whilst elements of law may feel distant, when you are faced with complex medico-legal situations, you will thank the lucky stars you paid attention in that lecture.
Another aspect of the course to consider is your time learning. Unlike in some courses, everything you learn you will have to put into practice soon, so it's well worth your time learning both the general paramedic theory, as well as trust specific protocols for placement. Knowing these makes you far more useful to the crew your put with on placement.
A final misconception I personally had before I personally had was that the medical knowledge wouldn't be as advanced as it is. What we cover is quite advanced medical concepts, more so than I had expected, so be prepared for the science to get intense, very quickly.
Another beast is placement. Placement is the best part of the year by all measures. Its where you practice all the elements you have learned in theory and have the single best look into your future career. That doesn't mean it's not a challenging time though. Firstly, the logistics of getting to stations 20 miles away at 06:00 in the morning is hard on its own, especially if you don't have your own transportation. Secondly, you are fully exposed to whatever the crew goes to. Car crashes, stabbings, mental health patients, you see it all. Thankfully, serious jobs aren't an everyday occurrence for most, but they do happen. There's nothing stopping you going to deceased patients in your first week. Thankfully, there is so much support, both from the trust and the university, as well as your mentors. Finally, placement is exhausting after a while. 12-hour shifts at odd times, night shifts, a constant inflow of patients. There's no getting around the fact you are under a lot of stress over the course of the month.
There is a lot of stuff about the course and placement that I wish I could tell you about, but then this wouldn't be a blog, rather a book. At the end of the day, paramedic science and the career it leads you to is at times tough but highly rewarding.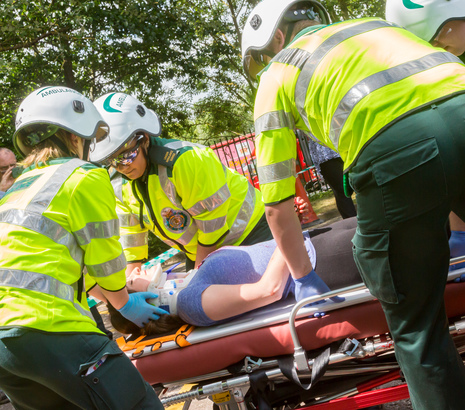 Student Blogs
Cameron - Typical day on Placement
A typical day on placement: Paramedic Science
The placement by far is the best part of any health course. It's a look into the career you work so hard to achieve. This is a look into a 12-hour shift I undertook, starting at 06:00.
I wake up at 04:30, make some breakfast and put my food for the day in my bag then set off. I aim to set off at about 05:00. About 30 to 45 minutes later, I arrive at the station. The first thing I do is make a pot of coffee, sort out my bags and equipment then go to the ambulance. I then check the ambulance to make sure everything is working mechanically and make sure that we have all the equipment we need. Usually, my crew have arrived by now, taken out the medication and helped load equipment onto the ambulance. We aim to be ready to start by 06:10.
We normally get the first job once we become available. The jobs that we usually receive range from chest pains to minor injuries, to falls and social emergencies. When people say that the ambulance goes to everything and anything, it's an understatement. You meet hundreds of different people with different ways of life, different views on the world and interesting life stories. Some people are having a minor emergency, where things work slower and more calmly and some are having a major emergency, where quick decisions make all the difference to someone's outcome. Some patients you can leave at home with advice or you may refer some to their GP. Each job is different and can have wildly different outcomes.
With each patient, you get a lot of power to do assessments and make decisions. Generally, you make most of the decisions and treatment plans and procedures within your scope. There is, however, a slight caveat. Much like a rollercoaster gives you the feeling of danger while you are relatively safe, your mentor is watching everything you do, and will overrule any decision you make if it goes against their plan of action. It's a strange sense of freedom and safety. A good mentor will give you enough room to make mistakes, but not enough to cause harm by doing so.
The amount of responsibilities you have in each ambulance varies by the crew. Some will ask you to do all the monitoring, some will ask you to attend each patient (attending a patient is taking the responsibility for the outcome and doing the paperwork). It varies by who you work with at any given time.
An average day will have five to seven patients, each with varying levels of sickness. The days are long but go by quickly as you are always busy. Breaks are a rarity on ambulances, you eat your food on the way to patients. Although the average "job time" is an hour and a half, it can be much longer depending on the situation. I think my personal longest is five to six hours, although there are others with much longer times.
At the end of the day, you return to the station, empty out the truck and go home. It's quite a quick process depending on how much you have. Once back home I make food for the next day, defrost some dinner I made earlier in the week, eat, shower, sleep and repeat.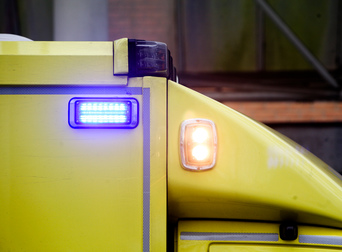 Alumni Stories
Khan Asghar Iqbal
Meet Khan Asghar Iqbal who is saving lives everyday as a Newly Qualified Paramedic (NQP). He is currently working for the Welsh Ambulance Service Trust.
Read more stories
Find out more about this course
A unique degree and experience
Khan says his ambition to work in London and move out of his hometown in Cardiff was a key factor in choosing to study at the University of Hertfordshire. However, his course also provided a unique combination of theoretical and practical study which Khan says, 'prepared me to put my knowledge into practice while out on placement each term. The course also gave me a glimpse of future opportunities for paramedics such as teaching, management and advanced practice.'
The vocational nature of the degree enabled him to transition smoothly into his chosen career providing him with the essential professional skills and hands on experience he required to excel as a paramedic. He says, 'The course gives you the knowledge to make lifesaving decisions but also gives you more advanced knowledge regarding complicated conditions and the various medicines that come with each patient.'
Khan speaks fondly of his time at the University and says, 'I truly miss everyone I became friends with on my degree. Some of the nights out in the Forum were the best I've ever had and they will be everlasting memories, with friends both on and off of my course. I really came out of my shell and comfort zone and it has made me into the confident and outgoing person I am today.'
Get your dream job
Khan says that being a paramedic is the 'best job in the World' and, although he has just started his career, he hopes to go onto postgraduate study and experience new cultures by travelling.
What's next for my career?

100% of Herts Paramedic Science graduates are in employment or further study 15 months after graduating from their 1st degree (Source: Graduate Outcomes Survey 2018-19).

Upon graduation you'll be eligible to register as a paramedic with the Health and Care Professions Council. Most of our graduates take up positions as Newly Qualified Paramedics within an NHS Ambulance Service where you will receive a period of preceptorship. However, there are also employment opportunities with other NHS Trusts and the private sector. With suitable experience you can go on to specialise in urgent or critical care, research, management or education. You can also consider postgraduate study at masters or doctoral level.

View our Alumni profiles

Further information - includes assessment method

| Course fact sheets | |
| --- | --- |
| BSc (Hons) Paramedic Science | Download |

| Programme specifications | |
| --- | --- |
| BSc (Hons) Paramedic Science | Download |
| BSc (Hons) Paramedic Science | Download |

| Additional information | |
| --- | --- |
| Sandwich placement or study abroad year | n/a |
| Applications open to international and EU students | Yes |
| Course length | Full Time, 3 Years |
| Location | University of Hertfordshire, Hatfield |

How to apply?

Interview

As part of the application process, you will be required to have a face-to-face interview. This will help us decide about your suitability for becoming a student paramedic. If you are invited to interview, you need to be prepared to show us you have the potential to become a successful student. We will be assessing how you meet the Values of the NHS Constitution; your insight into the paramedic profession; and your commitment to becoming a paramedic student.

Fees and funding

Fees 2022

UK Students

Part time

£1155 per 15 credits for the 2022/2023 academic year

EU Students

Part time

£1750 per 15 credits for the 2022/2023 academic year

International Students

Part time

£1750 per 15 credits for the 2022/2023 academic year

Fees 2023

UK Students

Full time

£9250 for the 2023/2024 academic year

Part time

£1155 per 15 credits for the 2023/2024 academic year

EU Students

Full time

£14750 for the 2023/2024 academic year

Part time

£1845 per 15 credits for the 2023/2024 academic year

International Students

Full time

£14750 for the 2023/2024 academic year

Part time

£1845 per 15 credits for the 2023/2024 academic year

Our international fees include the cost of practice placements, occupational health, Disclosure and Baring Service(DBS) check, and uniform.

Students studying on nursing, midwifery or allied health professional courses funded by Health Education England will have access to the same student loans support package and support for living costs as other students.

You could also benefit from the NHS learning support fund if you study an eligible nursing, midwifery, or allied health course. If eligible, the different kinds of support you could get include a training grant, parental support, money back for travel and temporary accommodation whilst on placement, and financial hardship (which you won't need to pay back).

For more detailed information on the scholarships and/or bursaries available, please visit our fees and funding page and the NHS learning support fund website.

Compulsory

Placement travel (average) depends where accommodation is situated £400

Optional

Student membership of College of Paramedics £30

*Tuition fees are charged annually. The fees quoted above are for the specified year(s) only. Fees may be higher in future years, for both new and continuing students. Please see the University's Fees and Finance Policy (and in particular the section headed "When tuition fees change"), for further information about when and by how much the University may increase its fees for future years.

View detailed information about tuition fees

Read more about additional fees in the course fact sheet

Scholarships

Find out more about scholarships for UK/EU and international students

Other financial support

Find out more about other financial support available to UK and EU students

Living costs / accommodation

The University of Hertfordshire offers a great choice of student accommodation, on campus or nearby in the local area, to suit every student budget.