BSc (Hons) Music and Sound Design Technology
Entry requirements

Clearing entry requirements

We're committed to welcoming students with a wide range of qualifications and levels of experience. Over Clearing, we'll be taking a flexible approach so if you don't have the advertised grades, you can submit a clearing application and we'll review and consider your application on an individual basis.

| UCAS points | A Level | BTEC | Access Course Tariff | IB requirements |
| --- | --- | --- | --- | --- |
| 112-120 | BBC-BBB | DMM-DDM | Diploma with 45 level 3 credits at merit | 112-120 points from a minimum of 2 HL subjects at H4 or above (with the remaining points to come from a combination of HL, SL and Core) |

Additional requirements

Previous experience: Formal or informal qualification or experience in music

All students from non-majority English speaking countries require proof of English language proficiency, equivalent to an overall IELTS score of 6.0 with a minimum of 5.5 in each band.

If you do not have the required IELTS or equivalent for direct entry on to your degree programme, our Pre-sessional English and International Foundation courses can help you to achieve this level.

For more details on the University of Hertfordshire's entry requirements, please visit our Undergraduate Entry Requirements page.

Find out more about International Entry Requirements.

| UCAS points | A Level | BTEC | Access Course Tariff | IB requirements |
| --- | --- | --- | --- | --- |
| 112-120 | BBC-BBB | DMM-DDM | Diploma with 45 level 3 credits at merit | 112-120 points from a minimum of 2 HL subjects at H4 or above (with the remaining points to come from a combination of HL, SL and Core) |

Additional requirements

Previous experience: Formal or informal qualification or experience in music

All students from non-majority English speaking countries require proof of English language proficiency, equivalent to an overall IELTS score of 6.0 with a minimum of 5.5 in each band.

If you do not have the required IELTS or equivalent for direct entry on to your degree programme, our Pre-sessional English and International Foundation courses can help you to achieve this level.

For more details on the University of Hertfordshire's entry requirements, please visit our Undergraduate Entry Requirements page.

Find out more about International Entry Requirements.

Professional accreditations

Member of the UK Music Academic Partnership (MAP)

Sign up for more information

Get access to personalised content, tailored towards your interests:

Information on your favourite courses
Tips to help you through the application process
Blogs, vlogs and advice from current students

Why choose this course?

Accredited by JAMES, who represent many industry bodies
Student Satisfaction above 93% for the last five years (NSS)
Professional grade recording studios, hosting AMS Neve consoles

Our programme is Accredited by JAMES, who represent the Association of Professional Recording Services (APRS), the Music Producers Guild (MPG) and Associate Industry Bodies.
Develop excellent technical skills over the course of your degree, and benefit from our professional grade studios, edit and listening rooms, and sound resources including those by AMS Neve, SSL, Avid, Focusrite, PMC, Adam, Genelec, Neumann, TLA, Lexicon and Drawmer to name but a few.
Develop excellent technical skills over the course of your degree
As a student studying on a degree award within the overarching Music and Sound Technology programme, you will also benefit from access to our other fantastic resources including our high-quality live sound and lighting teaching rig which hosts equipment from d&b Audiotechnik, DiGiCo, Midas, Sennheiser, Avolites, Robe, Clay Paky, Showtec, Capture, Resolume and more.
Excellent industry input is built into the design of the degree awards from a huge number of areas within the wider music industry.
The degree awards within the programme are designed to expose you to areas of music, sound and audio technology that you might not even know exist yet.  "Coming to this course has really given my brain the kick-start it needed, and I'm beginning to see near endless possibilities with where I can go." - Glenn Osborn, second year student.
We have a strong record of students from the programme securing placement years between years 2 and 3 of their studies.  Placement destinations include Focusrite, Sound Technology (a leading distributor of high profile brands for the Music Retail and Professional Audio industries), The Famous Company, and a number of recording studios.
Every year, organisations and companies approach us to recommend our graduating students.
Music business is woven into your degree study at every year giving you the skills to slot into the music industry (or create your own business).

What's the course about?

The BSc (Hons) Music and Sound Design Technology course is designed for students who wish to interrogate music and media through music, sound design and immersive audio applications.  Focus is placed on sound and music as a component of multimedia, including the world of sound design as a creative process.   Students create and work on a range of media focused projects including moving image, game audio and voice over production as well as determining how sound can be delivered within both multi-speaker environments and 'virtual' spaces. 

Core modules studied alongside music and sound design technology practice modules develop students' techniques and approaches using a range of sound technologies, as well as fostering professional and industrial contextual immersion and awareness, and experience with specialisms within connected music and sound related fields.

BSc (Hons) Music and Sound Design Technology sits within the overarching Music & Sound Technology Programme.  There are four-degree awards within this programme: BSc (Hons) Music Production, BSc (Hons) Music and Sound Design Technology, BSc (Hons) Audio Recording and Production, and BSc (Hons) Live Sound and Lighting Technology. 

All courses share the same ethos, and you'll have opportunities to work alongside our music composition students too, ensuring you benefit from teaching and experiences within a large community of musicians, composers, technologists and performers.

Within the wider school of creative arts at UH, there are opportunities to collaborate with students from other creative areas, including animation and film and TV, allowing you to network with a broad range of creative industries.

Year 1

Within the core modules, you'll gain a solid grounding on a number of major DAW packages, as well as develop your creative and technical skills in mixing and effects processing, studio work and making your own virtual instruments. In order to develop your technical knowledge of connected audio specialisms, you'll investigate acoustics, psychoacoustics, audio and Midi protocols and a number of sound projection systems whilst also using lab time to develop an understanding of audio electronics through building your own synthesizer for your own creative output. Music Business is also introduced where you'll investigate various music business modules and contexts that connect what you are studying to the music industry.

In addition to the core modules, music and sound design technology students also investigate sound and its use in enhancing moving image such as in film, TV, the web and games. Areas including synchronisation, matching screen placement and movement are covered, and students are introduced to the creative recording of source audio for re-purposing as Foley. Sonic branding techniques and story-telling aspects are also investigated.

Year 2

In year 2 much focus is placed on developing your critical ear, and getting your music out there, with detailed work on developing both mixing and mastering techniques, and approaches to digital distribution and delivery. In addition, students continue to develop their deep understanding of microphones and sound signal routing, including network-based systems using our state of the art Rednet enabled facilities. You will continue to hone your studio practice and understanding of the wider music industry. 

As a music and sound design technology student, this goes hand in hand with dedicated taught areas to further develop your skills in re-dubbing, more advanced and intricate sync and sound design work, and extended techniques for processing found and sourced sound as well as deep immersion in the possibilities for surround and multi-channel audio work.

Year 3

By year 3, the vast majority of our students have already formed a number of professional connections, and students are able to make use of these and reflect on their approaches within a dedicated field project. In addition, there is the final major project which under the supervision of a dedicated tutor allows you to specialize in your chosen area which could be for example album recording and production, software / hardware development, an experiment, or dissertation-based study.

Drawing on the programmes' industry accreditation links, students also engage with an externally defined industry brief within the area of (or relating to) music and sound design technology. This topic is delivered and supported by sessions from a range of academic staff in addition to bespoke sessions from industry professionals who feed in external expertise. Spatial / immersive audio, virtual reality sound and game audio are also explored in depth.

Guest Speakers

Key industry professionals regularly visit us to speak to our students. Recent Guest Speakers Include:

Dan Lancaster (Music Producer)
Olga Fitzroy (Recording Engineer)
Isabel Gracefield Grundy (Sound writer, mixing engineer and producer)
Marta Salogni (Producer, Mixer, Engineer)
Steph Marziano (Writer, Producer, Mixer)
George Shilling (Mixing & Mastering Engineer, Cellist and Studio Owner)
Matt Ingram (Drummer, Producer and Engineer from London, and Co-Founder of Urchin Studios)
Alan Branch (Grammy Award winning Engineer, Producer, Writer and Musician)
Gareth Jones (Huge modular analogue synth enthusiast, who has worked with a huge selection of artists, including making 5 LPs with Depeche Mode, and another 5 with Erasure)
Mike Warriner (Commercial Director at Focusrite)
Dan Cox  (Award winning sound engineer, mixer and producer, and an executive Director of the Music Producer's Guild)
Bernard O'Reilly (Sound designer, sound effects editor and FX recordist)
Neil Coomber (mixer, producer and engineer)                
Nick Watson (Mastering Engineer - Fluid Mastering)
Richard Pryke (sound engineer / re-recording engineer - best known for his Academy Award for Best Sound for the film Slumdog Millionaire)
Tony Platt (Audio Engineer)
Phill Brown (Sound Engineer, Producer - worked with Bob Marley, Jimi Hendrix, Dido, to name but a few)
Alistair Meachin (Acoustics, Audio & AV Consultant – Harmonia Consulting Ltd).

This course is part of the music department in the School of Creative Arts, and a wide range of undergraduate music degrees are on offer.

Check out our facilities

Music students at the University of Hertfordshire have access to a stunning array of well-maintained resources and facilities aligned to industry standards, including recording studios, performance spaces, critical listening spaces, high-spec computing labs and a loan store offering a range of free-to-use equipment.

Find out more about our music facilities here.

Your main campus is College Lane  

This is where the creative arts, science and health-related subjects are based. This means you'll share the campus with future nurses, scientists, artists and more. You can use the common rooms to relax with friends, work out in the 24-hour gym or have a drink in our on-campus pub or cafes. We also have restaurants for you to eat in or grab something on the go. Our Learning Resources Centres are open 24/7, which means you can study whenever suits you best. Want to pop over to the other campus? You can take the free shuttle bus or walk there in just 15 minutes.   

What will I study?

Degree programmes are structured into levels, 4, 5 and 6.  These correspond to your first, second and third/final year of study.  Below you can see what modules you'll be studying in each.  
Check out our student blogs
Student Blogs
Jake F - My week at a Glance
My Week at a glance
Week at a glance – Hi! I'm Jake, I recently completed the final projects of my degree in Music and Sound Design Technology and in this blog, I will give you an overview of a typical week in my third and final year at Herts. My average third-year week would usually include two days of lectures, one or two shifts at work and the rest of the week spent working on assignments and socialising with friends.
I only had two days a week of lectures in my final year which meant I could be very flexible with how I spent my time. I would always attend all my lectures and typically spend another two to three hours working on assignments on these days during the evenings. The rest of the week I would usually aim to work six hours, but this varied as I had other commitments. It is not necessary to work six hours per day but as I am aiming for a first-class grade, this was enough for me to learn and practise everything I needed too without overworking myself.
During my final year, I worked at the Forum at UH (University of Hertfordshire) as a live sound and lighting technician, something I really enjoyed doing as it was the first time working in a job related to my sound engineering course. Usually, I would work two shifts a week, Wednesday night and Friday evening which worked out at around 12 – 15 hours a week, sometimes it was more and sometimes less. The fact the shifts were in the evening and at night was good as it allowed me to focus on my assignments during the day, but club nights would see me often working till 04:00 or later which did leave me tired the next day but this was part of the job and it was a great experience overall.
It was especially important that I put aside time for myself to relax and socialize with friends and to take time out of all the work I was doing. I and a friend from my course got into a routine of playing table tennis each night to get some light exercise and to take a break from the assignments. In the final year can be stressful sometimes, so it is particularly important to look after yourself by exercising, eating healthily (and enough!) and spending time with friends or relaxing by yourself
I think being at Uni is about finding the right balance of work and fun that works for you, it is a wonderful way to practise self-discipline and time management and you will learn a lot about yourself.
Student Blogs
Jake F - Guide to the facilities
Subject Facilities
As a sound engineering student, you have access to everything you need to prepare you for working in the industry. It is a very practical subject so having the right equipment, software, and hardware, is vital for getting the hands-on experience you need. Most of my work was done in the FMM, Film Music & Media building which has computer labs with all the latest programs, surround sound 'satellite' rooms, an acoustically treated room for film sound, and many other musical spaces and practise rooms. You also have access to the Art and Design buildings where you will find fully kitted out music studios with performing and recording rooms with the latest mixing desks and computers, a Foley studio which I used a lot for films, and the loan store. The loan store allows you to borrow equipment such as microphones, musical instruments and other equipment like video cameras and accessories.
Having access to these spaces was vital as part of my learning experience as there is no substitute for hands-on learning but Herts gave me everything, I needed to ensure I am prepared to start work or go onto further education.
I also had some lectures in the Forum where I learned about live sound and acoustics. I had the privilege to work at the Forum which gave me an even more extensive knowledge of live sound setups. The facilities at the Forum are incredible and working with such a high standard of equipment was always exciting. There are two music rooms in the Forum, the main auditorium which is a large capacity club room with a full lighting rig and a custom sound setup. There is also the attic which is a smaller venue which hosts Herts Jam which is a student-run music event held three times a year. The Forum has seen some big artists and bands play there, such as Enter Shikari and even the music video for Ed Sheeran's Lego House was filmed there.
As well as the specialist spaces, you have everything you would expect as a student like lecture halls and access to the library on campus where you can borrow books and magazines and use computers and printers. You also have access to the online library to check if they have a book and if it is available.
UH (University of Hertfordshire) exceeded my expectations of professional equipment and facilities and I would highly recommend anyone looking to study music technology or sound engineering to consider Herts. Despite graduating during the Covid-19 outbreak and it being a strange time, I feel prepared for my future, whenever and wherever that may be!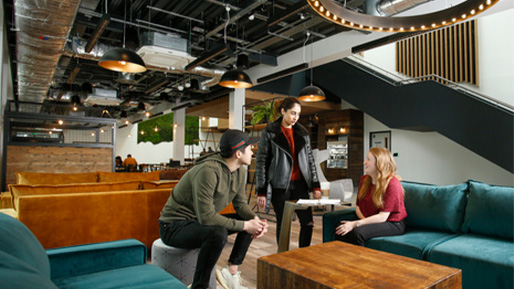 Student Blogs
Jake F- Why I chose Herts
Why I chose Herts
When I attended the open day and had the subject talk, Herts was able to relay confidence in their teaching abilities and the course itself, that other universities I visited were not able to do. They really sounded like they knew their stuff, and this was backed up by statistics in student satisfaction and almost 100% of students being in further education or work within six months of graduating. The course itself also sounded more suited to me as it was a mix of creative and technical teaching compared to some universities being much more technical and less practical and creative.
The facilities were impressive, and I could picture myself working in the labs and studios as we were shown around. I had never accessed any sound equipment before I had gone to university so seeing these facilities up close was a very motivating experience.
The course lived up to my expectations and I really enjoyed being taught there. The staff were very friendly and incredibly knowledgeable in their respective fields of work and I can't see how it could have been improved.
I also felt that I could imagine myself at Herts much more than the other universities I visited. This may have been due to it being a campus university where most of the University is based on one campus. This made it seem like a true community and a busy, bustling place full of young people like me. The campus itself was very appealing due to the modern accommodation facilities and other stylish buildings and spaces. The College Lane Campus has a very homely and connected feel due to the Oval building which sits surrounded by accommodation blocks. It, therefore, gave the impression of being very social which was appealing as I was overly excited about meeting many friends during my time there.
Another reason I chose Herts is its proximity to London. I love cities, especially London, and being so close was massively appealing to me. It was only 20 minutes on the train, and I took opportunities to travel there when I could, meeting family and friends and working in the city centre on some occasions. It also meant travelling home was easy as I could get a direct train to Manchester from London.
Going to a university far from my home was not an issue for me, if anything, it was more appealing as I like to experience living in different areas. It can be daunting moving far from your family, but you will meet so many people very quickly and soon, the university will feel like your home.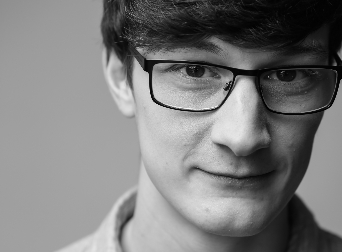 Alumni Stories
Matthew Mainprize
Meet Matthew Mainprize who has worked on exciting projects like Jurassic World: Evolution since graduating. He is currently working as an Audio Designer at Frontier Developments.
Read more stories
Find out more about this course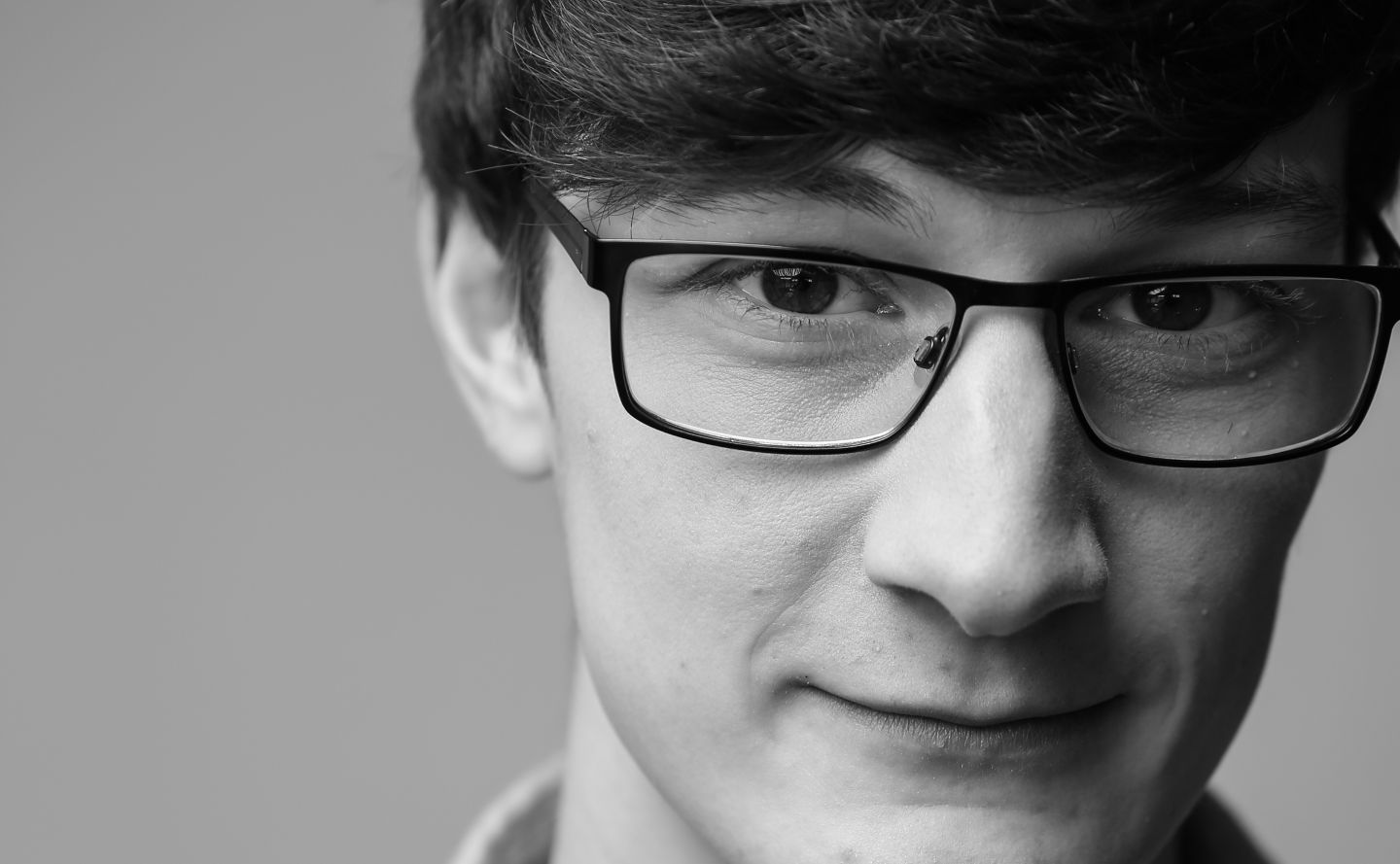 University experience and opportunities
Matthew thoroughly enjoyed his course at the University of Hertfordshire, as it guided him towards his current career path, which he really loves. He says, 'My studies allowed me to develop my interests and skills and provided an environment to learn and apply myself to a specific task over extended periods of time. The teacher support and engagement were very helpful.'
Matthew currently works as an Audio Designer on Jurassic World Evolution and talks about how his studies were extremely useful in helping him decide his profession and subsequently securing his current role.
'I took a while to decide what I wanted to do with my life prior to university, and when I worked out what that was, Hertfordshire was the one place that offered a course that was exactly what I was looking for. It provided me with the option to do a placement year, and this enabled me to get an internship at a Microsoft Games Studio. Without going to university, I would not have had this opportunity, nor the skill-set to get the position.'
Industry connections
Matthew encourages prospective students to make the most of their time at Herts. He suggests, 'Have the best portfolio you can and keep it refreshed where possible. Make best use of your connections from university and collaborate on projects with them. I like to keep up to date with what my other friends are doing with their own personal projects and careers.'
Matthew took advantage of all the opportunities at Herts, both inside and outside of his studies. He advises other students to do the same and adds, 'Always keep an eye out for any opportunities that may appear, and keep your options and goals open at the start. I remember having a number of projects I worked on, featured in the Animation feature film day!'
Aspirations for the future
Still looking to improve himself and progress in his career, Matthew wishes to develop his skills as a sound designer. 'My plans are to continue to learn and improve, whilst working at Frontier. I want to increase my output, value and contribution to the games we work on so that they can be the best that they can be.'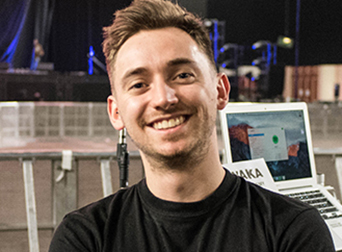 Alumni Stories
Chris Parker
Meet Chris Parker who has worked with some big names in the music industry and is looking forward to a return to normality.
Read more stories
Find out more about BSc(Hons) Music and Sound Design Technology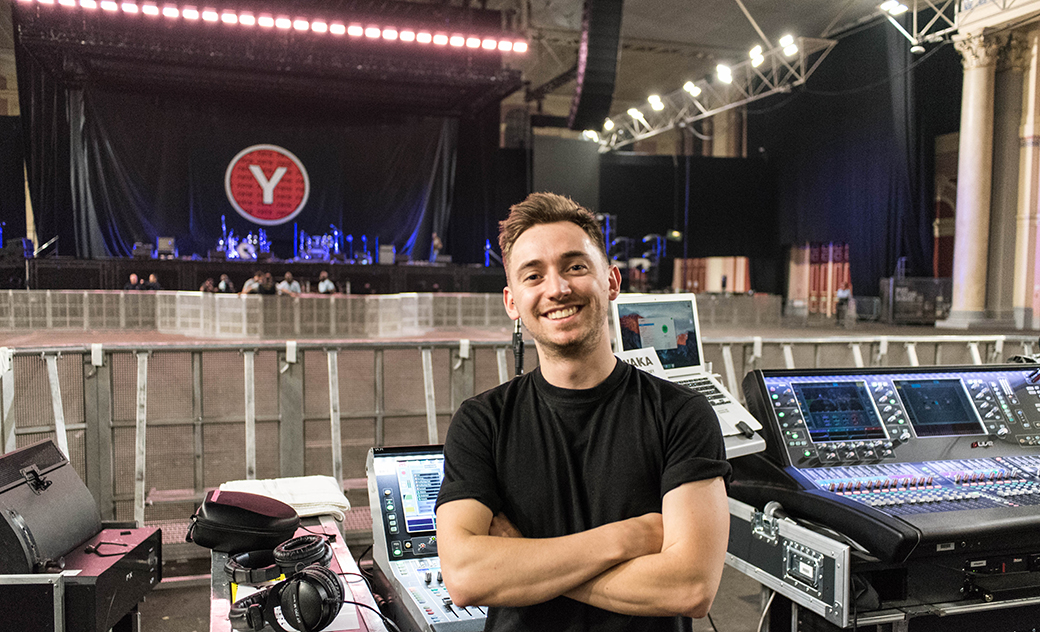 Rock and roll!
Chris says, 'I decided to study BSc Music and Sound Design Technology with the aim of being a musician (bass player) with flexible tech skills, as I saw this as a way to diversify and stay ahead of the traditional 'performance only' roles in a changing industry.'
Upon finishing his undergraduate degree at Herts he was able to use the exclusive 20% alumni discount on postgraduate courses (PG) to continue his studies with us.
'With the help of the postgraduate discount I decided to do the MSc Music and Sound Technology (Audio Engineering) course. It was flexible enough to allow me to use the skills I'd learnt from my first degree and work experience at Uni to go out and develop as a freelance Audio/Lighting Technician.'
University life
When speaking about how his studies helped him, Chris says 'In and out of my studies, I was able to try out the many different facets of the music industry, such as studio recording and mixing, radio broadcast production, stage management etc.'
'I said "yes" to as many opportunities as I could while I was studying, working late nights and early mornings doing part-time jobs around the University. This included working at the Student's Union at The Forum Hertfordshire, being a Stage Manager in the Weston Auditorium and working in the University Music Studios.'
'The course gave me knowledge of a range of audio fundamentals, but I think what was most beneficial to me was working as a Sound and Lighting Tech at The Forum.'
'The staff and facilities here were central to my learnings, allowing me to make mistakes and learn from those errors in a pressure-free environment. The live side of the industry really worked for me as I enjoyed meeting people, travelling and the energy of making the show happen in front of a crowd.'
A competitive world
Chris was under no illusion as to how competitive the music industry can be but was determined to succeed, 'I knew it was a difficult industry to get into and make a viable career out of, so I understood that I'd have to work extra hard to make it happen.'
Highlights...so far
When asked about his career highlights, Chris feels he has been lucky to do something that he enjoys so much. He says, 'It's been incredibly rewarding making bands sound louder and look brighter across the world.'
'I have toured the USA, Europe and Australia with well-known bands and artists and shows like Lanterns On The Lake at Islington Assembly Hall, The Amazons at Brixton Academy, Mark Feehily (Westlife) at The 02 Arena and Yonaka at Alexandra Palace have been personal highlights, to name a few!'
Improving diversity
When it comes to the subject of diversity in the industry Chris realises it has some way to go. He says, 'I've been lucky to work with diverse performing talent from a wide range of backgrounds on stage, but behind the tech side of things there is a clear problem with diversity.'
'It is something which is slowly improving, thanks in part to the help of organisations like Sound Girls and 3T, as well as new courses offering opportunities like the University of Hertfordshire's BSc Live Sound and Lighting Technology degree.'
Find out more about Sound Girls and 3T.
Impact of COVID-19
While COVID-19 has had a huge impact on almost every industry, live music has been hit as hard as any. So how does it look now for Chris? He says, 'Due to the obvious nature of live events, COVID-19 has had an enormous impact on the touring industry.'
'Where I work at Patchwork London, we've had to diversify our output into live streaming and video shoots. This has seen us provide crew and audio equipment for album launches, ticketed online streams and broadcasts such as The Jimmy Kimmel Show and Jimmy Fallon.'
'It's going to be tough moving forwards to find a sustainable solution until live events as we know it can resume. There are currently lots of crew without work, and concert sound systems and video walls hibernating, gathering dust in warehouses.'
Advice for the next generation
Chris says 'It's tough. There's no set way to get into the live music industry; everyone I speak to has a different story and followed a different path. Work hard consistently, go out of your way to learn things outside your comfort zone and perhaps most importantly, enjoy it.'
The future
Like all of us, Chris is looking forward to a time when we can return to a semblance of 'how it used to be.'
'I hope for a safe and swift return to normality for the live music industry, as the dust settles on the pandemic and the uncertainties of Brexit lift. Life on tour is very demanding, physically and mentally, so personally, in the future I'd like to use what I've learned on the road to production manage large scale events and tours.'
What's next for my career?

You will graduate as a talented music technologist / sound designer capable of forging a career in a variety of roles.  Our graduates can be found in many places within the music industry, working in recording studios, production companies, working in live sound and at major events, as sound editors, audio restoration engineers, developers of new hardware and software and working in a wide range of roles connected to sound for film, TV and games.

Each year, former students return and talk to our current students about their employed roles and how their degree has been beneficial.

Whilst a number of our students go one to work for established companies, there are always a number who set themselves up independently, developing their own business. 

"I find myself in disbelief that so soon after graduating from the BSc Music and Sound Design course I was able to approach professional opportunities with such confidence in my own abilities and audio skill-set, a great deal of which I had learned from studying with this program. I made it, and graduated with a degree that I am extremely proud of. 

Since graduating, my deep interest in field recording inspired me to approach the British Library Sound Archive with a proposal to conduct my first independent field recording trip to Japan. This proposal was accepted and with the funding provided I was able to travel to Japan. I lived and worked across Japan, documenting and recording a wide range of Japanese nature, musicians and spiritual ceremonies. This collection of field recordings is due to be published by the British Library later this year."

Mat Hart – recent graduate.

View our Alumni profiles

Key staff

Further information - includes assessment method

| Course fact sheets | |
| --- | --- |
| BSc (Hons) Music and Sound Design Technology | Download |

| Programme specifications | |
| --- | --- |
| BSc (Hons) Music and Sound Technology | Download |

Additional information

Sandwich placement or study abroad year

Optional

Applications open to international and EU students

Yes

Course length

Full Time, 3 Years
Part Time, 6 Years
Sandwich, 4 Years

Location

University of Hertfordshire, Hatfield

How to apply?

Fees and funding

Fees 2023

UK Students

Full time

£9250 for the 2023/2024 academic year

Part time

£1155 per 15 credits for the 2023/2024 academic year

EU Students

Full time

£14750 for the 2023/2024 academic year

Part time

£1845 per 15 credits for the 2023/2024 academic year

International Students

Full time

£14750 for the 2023/2024 academic year

Part time

£1845 per 15 credits for the 2023/2024 academic year

*Tuition fees are charged annually. The fees quoted above are for the specified year(s) only. Fees may be higher in future years, for both new and continuing students. Please see the University's Fees and Finance Policy (and in particular the section headed "When tuition fees change"), for further information about when and by how much the University may increase its fees for future years.

View detailed information about tuition fees

Read more about additional fees in the course fact sheet

Other financial support

Find out more about other financial support available to UK and EU students

Living costs / accommodation

The University of Hertfordshire offers a great choice of student accommodation, on campus or nearby in the local area, to suit every student budget.