BA (Hons) Fashion Design
Due to the ongoing Coronavirus pandemic, examinations may be replaced by an alternative form of assessment during the academic year 2020/2021. Please refer to the Programme Specification on these pages for further details.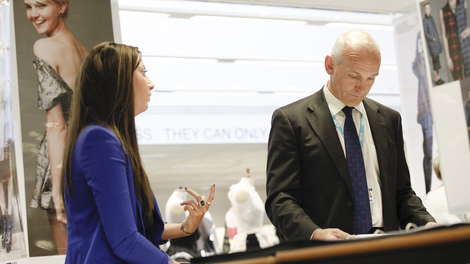 Work with leading designers/brands on live projects e.g. Ellesse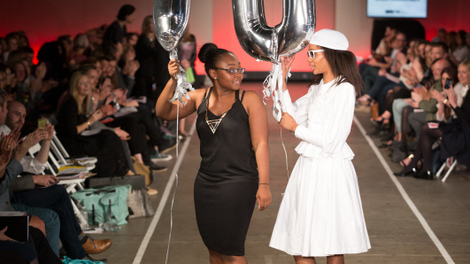 Take part in major national and international competitions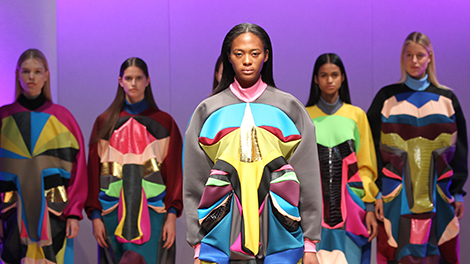 Showcase work to Industry at the prestigious Graduate Fashion Event
This course includes the sandwich year options of:
*No fees are charged for this year
Key information

UCAS code

W233

Institution code

H36

School of study

School of Creative Arts

Course length

Full Time, 3 Years
Part Time, 6 Years
Sandwich, 4 Years

Location

University of Hertfordshire, Hatfield

Entry requirements

| UCAS points | A Level | BTEC |
| --- | --- | --- |
| 96 | CCC - Including formal or informal qualifications in Art or Design | MMM |

Additional requirements

All students from non-majority English speaking countries require proof of English language proficiency, equivalent to an overall IELTS score of 6.0 with a minimum of 5.5 in each band.

If you do not have the required IELTS or equivalent for direct entry on to your degree programme, our Pre-sessional English and International Foundation courses can help you to achieve this level.

For more details on the University of Hertfordshire's entry requirements, please visit our Undergraduate Entry Requirements page.

Find out more about International Entry Requirements.

The University of Hertfordshire is committed to welcoming students with a wide range of qualifications and levels of experience. The entry requirements listed on the course pages provide a guide to the minimum level of qualifications needed to study each course. However, we have a flexible approach to admissions and each application will be considered on an individual basis.

Professional accreditations

Ranked 29th in the country in the fashion and textiles section of the Guardian's 2017 University League Tables.

Sign up for alerts
Why choose this course?
We support freedom of expression and individuality and help our students to be industry informed, socially responsible and creatively prepared
Our Fashion Design award offers an exciting balance of creativity, innovation and technical design helping to develop the next generation of fashion professionals in a rapidly changing industry
Strong industry relationships with a number of leading brands and designers collaborating through live projects, work placements, competition sponsorship and graduate employment opportunities
A great spacious contemporary environment including industry standard resources for you to thrive in
A highly experienced and dedicated academic and technical team putting your learning at the centre of the programme
What's the course about?
Fashion impacts upon all aspects of our lives and shapes our appreciation and understanding of the world around us. This course offers a commercially informed, creative and innovative design experience for tomorrow's generation of fashion professionals. You'll learn vital pattern-cutting skills in 2D and 3D as well as core manufacturing abilities. You'll also enhance your freehand and technical drawing and illustration skills using traditional and computer-aided design methods.
As well as technical skills, you'll explore the history of fashion and exciting innovations in contemporary design. Optional study trips, fashion shows, exhibitions and competitions will enrich your educational experience, while live industry projects could lead to your designs going into production and open up employment opportunities.
If you've already completed an Undergraduate degree, why not take a look at our Postgraduate degree and specialise in MA Fashion?
What will I study?
In Year 1 the focus is on learning core design, technical and portfolio skills. We help you to understand the power of observation, how to develop an idea from concept to completion through experimentation and exploration, through the use of CAD and traditional portfolio techniques, you are taught how to begin to develop a relevant fashion portfolio.
You will also learn about 2D and 3D traditional and non-typical pattern cutting techniques beginning with the basics through to creative modelling on the stand and draping. How to manufacture garments beginning with the fundamental basics of sewing techniques and skills through to fully finished outcomes. Critical and Cultural studies will develop your knowledge about the global Fashion industry and the historical and contemporary aspects of Fashion.
In Year 2, you further develop your core fashion design, technical and portfolio skills with a greater emphasis on a continuous programme of exploration, eager curiosity and creativity. You will also learn about and develop skills in branding, marketing and communication and promotion. We also provide our students with the opportunity to participate in internationally recognised competitions too. Just some of the companies our students have enjoyed working for include Hugo Boss, Ralph Lauren, Giles Deacon, M&S, Ted Baker, Karen Millen, Maria Grachvogel, F&F, Boden, Paragon Clothing, New Look.
​We'll teach you how to build networks with industry partners to enhance your career opportunities; through our visiting specialists and guest speakers. At the end of your second year, we offer a Sandwich year, where you can take a one year internship either abroad or in the UK to really develop those industry contacts.
In Year 3, you will be working towards a major project including a final contemporary collection, an essay on a particular aspect of Fashion and a professional portfolio. You are encouraged to put into practice the skills and knowledge gained throughout your studies capitalising on your strengths and embracing traditional, new and emerging technologies to communicate your design aesthetic. The portfolio will contain a comprehensive portfolio of designs, tech packs, marketing and promotional material. We also hold a Graduate Fashion Show, where you will get a chance to display your work completed during your course.
Independent study
As a student on our Fashion programme, a large chunk of your time will consist of independent study. Working on set tasks as directed by your tutors, you will be expected to explore and progress your projects independently outside of lesson hours.
Don't worry though; independent study doesn't have to mean studying alone. You will be guided by your tutors on the tasks, able to use our state-of-the-art facilities outside of lesson hours alongside your classmates, and supported by our excellent technicians if you have a query or get stuck when your tutor isn't around. This allocated independent study gives you the ideal opportunity to build your personal style and grow confidence working and making decisions alone, whilst still giving you professional support and personal guidance you need on your academic journey.
Level 4

Level 5

Level 6

Study abroad

This course offers you the opportunity to study abroad through the University's study abroad programme. Study abroad opportunities are available worldwide and in Europe under the Erasmus+ Programme.

Work placement

The programme has a highly successful track record in securing accredited work placements for its students. With strong industry connections, you will have the chance to work with some of the leading fashion companies in the world, gaining valuable work experience and building vital connections for future career prospects.
Check out our student blogs
Student Blogs
Neofytos - My week at a glance
My week at a glance.
My week starts by attending to my studio space, which it is a corner made up of 3 big white boards, a locker to secure my belongings and a table to work on. I personally love that space! It always makes me feel good! Having this area to work and do research for projects that I have been given, make me feel focused and productive.
On Tuesdays I have a lecture which it is about two or two and half hours, depending on how much we need to cover. In our lecture, we talk about theories that could be beneficial to our artistic perspective, but we also use this time to talk about anything that involves group assignments and projects.
Wednesdays for me only consist of a hour of optional art talks. During these talks, we have the chance to attend a seminar where artists are presenting their work to us! That's an amazing way to be provided with an insight of how the industry works and be prepared for our working lives after graduation.
Lastly, we have our optional life drawing sessions which runs every Thursday's afternoon is a great chance to have a little break from spending most of your time in your studio space working on your projects. Going to the life drawing session I have the great chance to observe the human figure, as well as being given the great opportunity to draw models.
As for the Friday I have nothing booked on, so I can spend most of my time in my studio space working on my projects without get distracted!
I love my routine at the university, it gives me both the time to work on my projects thus attend and organise sessions and group works.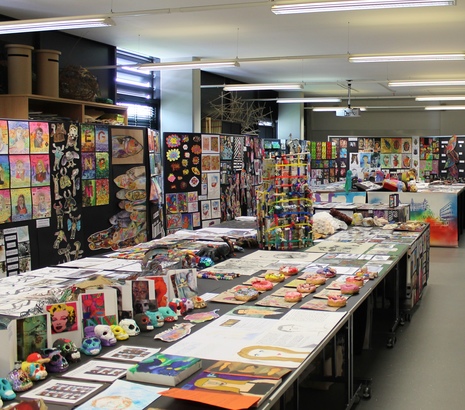 Student Blogs
Neofytos - Why I love my Course
What I love most about my course.
For years I have been drawing, painting and sculpting - prompting me to study BA Hons Fine Art. And as a result, I have expanded my knowledge and learned more about fine art in greater depth about what I love.
The facilities at the Art and Design building are just amazing! That is what I love the most about my course. As a Fine Art student at this university I have the great chance to participate and work in different workshops such as printmaking, ceramics, textile, welding, life drawing and so many more. For me that is the most beneficial factor, because in this way the University allows me to explore and learn more about my artistic direction by trying different mediums and methods. Therefore, by having the freedom to attend to different workshops, I have the great chance to meet people from different courses, make new friends with similar interests and even more have the chance to collaborate with some of them!
As I said I love my course, because it allows me and supporting me to try expanding horizons and find my artistic voice in a very healthy way.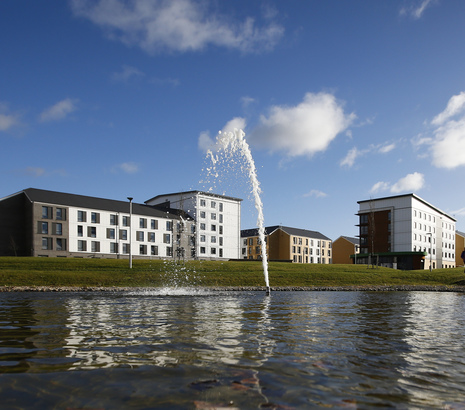 Student Blogs
Neofytos - Why choose Herts?
Why I chose Herts.
I am an international student and by studying at the University of Hertfordshire, it has been a blessing!
I chose Herts, because the University itself is such a great place to study! The facilities and the two beautifully designed campuses that the University has, made my studies here amazing! For instance, there are two big libraries at the University where really helps the students with their coursework, one at the one campus and the second one to the other one. Moreover, all the buildings where we have classes at are very new and that proves that the university cares about university's appearance and invest a lot of money for the students to have a great environment to study within.
However, except of the excellent facilities that the university has, the University has a great spot for socialising. Cafes, restaurants, common rooms, gyms and a big University club are factors that make Herts a great place to be. All of them are located very near to each other which is very convenient for us as students to socialise easily.
Speaking of location, the University is located not very far from London which is an amazing thing since London is such a beautiful and diverse city!
All these were the factors that made me to choose Herts and I have never regretted my choice!
What's next for my career?

The emphasis throughout the degree is on a range of knowledge and skills in fashion and clothing design, including practical aspects of production awareness and marketing. This will equip you to work in a broad range of areas in the fashion industry, from design, styling, marketing, manufacturing, visual merchandising, buying and selling.

Graduates from this course have gone into a wide range of careers, from fashion design, pattern cutting and garment technology to sourcing and allocating, buying, production management, and more. The professional skills graduates obtain from this course also allow them to build successful freelance careers.

Key staff

Nicola De Main
Nicola has worked with international conceptualist Hussein Chalayan and has subsequently her own label sold through stores in the UK and Europe, as well as designing bespoke outfits for Emilie Sandé and Leona Lewis.


Tony Rosella SFHEA
Principal Lecturer - Programme Leader for Fashion. Tony's background is in creative design and body size and shape technology for the apparel industry. He has led extensive projects with Debenhams, F&F, Marks and Spencer, Ministry of Defence and Next.


Further information - includes assessment method

| Course fact sheets | |
| --- | --- |
| BA (Hons) Fashion Design | Download |
| BA (Hons) Fashion Design | Download |

| Programme specifications | |
| --- | --- |
| BA (Hons) Fashion Design | Download |
| BA (Hons) Fashion Design | Download |

| Additional information | |
| --- | --- |
| Sandwich placement or study abroad year | Optional |
| Applications open to international and EU students | Yes |

How to apply?

Fees and funding

Fees 2020

UK/EU Students

Full time

£9250 for the 2020/2021 academic year

Part time

£1155 per 15 credits for the 2020/2021 academic year

International Students

Full time

£13000 for the 2020/2021 academic year

Part time

£1625 per 15 credits for the 2020/2021 academic year

*Tuition fees are charged annually. The fees quoted above are for the specified year(s) only. Fees may be higher in future years, for both new and continuing students. Please see the University's Fees and Finance Policy (and in particular the section headed "When tuition fees change"), for further information about when and by how much the University may increase its fees for future years.

View detailed information about tuition fees

Read more about additional fees in the course fact sheet

Other financial support

Find out more about other financial support available to UK and EU students

Living costs / accommodation

The University of Hertfordshire offers a great choice of student accommodation, on campus or nearby in the local area, to suit every student budget.