BA (Hons) Tourism Management
Ranked 7th nationally for Tourism, Hospitality and Event Management (The Guardian)
Key information

UCAS code

N9R8, N800, N9T8

Institution code

H36

School of study

Hertfordshire Business School

Course length

Full Time, 3 Years
Part Time, 6 Years
Sandwich, 4 Years

Location

University of Hertfordshire, Hatfield

Entry requirements

| UCAS points | A Level | BTEC |
| --- | --- | --- |
| 96 | CCC | MMM |

Additional requirements

GCSE: Grade 4/C in English and Mathematics

All students from non-majority English speaking countries require proof of English language proficiency, equivalent to an overall IELTS score of 6 with a minimum of 5.5 in each band.

If you do not have the required IELTS or equivalent for direct entry on to your degree programme, our Pre-sessional English and International Foundation courses can help you to achieve this level.

For more details on the University of Hertfordshire's entry requirements, please visit our Undergraduate Entry Requirements page.

Find out more about International Entry Requirements.

The University of Hertfordshire is committed to welcoming students with a wide range of qualifications and levels of experience. The entry requirements listed on the course pages provide a guide to the minimum level of qualifications needed to study each course. However, we have a flexible approach to admissions and each application will be considered on an individual basis.

Sign up for alerts
About the course
Tourism is a career that can take you anywhere. Our course is recognised by the Tourism Management Institute (TMI) and is ranked inside the top 20 of the Guardian University League Table 2018 for tourism, hospitality and event management. It explores the latest trends and practices within the industry, examining the impact tourism has on destinations, as well as the sector's sustainability, cultural influences and community engagement. You'll also have the chance to take a six-month internship at Walt Disney World, Florida, and study at the University of California Riverside in an exclusive partnership with the University of Hertfordshire.
You can also study a language with this course. You can be awarded the degree 'with language' in the title if you choose to study a foreign language in all years of study.
Partnerships and opportunities
As part of our enterprise and employability focus, we give you many options to gain work experience. You can undertake internships during the summer, engage in multiple work shadowing opportunities, and take on a year long placement between your second and third year. Our students have completed placements with a wide variety of businesses, such as Walt Disney, Rent-a-car Enterprise, TUI Travel, Thomson Cruises, Mundy Cruising, Wendy Wu Tour Operator, Ramblers Worldwide Holidays, Hilton Worldwide, Heathrow Airport and EasyJet.
Many students also choose to broaden their horizons through our study abroad programme in second year with one of our partner universities in Europe, North America or Australia. Some combine their language study options with a half-year of study in the language home country and then a further half year work placement in the same country. Without a doubt, they come back with excellent skills in a second language in addition to fantastic memories, experiences and career skills.
Our partnership with Walt Disney World Resorts and the University of California Riverside gives our students the chance to study and work in the United States of America on this fantastic internationally renowned programme.
You may also be interested in the following courses:
Why choose this course?
5 Reasons to Study BA (Hons) Tourism Management
The course is recognised by the Tourism Management Institute (TMI) and is a key partner of the Association of British Travel Agents (ABTA)
You will get to study real world case studies and have the opportunity to visit an overseas destination
The course gives you the opportunities to do a work placement in small or large corporations, developing key employability skills, both domestically and internationally
All students have the option to study abroad.
You will develop key tourism management and business skills at a leading international business facing University on a course ranked 5th in the UK for Tourism, Hospitality and Events Management.
What will I study?
You will be studying 4 modules in each semester and your contact time varies between modules, but usually you will have two sessions per week for each module, a one-hour lecture following by a one-hour seminar/tutorial. Typically, a new topic or theory will be introduced in each lecture and will be followed up with class discussion and feedback in the subsequent seminar. In addition, as part of your study time, you will be collaborating with your peers on tasks and group assignments. Module leaders also offer weekly drop in and feedback sessions, usually 2x1 hours per module as well as revision sessions.
The University's 'online learning environment' means you can access all your course resources, literature and timetables from anywhere in the world.
Usually, assessment is split between coursework and examinations. The style of coursework can vary from presentations to business reports, essays depending on the taught topics.
International Focus
All students have the option to study abroad in more than 30 countries across 6 continents. The course allows you study a language as well as the opportunity to study abroad, giving a firm grounding an internationally and globally employable marketer.
Study abroad opportunities are available worldwide and in Europe under the Erasmus+ Programme. Find out more about what Study Abroad can do for you.
Professional Accreditations
The course is recognised by the Tourism Management Institute (TMI) and is a key partner of the Association of British Travel Agents (ABTA).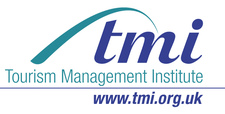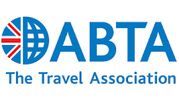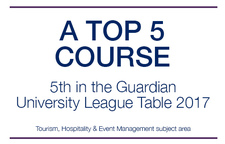 Careers
Graduates have found employment in fields such as tourism planning, international tourism management and within large travel companies, hospitality and airlines. Our graduates can leave with key employability, enterprise and strong interpersonal skills. The average salary six months after graduating is £19,000 rising to an average of £24,000 after 40 months. 75% of BA (Hons) Tourism Management graduates are in work or full time study after 6 months.
What job can I get?
Our graduates have secured roles such as account director, conference coordinator, customer relations executive, graduate trainee, marketing manager, project manager, resort representative, sales manager, travel consultant, web search executive and yield developer. Companies include British Airways, EasyJet, Enterprise, Expedia, Hilton International, lastminute.com, Marriot, Mundy Cruising, Ramblers Worldwide, STA Travel, Thomas Cook, TUI and Virgin Atlantic.
Study abroad

This course offers you the opportunity to study abroad through the University's study abroad programme. Study abroad opportunities are available worldwide and in Europe under the Erasmus+ Programme.

Work placement

As with all courses at Hertfordshire Business School, you can undertake a paid work placement in a UK or International business. During this time you will be employed by a business and will be subsequently paid. The Careers, Employment and Enterprise team based on the campus can help you find and tailor applications to maximise your chances of securing a relevant placement.

As part of our enterprise and employability focus, we give you many options to gain work experience. You can undertake internships during the summer, engage in multiple work shadowing opportunities, and take on a yearlong placement between your second and third year. Our students completed placements with a wide variety of large and small businesses, such as Walt Disney, Rent-a-car Enterprise, TUI Travel, Thomson Cruises, Mundy Cruising, Wendy Wu Tour Operator, Ramblers Worldwide Holidays, Hilton Worldwide, Heathrow Airport and EasyJet.

Key staff

Fees and funding

Fees 2020

UK/EU Students

Full time

£9250 for the 2020/2021 academic year

Part time

£1155 per 15 credits for the 2020/2021 academic year

International Students

Full time

£13000 for the 2020/2021 academic year

Part time

£1625 per 15 credits for the 2020/2021 academic year

First year - An induction UK field trip (Optional): £250

Second year - An international field trip (Optional): £550

*Tuition fees are charged annually. The fees quoted above are for the specified year(s) only. Fees may be higher in future years, for both new and continuing students. Please see the University's Fees and Finance Policy (and in particular the section headed "When tuition fees change"), for further information about when and by how much the University may increase its fees for future years.

View detailed information about tuition fees

Read more about additional fees in the course fact sheet

Other financial support

Find out more about other financial support available to UK and EU students

Living costs / accommodation

The University of Hertfordshire offers a great choice of student accommodation, on campus or nearby in the local area, to suit every student budget.

Further information

| Course fact sheets | |
| --- | --- |
| Tourism Management with an Eastern Language | Download |
| Tourism Management with a European Language | Download |
| BA (Hons) Tourism Management | Download |

| Programme specifications | |
| --- | --- |
| BA (Hons) Tourism Management | Download |
| Languages Programme Specification | Download |

| Additional information | |
| --- | --- |
| Sandwich placement or study abroad year | Optional |
| Applications open to international and EU students | Yes |

How to apply