MSc Software Engineering (Online)
Pay your fees ->
Study online
We welcome applications from international and EU students
About the course
Software Engineering is the foundations of the functioning modern world. Many aspects of commerce and industry require well-engineered and reliable software to operate.
The MSc Software Engineering (online) is designed for computer science graduates and has been popular with those looking to specialise in Software Engineering and progress their career in this direction.
The degree focuses on the key models, methodologies, measures and tools that can be used in the software engineering process equipping you and your career with the essentials for success in this field.
Free sample materials!
See how online study works and what kind of learning environment and materials you will access as an online student. Access free sample materials
Why choose this course?
For more information about how online study works, funding and how to apply, please visit UH Online.
Gain a specialised master's degree in one year full-time or at a pace that suits you through online study
Flexible online learning allows you to fit study around your other commitments, without travel and accommodation costs.
Gain an internationally-recognised master's degree from the UK's University of Hertfordshire.
Benefit from the same academic standards and quality control procedures as our equivalent on campus course
We have an excellent track record in research, with over half of our outputs rated at world-leading or internationally excellent in REF 2014, the most recent national assessment.
Careers
Our online masters programme is designed to give graduates the up-to-date skills and knowledge sought after by employers, whether in business, industry, government or research.
These courses will prepare you for a career in many areas including research, IT or software development.
Teaching methods
Our online degree programmes are taught 100% online when studied independently, or supplemented by tutorial support when studied at a local study centre run by one of our online partners. Find out more about Tutored eLearning. Assessment is by coursework and online tests.
You will participate in the learning experience through the University's on-line learning environment, StudyNet. You will receive learning materials, take part in discussions and submit your assignments online. Additionally, you will receive study resources such as key e-books and any specialist software. You will have access to the University's extensive online library facilities, or be able to visit in person if you so choose.
The amount of study time required is no different from that needed for an on campus programme. You should expect to spend at least 30 hours per week if studying full-time, and in proportion if part-time.
Course length
Full-time, 1 year - 1.5 years (depending on intake)
Part-time, 2-5 years
For more details about Online Distance Learning, please visit: UH Online.
Structure
Level 7
Core Modules
Contemporary Practices in Information Technology - 15 Credits
Measures and Models for Software Engineering - 30 Credits
Software Engineering MSc Project - 60 Credits
Software Engineering Practice and Experience - 30 Credits
Optional
Advanced Database - 30 Credits
Distributed Systems Security - 30 Credits
E-Learning Applications Development - 30 Credits
Interaction Design - 15 Credits
Learner Centred Design - 30 Credits
Mobile Standards, Interfaces and Applications - 15 Credits
Multicast and Multimedia Networking - 15 Credits
Secure Systems Programming - 15 Credits
Web Scripting and Application Development - 30 Credits
Wireless, Mobile and Ad-hoc Networking - 15 Credits
Fees & funding
Fees 2018
UK/EU Students
Full time
£8160 for the 2018/2019 academic year
Part time
£680 per 15 credits for the 2018/2019 academic year
International Students
Full time
£8160 for the 2018/2019 academic year
Part time
£680 per 15 credits for the 2018/2019 academic year
Other financial support
Find out more about other financial support available to UK and EU students
Entry requirements...
For admission to the MSc Distributed Systems and Networks, MSc Software Engineering or MSc E-Learning Technology:
a recent good Honours Degree (or equivalent) in Computer Science or cognate discipline;
Applicants whose first language is not English must demonstrate sufficient competence in English to benefit from the Programme. This is normally demonstrated by recognised awards equivalent to an overall IELTS score of 6.0 Candidates who do not satisfy these requirements will be considered on a case-by-case basis.
Access to computer equipment with the following minimum specification - http://www.herts.ac.uk/more/uh-online-distance-learning/frequently-asked-questions/system-requirements.cfm
Entrants with a recent Honours Degree in Computer Science (or equivalent) may be registered for any one of the awards provided by the Programme.
Supporting documents required
Copies of the front and back of your undergraduate degree transcript and certificate
Curriculum Vitae
English Language qualification certificate (you should have a score of 6.0 overall if presenting an IELTS test)
A substantial personal statement about why you want to study this programme, what you hope to gain from the course and where you see your future development taking your career.
A copy of the photo page of your passport
1 academic or professional reference
View our simple steps to a successful application
View our simple steps to a successful application
How to apply
2018
| Start Date | End Date | Link |
| --- | --- | --- |
| 25/09/2018 | 30/09/2019 | Apply online (Distance (Full Time)) |
| 15/01/2019 | 19/05/2020 | Apply online (Distance (Full Time)) |
| 25/09/2018 | 30/05/2019 | Apply online (Distance (Part Time)) |
| 15/01/2019 | 13/01/2020 | Apply online (Distance (Part Time)) |
2019
| Start Date | End Date | Link |
| --- | --- | --- |
| 25/09/2019 | 30/09/2020 | Apply online (Distance (Full Time)) |
| 15/01/2020 | 19/05/2021 | Apply online (Distance (Full Time)) |
| 25/09/2019 | 30/05/2020 | Apply online (Distance (Part Time)) |
| 15/01/2020 | 13/01/2021 | Apply online (Distance (Part Time)) |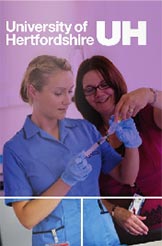 Download the Prospectus