Masters by Research/PhD Clinical Medicine
About the course
A University of Hertfordshire research degree is an internationally recognised degree signifying high levels of achievement in research. It develops extensive subject expertise and independent research skills which are honed over an extended period, depending on the level of the award. You would undertake a substantial, original research project for the duration of the degree, under the supervision and guidance of two or more academic members of staff. Your supervisory team provides guidance both in the selection of a research topic and in the conduct of the research. You are also supported by attendance at postgraduate seminar series to develop subject specific knowledge and research skills relevant to your field of research. The degree is assessed solely on the basis of the final research output, in the form of a substantial written thesis which must be "defended" in a viva. During the course of the degree, you would be given opportunities to present your work at major conferences and in refereed research publications.
How to Apply
We recommend that you discuss your proposed research with the appropriate member of the academic staff in the Life & Medical Science before submitting your application. Please name this staff member when submitting your application.

For any applications for projects that are not listed here, please include an outline research proposal.

For informal enquiries, please contact the relevant Departmental Research Tutor:
Application forms should be returned to Mrs Liz Day, Health and Human Sciences Research Student Administrator by email at e.day2@herts.ac.uk
Find out further information on research project areas
Why choose this course?
An internationally recognised research qualification.
Developing advanced subject expertise at postgraduate level.
Develop research skills through practice and extensive research experience.
Employers are looking for high calibre graduates with advanced skills who can demonstrate independence through research.
Careers
Graduates with this degree will be able to demonstrate to employers a highly-valued ability to work independently on a substantial and challenging original project and to maintain that focus over an extended period, and will have developed much sought after, highly refined research skills.
Teaching methods
Research degrees are not taught programmes, however, programmes of supporting studies are a key element.
Fees & funding
*Tuition fees are charged annually. The fees quoted above are for the specified year(s) only. Fees may be higher in future years, for both new and continuing students. Please see the University's Fees and Finance Policy (and in particular the section headed "When tuition fees change"), for further information about when and by how much the University may increase its fees for future years.
View detailed information about tuition fees
Other financial support
Find out more about other financial support available to UK and EU students
Living costs / accommodation
The University of Hertfordshire offers a great choice of student accommodation, on campus or nearby in the local area, to suit every student budget.
Entry requirements...
An honours degree (normally at least 2:1 or above) in an appropriate discipline. IELTS entry requirement is normally 6.5, TOEFL 550 (213 CBT) or equivalent for overseas students.
How to apply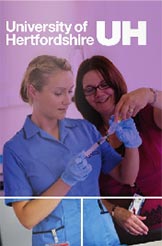 Download the Prospectus