MSc Paramedic Science
Available to non EU students
About the course
The MSc in Paramedic Science course provides a flexible and innovative approach to postgraduate education. Paramedics need to demonstrate a range of well developed managerial, leadership, interpersonal and problem solving skills, in addition to the more specialist clinical elements, which this course supports.
The course is designed to enhance your current knowledge and understanding and give you opportunities to challenge and critically evaluate your professional practice. The aim is to advance your skills as a professional and enhance your career pathway.
The various modules in this course have been designed and developed to ensure they match the requirements that paramedics need to demonstrate. It also includes interprofessional modules, which are aimed at health professionals who cross professional boundaries in their day-to-day practice. These modules compliment this provision ensuring you have the right skills to engage in
these new emerging roles.
The MSc Paramedic Science course includes a significant level of theoretical and practical elements which gives you the opportunity to focus on independent learning in order to gain problem solving and decision making skills. In addition, all modules include a solid theoretical background which supports the connection between learning and using the skills in practice.
Course structure
The MSc in Paramedic Science course is modular in structure. If you wish to collect credits towards and award or a qualification see below the award and credit requirements:
Postgraduate certificate - 60 credits
Postgraduate diploma - 120 credits
Masters degree - 180 credits
View and download the MSc Paramedic Science brochure
Why choose this course?
It gives you the opportunity to share ideas with other health professions in order to develop intellectual abilities and assist in the advancement of health care
It offers you flexible study options based on a modular structure
It includes interprofessional learning
Teaching is done by experienced staff and visiting external specialists
You benefit from excellent facilities including paramedic skills and laboratories and research laboratories
Teaching methods
Modules are facilitated by a variety of experienced lecturers from the University as well as external lecturers.
Delivery of modules incorporates blended learning which aims to combine e-learning activities with campus based learning. You need to have access to a suitable personal computer and a good reliable Internet connection (broadband recommended). Most modern PCs or Macs (less than 3 years old) should be suitable. If you have any queries or need any additional support with IT skills, the School employs an e-learning technologist who will be pleased to help and advise you. Please contact the module lead for details.
Modules are assessed by a variety of methods for example essays, presentations, reports, posters and practical examinations.
Work Placement
A number of modules require the practitioner to either be in full time employment with NHS Ambulance Trusts, or have access to various clinical placements.
In addition a number of modules have been developed which do not require the necessary clinical placements, for those who do not have access to clinical areas
Structure
Level 7
Core Modules
Optional
Research Methods - 15 Credits
Independent Professional Study 2 - 30 Credits
Independent Professional Study 1 - 15 Credits
Independent work based skills 1 - 15 Credits
Independent work based skills 2 - 15 Credits
Independent reflection in professional practice 1 - 15 Credits
Independent reflection in professional practice 2 - 30 Credits
Expert Witness - 15 Credits
Methods of Inquiry - 15 Credits
Clinical Negligence - 30 Credits
Immunology in Health and Illness - 30 Credits
Fees & funding
Fees 2017
UK/EU Students
Part time
£680 per 15 credits for the 2017/2018 academic year
International Students
Part time
£1050 per 15 credits for the 2017/2018 academic year
Fees 2018
UK/EU Students
Full time
£8160 for the 2018/2019 academic year
Part time
£680 per 15 credits for the 2018/2019 academic year
International Students
Full time
£12500 for the 2018/2019 academic year
Part time
£1040 per 15 credits for the 2018/2019 academic year
Discounts are available for International students if payment is made in full at registration
*Tuition fees are charged annually. The fees quoted above are for the specified year(s) only. Fees may be higher in future years, for both new and continuing students. Please see the University's Fees and Finance Policy (and in particular the section headed "When tuition fees change"), for further information about when and by how much the University may increase its fees for future years.
View detailed information about tuition fees
Other financial support
Find out more about other financial support available to UK and EU students
Living costs / accommodation
The University of Hertfordshire offers a great choice of student accommodation, on campus or nearby in the local area, to suit every student budget.
Entry requirements...
Applicants should be registered paramedics. If you do not possess a relevant university degree you must provide evidence of appropriate continued professional development of level six studies and a commitment towards personal and professional development.
You must have at least one year's post-qualification experience (post internship).
You must also satisfy the University's English language requirement for this programme, IELTS at Level 7.0 (including 7.0 in the writing component).
For more information and application forms contact:
Laurien Williams - Programme Leader
tel: +44 (0)1707 285928
If you do not have the required level of English for entry, our academic English courses can help you to achieve this level.
How to apply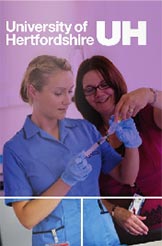 Download the Prospectus