MSc Marketing
Available to non EU students
About the course
This course is designed to position motivated undergraduates and ambitious future business leaders for a successful marketing career. Whether you want to develop a career in the commercial or voluntary sectors or have ambitions to work in a large organisation or family business our MSc Marketing programme is designed to equip you with the essential skills and knowledge to move you into your chosen specialism.
Our dynamic and research active faculty will support you throughout your learning journey to ensure that you graduate with confidence and expertise, ready to face complex and dynamic work environments. And our team of academics, visiting practitioners, career support professionals and alumni will also ensure that you are well connected for the best start on your professional journey.
Why choose this course?
Draw on the research interests of the marketing faculty to address contemporary marketing challenges
Balance theory and application with regular opportunities to hear industry speakers and undertake field visits
Develop key business skills
Take the opportunity to gain additional qualifications from CIM
If you are already a marketing practitioner or have a first degree in marketing, you might want to consider formalising your marketing skills and experience through a CIM course of study.
2014/15 MSc Marketing Student Representatives Freshta, Eddie and Juan give advice to their peers on how to manage the challenges of the course whilst getting the most out of the student experience…
Professional Accreditations
We have accredited status with the Chartered Institute of Marketing (CIM), and holders of the Professional Postgraduate Diploma in Marketing, which can be taken at the University, can begin at Stage 2 of the course.
Careers
This course is designed for those wishing to build a career in marketing across a wide range of specialisms, and in any industry sector.
Whether you are planning to move into a marketing agency role, or work for an in-house marketing team, or whether marketing is just becoming an increasingly significant part of your role, this Master's will give you the expertise to help you excel in your career.
Teaching methods
The course approach is participative, and you are encouraged to share knowledge and experience to contribute to others' learning. The varied programme of teaching includes facilitated seminars, practical workshops, web-based learning, case study analysis and traditional lectures.
You will be taught by a highly motivated and dedicated team, who will provide you with both academic and industry examples to enhance your understanding of the topics you will cover. We also provide sessions by visiting staff, practitioners and consultants to give a varied perspective of the topics covered.
Assessment is through a variety of coursework including presentations, reports and projects. You will also be required to complete a dissertation and will be supported by a dissertation supervisor.
Structure
Level 7
Core Modules
The Professional Marketer - 15 Credits
Modern Marketing Communications - 15 Credits
Understanding Consumers and Markets - 15 Credits
Strategic Brand Planning and Development - 15 Credits
Marketing Insight, Analysis and Decision Making - 30 Credits
Innovative Marketing Solutions - 30 Credits
Dissertation (Marketing) - 45 Credits
Dissertation Preparation - 15 Credits
Optional
Entry requirements...
An honours degree (at least 2:2 or above) in any discipline, a degree equivalent professional qualification or appropriate work experience combined with a relevant qualification.
All students from non-majority English speaking countries require proof of English language proficiency. The following qualifications and grades will be considered:
- GCSE English language grade A-C
- IELTS 6.5 (with no less than 5.5 in any band)
Other English language tests are accepted. Please contact the International Office for details.
If you do not have the required level of English for entry, our academic English courses can help you to achieve this level.
How to apply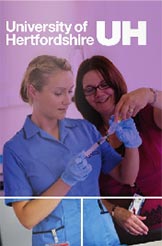 Download the Prospectus